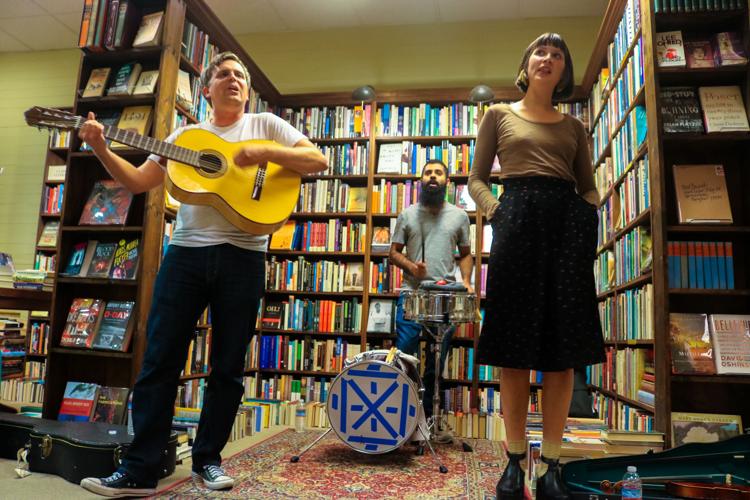 Golden Shoulders and Davia both came to the Dusty Bookshelf on Thursday to perform an acoustic set. The show was a refreshing deviation from the typical concert formula and provided wonderful entertainment.
Davia Pratschner, professionally known as Davia, opened with "Going Home," the first track on her EP "Hush." Pratschner played a few more songs off her EP and introduced a few that have not yet been recorded.
With the lack of microphones or amplifiers at the venue, it was amazing to hear Pratschner's voice at its most authentic. She has very distinct vocals, and, throughout the show, I was stunned by how gracefully she glided from note to note. Even when she made a mistake at one point in the show, Pratschner paused, fixed it and immediately continued on.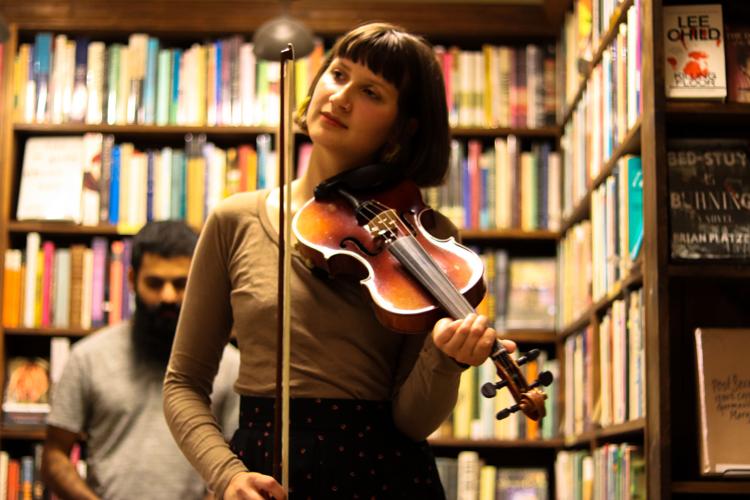 Furthermore, her lyrics are a wonderful example of storytelling. With bits such as, "I thought I was a lion, but my reflection told me otherwise," from "Headlights Dancing," I immediately connected with her music. It would have impossible not to.
As part of their fall tour, Golden Shoulders will play at the Dusty Bookshelf on Sept. 28.
After Davia's set, Golden Shoulders started their show. This time, Golden Shoulders' rotating lineup included Pratschner, founder Adam Kline and University alumnus K.R. Azad.
One of the most exceptional qualities about the group is that it's all about collaboration; members are constantly rotating in and out, although Kline is always there. This fact in itself made the show more interesting, as audience members were aware that this specific performance was incredibly special, and that they could just as easily go to the same band's show in Manhattan to see something entirely different.
I found it particularly impressive how the trio members were such quick thinkers. A lot of the songs played had no rehearsal prior to the performance. If Kline hadn't mentioned it halfway through the show, there would have been no way to tell. The song prior to the last in the show, "Everybody Trying to Be My Villain," was a request from an audience member and after a 45-second conversation, the group immediately found their harmonies, and Azad knew exactly what he was going to play on the drums.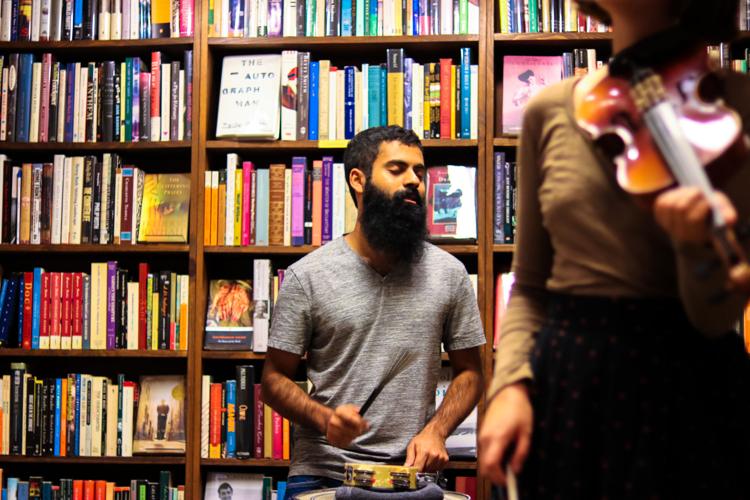 One of my favorite aspects definitely had to be seeing the group's smiles when they were totally engaged in the music. For audience members, it'd been abundantly clear how passionate Kline, Azad and Pratschner are about their craft. Even Azad clutched his hand over his heart at one point in the show.
"I feel so fresh!" he said.
Initially, I believed that the bookstore aspect would be somewhat of a hindrance throughout the show, but if anything, it contributed to the excellence of the performance. Kline said before the show that bookstores urge audience members to be really quiet, and this held itself to be true. If anything, the whole show was inherently more interesting because of it.
Overall, Golden Shoulders and Davia's performances at the Dusty Bookshelf cemented itself as one of my favorite shows I've ever attended. Next time the artists go on tour, I'll definitely be attending.