For Prestige Hair Studio, celebrating one year in business means silencing doubters and creating more opportunities.
"It means success," said Isaiah Bell, the salon's co-founder and barber. "It's like a marriage anniversary. In business, the more years you stay open means the more success that you've been able to experience."
Siblings Breanna and Isaiah Bell started their business, located on Sixth Street, on Feb. 21 of last year. It's the only black-owned combination barbershop and hair salon in Lawrence. Breanna Bell said the journey didn't come without people who didn't believe they would make it this far.
"I know that when we first started talking about opening this place, a lot of people were like, 'Don't be surprised if that first year doesn't go well because that's when a lot of people struggle,'" Breanna said. "But thinking about how our first year went and how successful we were to keep our books filled, I don't have any doubts that we can't go into second year or third year."
Having their own shop came naturally to the Bells, considering they've both been doing hair since they were pre-teens. Isaiah, 24, has been doing hair for about 11 years, and Breanna, a 21-years-old junior studying business at the University, has been doing hair since she was 12.
The Lawrence natives have seen first-hand the lack of shops catered to servicing black hair.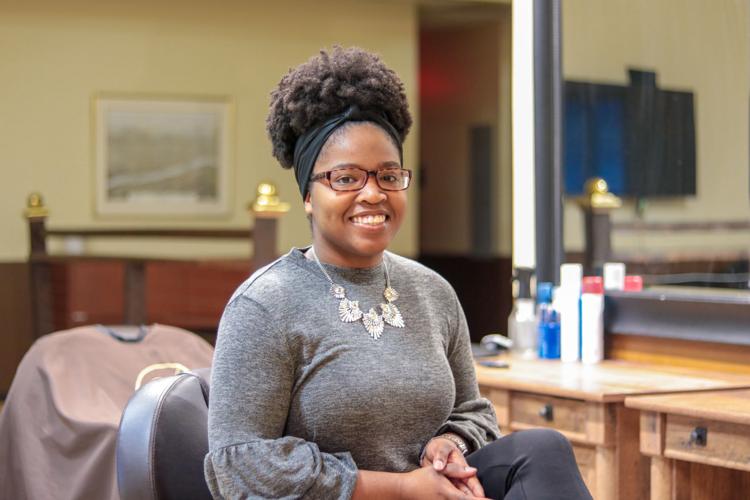 "Growing up in Lawrence, Kansas, there wasn't too many shops," Breanna said. "Our parents had six girls and five boys, so when it came to getting our hair done, my mom took care of that because there weren't a lot of options. Thinking about that when I was a child and growing up to 21, stuff hasn't really changed because there aren't a lot of options."
The demand for more black-owned hair shops coupled with the history of entrepreneurship in their family is what motivated the Bells to open the salon. Their parents moved from Mississippi to Lawrence in the 1970s, which was the tail end of the Great Migration in which black families in the south migrated to the north in search of better opportunities. Their dad opened a construction business in the 1980s, which is currently combined with Isaiah's landscaping business, Bell's Turf.
Breanna said watching her father pay attention to detail for his clients inspired her to do the same with hers.
"Watching him take people's words and descriptions and create what they want, I guess that's a way that really just drove me to talk to people and understand," Breanna said.
Local entrepreneur Crystal Swearingen has began a new magazine, The Spot, after not seeing ample presentation of women in business in other local magazines.
Isaiah said that the salon being black-owned is not the only aspect that makes their business different. Instead, it's their dedication to having quality services for their clients.
"When we first opened, it was about creating, not only for clients but for people who work here, a professional atmosphere that's comfortable and relaxing," Isaiah said. "Being able to make money in that atmosphere that doesn't discriminate and create a welcoming atmosphere, so we wanted to make sure we bring those things out."
For Breanna, although managing school and having a business is often hard, she said the salon's scheduling system helps her balance everything. She took a year off from school after her sophomore year to get her cosmetology license. Breanna also mentioned that doing what she loves also helps her manage things better.
"I was doing YouTube videos for a little bit, and I really loved that, and from my high school years up until my sophomore year of college, I just braided, and I've traveled to [clients]," Breanna said.
Mona Ahmed, a journalism and political science major at the University, attended Lawrence High School with Breanna Bell and was a regular client of Breanna's. She is now a client of Prestige.
"I was actually at their grand opening, so that was really cool to go there to see and support her as a friend and customer," Ahmed said. "I was really proud to see how her and her family were able to have this dream and put it all together."
Ahmed also said she liked Breanna's attention to detail when she did her hair at the salon last year.
"I was just getting my hair straightened and cut, and I really enjoyed it," Ahmed said. "Breanna is so friendly and not judgmental about how bad your hair can be if it's not kept up. She's really good about helping people grow their hair and keep it healthy."
Ahmed, who identifies as black and Pakistani, grew up in Lawrence. She said it's been hard for her and her sisters to find a salon in town that could care for her hair.
"Growing up, when I would get my hair done, I don't think I ever really went to a salon in Lawrence," Ahmed said. "Even if I wanted to get my hair done, sometimes I'd go elsewhere like to Kansas City, or I'd have my mom do it, so it's awesome that Prestige is here and visible and has that visibility as a black-owned hair salon."
Hearing clients appreciate the salon for their services and impact in the community is something that the Bells say they're thankful for.
"We take pride in our work," Isaiah said. "We get a gratification out of seeing someone excited and their gratification of what we just did."
Another aspect that the Bells say makes Prestige Hair Studio different from others in the area is their interaction with the community. Since its grand opening, Prestige has hosted events, including a food drive and a barbershop talk affiliated with the University's chapter of Alpha Phi Alpha, in which participants were able to get free haircuts and talk about social issues
"Even though we are a hair studio, we try to host events," Breanna said. "It was just nice to see people, who we don't see as regular clients, just come and talk to one another."
Originally based in Chicago, &blowdry beauty bar and medical spa opened a Lawrence franchise in November and offers a range of services including blowouts, manicures, Botox and facials.
The salon had two other stylists in the past, but it's currently just Isaiah and Breanna who run the shop. Although working with family is commonly perceived as a bad business decision, Isaiah said it's something he takes pride in because they both have the same vision.
"A lot of people believe that family is some of the worst people to work with, but I don't believe that at all," Isaiah said. "Family should be somewhat easy to work with because I know what you don't like and you should be able to get along."
For the future of Prestige Hair Studio, the Bells plan to continue to provide their clients with quality service while also getting more involved in the community by hosting more events.
"I think it's the ambience of the place that we try to give," Isaiah said. "We try to give that experience for everybody and what we believe is quality over quantity. Everyone who sits in our chair, we want to take care of them and educate them on how to take care of their hair."
—Edited by Nolan Brey