After undergoing renovations since November, Bon Bon will open in late May with a new kitchen and menu.
The restaurant, located at 804 Pennsylvania St. in East Lawrence, previously cooked out of a food truck because it occupied a building listed on the National Register of Historic Places. It's been home to Bon Bon since October 2016.
Cooking out of a food truck presented problems for Bon Bon's staff. In the summer, the kitchen in the food truck became too hot.
"It just became a hindrance to our creativity," Ryan Bowersox, general manager, said. "We found ourselves at a plateau with it."
The renovations will add a kitchen and more dining space to the restaurant. The added space, what Bowersox said they call "the greenhouse," will be made of glass panels and have two garage doors that can be opened during nice weather. "The greenhouse" will have plants inside to create a natural feeling.
Along with the renovations, Bon Bon has also hired a new chef, Devin Campbell, who has created a new menu for the restaurant. The restaurant is currently operating a kitchen behind the bar, using a small-plate tapas menu inspired during the renovations.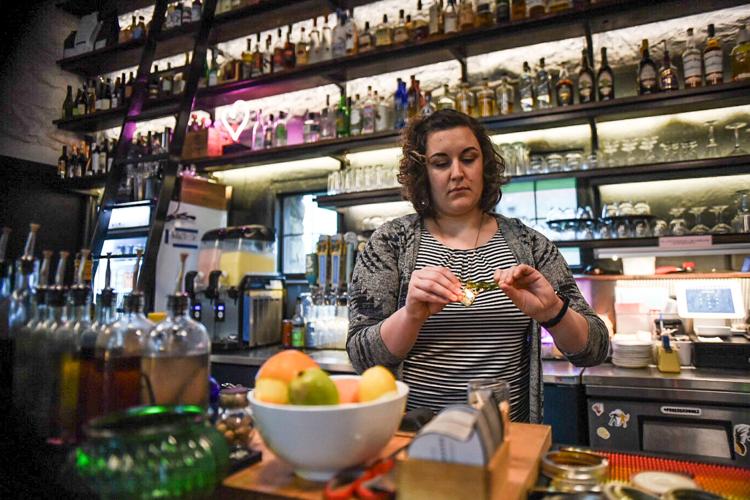 Campbell has also created a new food menu for when renovations are complete. Bon Bon will also start serving brunch about three weeks after its re-opening.
Steph Goetz, the assistant manager and bar director, has also created a new drink menu for Bon Bon's re-opening. The new drink menu ties in with the change of season and is also meant to incorporate locally-sourced ingredients.
Bowersox said Campbell and Goetz meet each other in their creativity, knowledge and experience that will show in the new food and drink menus.
"I really feel like Lawrence is in for a treat to see what they come up with together," Bowersox said. "I'm constantly impressed with them every day."
Bowersox said the restaurant has used the renovation time to retrain staff and continue doing what they've always done —  be an inclusive space that provides an enjoyable dining experience.
"I want people to be like, 'Lawrence has good food, but this place Bon Bon, it feels different — there's something different about it,'" Bowersox said.
The restaurant will remain open throughout the renovations. Its current hours are 3 p.m. to 9 p.m. After renovations are complete, the restaurant will be open Tuesday, Wednesday and Thursday 11 a.m. to 10 p.m.; Friday and Saturday 11 a.m. to midnight; and Saturdays and Sundays for brunch.