Children cheered with excitement as full-time naturalist Marty Birrell handled a bird named Lenore. She patiently dealt with the animal with ease, which comes as no surprise since Birrell has been hosting children's programs for up to eight years. 
Last Friday, the Lawrence Prairie Park Nature Center hosted its annual youth-centered event called Breakfast with the Animals. The event aims to educate children about various types of wildlife. Children learned what animals eat and how often they eat.
Birrell said some animals eat multiple times a day while others only need one meal a week. Attendees of the half-day program listen to presentations about the animals and also have the opportunity to hold and feed the animals.
"We give a program about animals, what they eat and what their role in nature is," Birrell said. "The kids get to feed the animals, and they really like that part of it."
The Nature Center features a wide variety of animals including birds of prey and mammals. They even have a black-footed ferret named Pancake, which is extremely unique to the nature center as the species is endangered. 
Taylor Feuborn, a part-time naturalist at the Nature Center, conducts most of the feeding and assists with other nature programs. Feuborn said she is particularly fond of handling birds, while spiders aren't exactly her favorite animal to handle.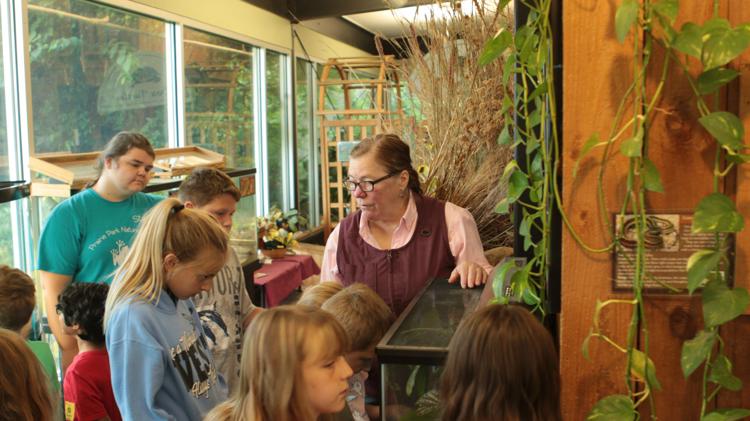 Nonetheless, Feuborn is fueled by her passion for animals. Her dedication to educating youth about wildlife wins out over any aversions to creepy crawlers.
Feuborn said seeing kids' reactions to the animals is the best part of the job. 
"The Nature Center is a really cool place for kids. I've noticed that there are a lot of people who don't necessarily know that we're here," Feuborn said.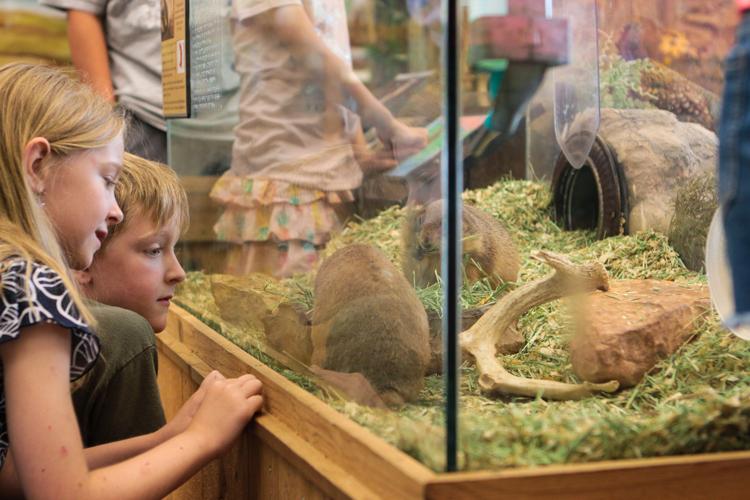 The Nature Center also offers a free program every Saturday at 10 a.m. teaching visitors about different aspects of nature. Outside of their events, visitors are welcome to come to the Nature Center at any time to view the animals or hike the trails.
Feuborn said the main goal of the Nature Center is to be as accessible as possible. The Nature Center hosts school tours and birthday parties along with children's programs.
"If you're looking to explore something in a different part of Lawrence, this is a good place to come to," Feuborn said. "We really want nature to be a part of children's lives and just people in general."