Freshman Zara Hassan from Wichita keeps it simple in below freezing weather on campus. She is dressed in a simple white turtleneck, jeans, Dr. Martens and accessories with hoop earrings and a headband.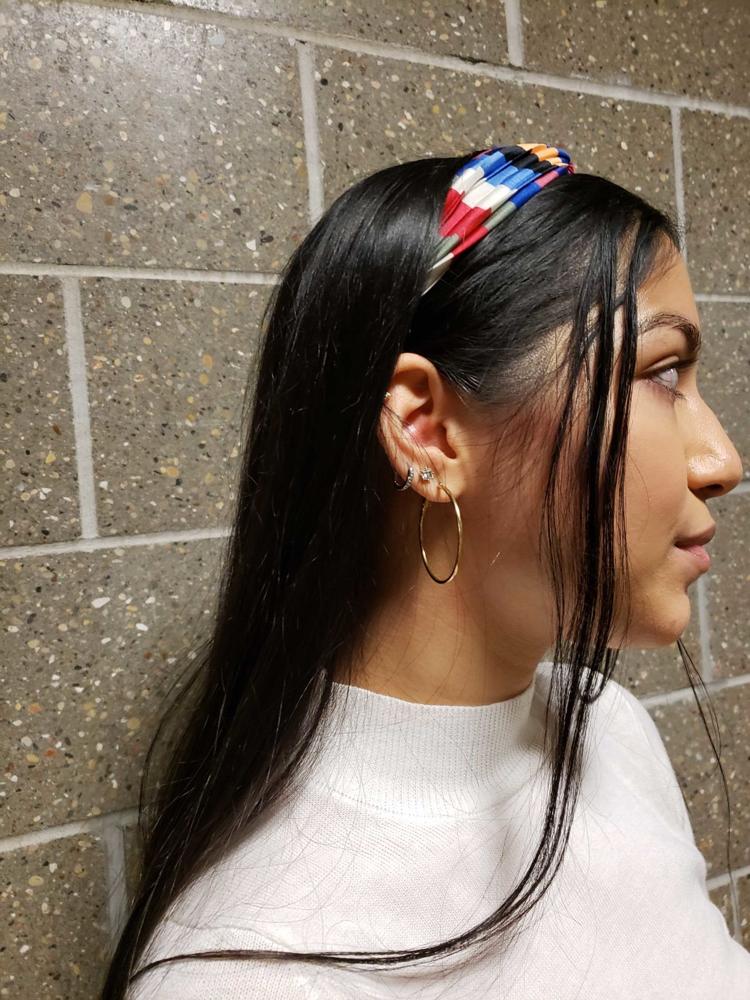 Hassan said she gets her inspiration from youtubers and people on social media as opposed to celebrities because she feels like she can relate to youtubers better. She also gets inspiration from her Bangladeshi roots.
"Sometimes I try to look at the hair of old Bollywood actresses in those movies that I watch with my mom," Hassan said. "Not because it's necessarily in, but I feel like I see myself in those girls who look like me, even if it's from the '70s and '80s. I know that they look like my mom, and I know my mom watched them and got a lot of her inspiration when she was young from these Bollywood actresses because she didn't see herself in other places." 
Hassan said it's hard to mix United States fashion and Bangladeshi fashion because they are so different, but there are special occasions, such as parties, where she can dress in traditional Bangladeshi clothes.
Lately she's been into hair accessories, such as headbands and clips, or even just hairstyles like braids to change things up. She shops at thrift stores often, but she also goes to clothing retailers, such as Zara or Topshop, when she gets the chance.  
Shop the Look
Top: Forever 21 
Shoes: Dr. Martens 
Jeans: Topshop 
Campus Couture is a weekly feature that spotlights one University student, faculty or staff member who is dressed to impress. Check kansan.com weekly to see who's featured in upcoming installments.
Know someone who you think should be featured in Campus Couture? Tweet us at @KansanNews or @aliciamarksb.