Philip Stinson, the curator of the Wilcox Classical Museum, intends to collaborate with the University of Kansas' School of Architecture and Design and renovate the University's oldest museum.
Established in 1888, the Wilcox Classical Museum in Lippincott Hall displays plaster casts of famous Greek and Roman sculptures and ancient Mediterranean artifacts. 
Stinson said the collaboration effort is the start of a long project that will fix some issues and add new innovations to increase attendance. The museum averages 100 visitors a week.
"An average day is pretty low-key," said Catherine McCormick, a Wilcox Museum employee and a graduate student in the classics department. "It's an exciting day if I have a visitor."
One of Stinson's top priorities is to fix the museum's heating and air conditioning systems in one of the University's oldest buildings.
"You have to dress for the museum as if you were going on a ski trip," McCormick said. "You have to dress in layers because you have no idea if you are going to the beach, the sauna or the polar caps."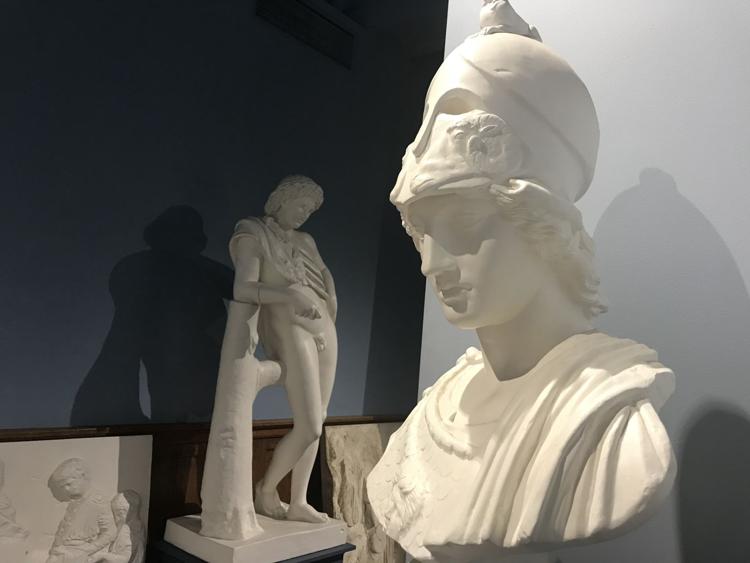 Stinson then plans on taking down the walls that currently hide the museum's historic windows to allow in the natural light, making the museum more inviting. Additionally, the museum would gain four feet of space without the walls.
More space means the opportunity to add more artifacts to the exhibit. The museum has a total of about 400 artifacts, half of which are in storage. 
"It is going to seem like we have expanded [the museum] dramatically when we renovate because there are going to be so many pieces that have been in storage," Stinson said.
Stinson also wants to use technology, such as augmented reality, as a learning tool for the museum. He believes this will be an interesting way to communicate to visitors that the sculptures and artwork the plaster casts are based on were originally brightly painted.
After the renovations, Stinson wants to broaden the museum's audience. He plans to implement an outreach program to attract more students, including those in K-12, with more classes, tours, digital exhibits and a hands-on experience with the artifacts. 
"I would try and experience it at least once during my time here at school," said Richard Scott, a junior majoring in sports management.
The renovations would be a collaboration with Chad Kraus, an associate professor of architecture at the University, and his students.
"We would all work together to come up with a design that we like. Then Professor Kraus' students would actually build some aspects of the design," Stinson said.
To cover the costs of the project, Stinson will use a combination of private fundraising and grants, he said. No price or timeline has been set yet because the project is still in the planning stage. But, Stinson said the project could take a long time to complete.
"If we complete this in five years, I will be happy," Stinson said.