For sophomore Olivia Jones from Waterville, Maine, music is practically her whole life. Between deejaying for the University's radio station KJHK, majoring in journalism with a minor history, and organizing the live music events on campus, Jones has spent her year actualizing her passion for the music industry.
Stepping into these roles, Jones didn't have previous experience beyond her personal interest in music. During her semester in these roles, Jones says she has learned a tremendous amount about herself and leadership, especially in her role has a events coordinator for live music campus.
Benji Bloom, live music coordinator for KJHK, works jointly with Jones, who says their lives are very much entwined.
"We get called the dynamic duo. This job can't be done alone. No decisions can be made alone," Jones said. "It takes more than one person otherwise things fall through the cracks."
Both Jones and Bloom want this to be their careers and shared their biggest piece of advice.
"Experience is your greatest asset."
Jones and Bloom are gaining immense amounts of experience when planning and coordinating every live music event on campus. While recognizing that they can never satisfy everyone, they work diligently to build relationships and connections in order to offer students the best experiences possible.
"We know that students are interested in live music, and we are taking live music to the next level. We want to change the way students and the community experience live music on a college campus," Bloom said.
Before the Show
Jones spends her days in classes much like most students on campus; however, her days are also always spent working on coordinating a live event or deejaying for KJHK. When her school day is over, she is in the KJHK studio collaborating with Bloom and their team for live music.
Months in advance, Jones and Bloom were reaching out to both local and national production and talent agencies to plan events. Established connections through SUA and KJHK provide the coordinators with working relationships with these agencies.
When reaching out to agencies, dates and budget ranges, a general genre or vibe are provided by Jones and her team. Then, Jones will hear back from the agency, which provides a list of potential performers.
The process continues as Jones, Bloom and the Live Music Committee consider many factors when choosing performers. The team always aims to sell out a show, but in order to do this every aspect of the show must be considered.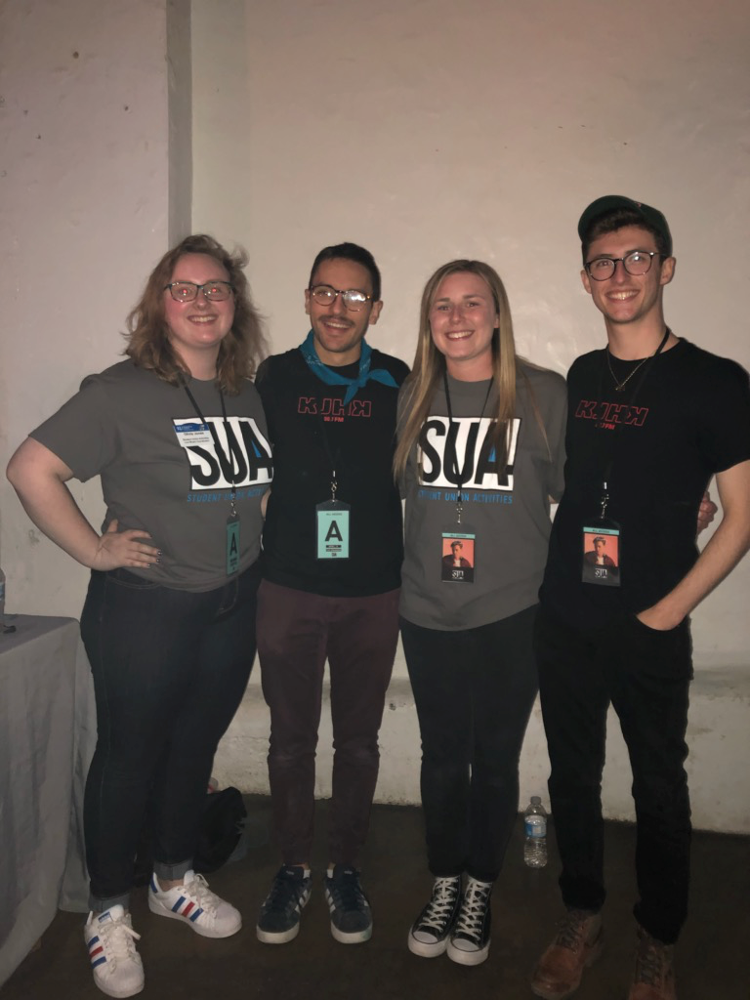 When determining who will perform at the University, Jones and Bloom determine who they are trying to reach as their target audience. Students on campus are always going to be the audience that they consider first, thus they try to evaluate who will be successful in Lawrence.
"There are questions we try to ask ourselves. What can we do within our budget? How will it work? How can we reach as many people are possible? What are current trends?" Jones said.
Relevance and timeliness are two of the biggest factors in evaluating potential performers. Jones and Bloom say they are trying to predict future popularity, which they say is the hardest but most fun part of their job. They want to make sure a performer will still be cool and fit with trends when the show actually happens later.
"Right now nostalgia is a the trend. People want to feel like a kid. That's why we did Jesse McCartney and why he appealed to people when he isn't really a name you have heard recently. If we tried doing that show in two years, it wouldn't have worked," Bloom said.
Once performers are finally booked, Jones works with the agencies and performer's teams to establish contracts for the show. Details and events are planned and finalized the months following, leading up to the show.
The Show
"What can I help you with?"
This has become Jones' mantra in this position, especially on the day of a show. Leading up to the show, Jones and Bloom are the main point of contact for the performers and their team. This can be Jones being in contact with a performer's touring manager, which can be beneficial when a performer has a large team like Action Bronson did, or Jones can be in contact with the performer directly, which happened in the instance of Jesse McCartney.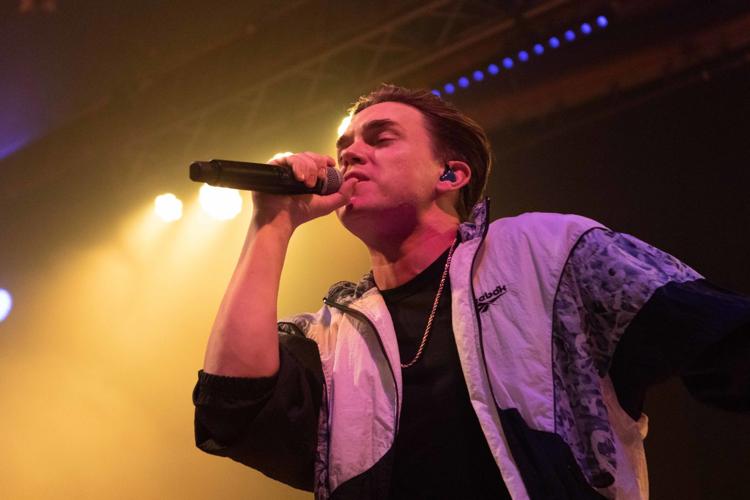 Jones and her team work to make sure everything is happening the way it should be happening, whether with the performers and their team or the venue.
Since working in this position, Jones has learned when she needs to delegate tasks to others and how to keep her cool when things don't go according to plan.
"You have to be prepared to change. You can plan everything down to the minute, but things can pop up or change on the fly. A performer could cancel or make a different request," Jones said.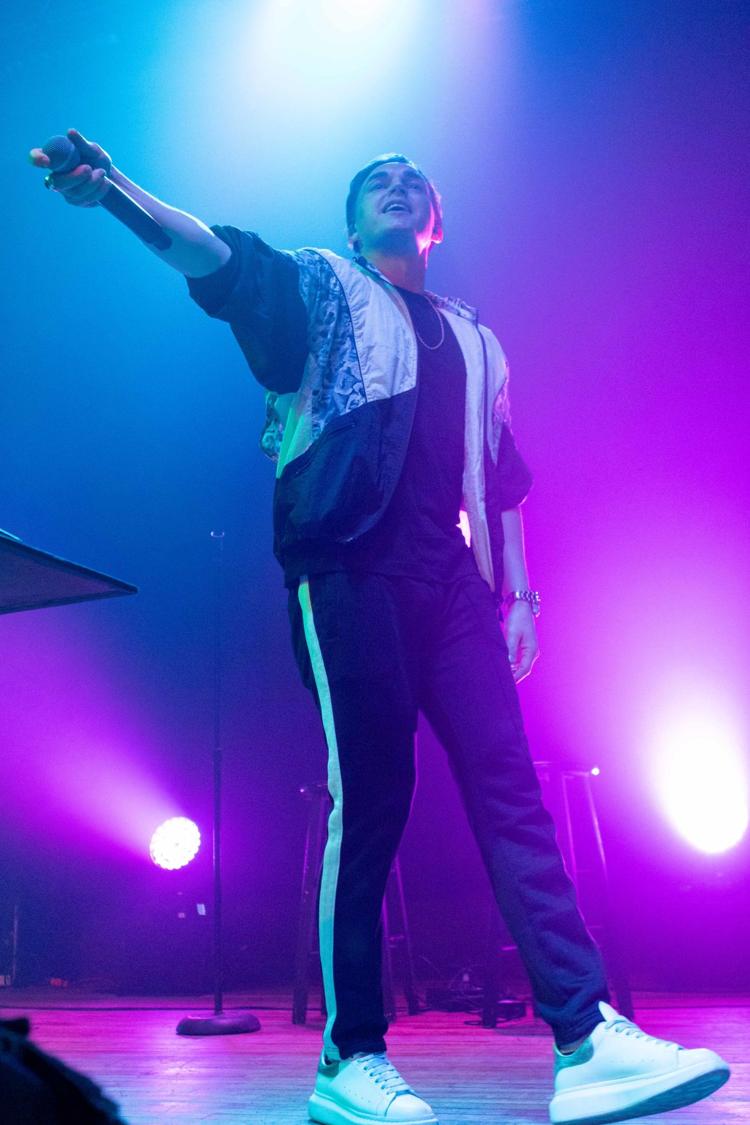 Once the show is happening, Jones and her team like getting the chance to see the audience truly enjoying a performance.
Post-Show
After an event finishes, Jones and her team can breathe easy. Jones closes out the show, making sure all expenses are turned in and performers are paid following the show.
Jones and Bloom also like to make sure people are going to remember the show. Posting photos on Instagram or getting a review of the show are two commons avenues the duo takes in encapsulating a show. Finally, Jones, Bloom and their team come together to reflect and debrief on an event. They consider ways they can improve and determine what worked and what didn't.
"Every show is a success in some way in that you always learn something," Jones said.