University of Kansas second-year master's student Zachary Cope said every performance day must begin with one thing: dog cuddles.
The Topeka-native currently inhabits the role of Oberon, the king of the fairies, in the University's production of Benjamin Britten's "A Midsummer Night's Dream." This opera was chosen specifically because the role of Oberon was written for a countertenor — the voice part Cope sings.
"[The role] is a lot of pressure," Cope said. "But I will eternally be grateful for the fact that ... the faculty trusted me and saw an opportunity to say 'hey we've never seen you do a role but if we choose an opera that features a countertenor you'll learn it and be great.'"
Sarah Hennessey is also a second-year master's student. The Overland Park-native was cast as the female lead of Tytania. She met Cope when they both arrived at the University in the fall of 2017 and has loved working with him — professionally and personally.
"He's always prepared, he's articulate in what he wants to do and he's very timely," Hennessey said. "He knows what needs to happen when and I think he's good at rolling with the punches which is really hard to do in a show like this."
Warm Ups
Cope said he tries to keep performance days as close to normal days as he can so he doesn't get too nervous. However, his one deviation includes scheduling in at least 30-minutes of dog cuddles on his couch.
"It mentally gets me happy, of course because who isn't happy loving on a husky," Cope said. "And physically, I am not doing much but sitting there."
During the hour, Cope is busy warming up his voice by doing lip trills, sirens and slides — normal exercises to help his vocal folds stay warm.
After much deliberation, Cope decides to leave the couch and grab a meal to help fill him up. He said it's usually at Merchants.
Though Cope has a few "treat yourself moments" as he calls them, he tries to go about the day as if it were any other.
"If, mentally, I prepare myself in the idea that today is different then I get more nervous and more anxious about what's coming because I'm treating the day as something special versus treating the day as just a relaxing day off and I happen to have an opera this evening," Cope said.
Cope said this is because during dress rehearsal weeks, he has a full academic day on top of the show. So, if a performance day becomes a 14-hour day, it's normal.
Normally on Fridays, Cope teaches five voice lessons as a graduate assistant, has his own voice lesson and voice studio class. Opening night, however, Cope cancelled his lessons to avoid tiring himself out before the performance.
"I decided [the lessons] might be a little too much speaking before performing an opera that is three hours long at 7:30 at night, so I did cancel," Cope said.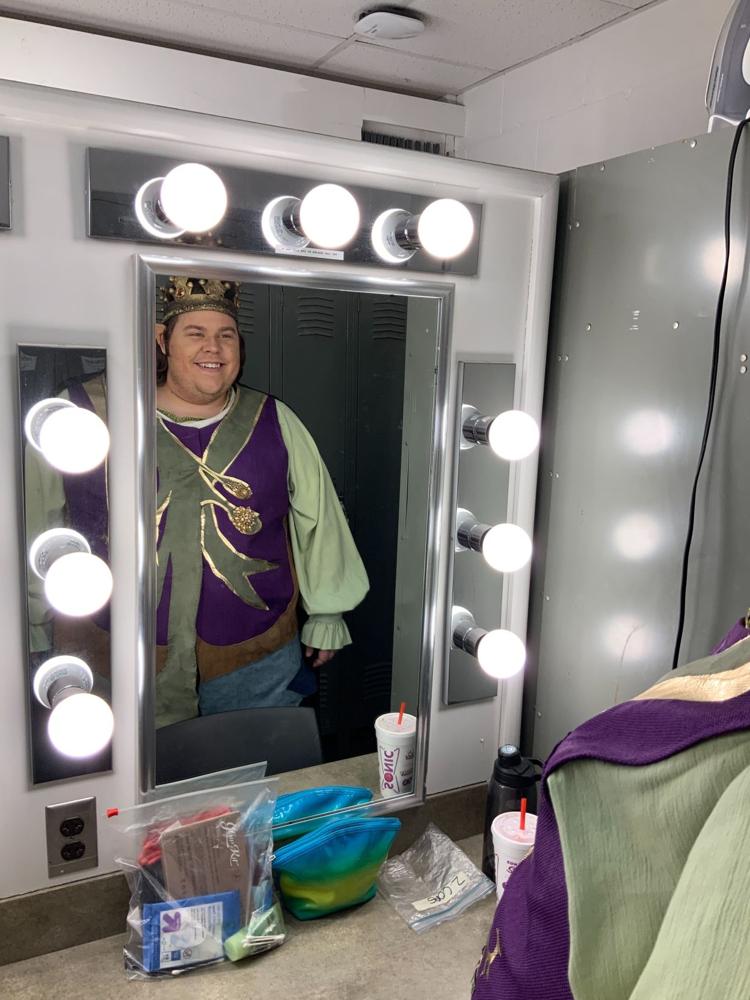 Call Time
Call times for the opera depend on the extent of hair and makeup for the characters. Cope has the earliest call time as Oberon, along with the two students that share the role of Puck.
His call is two-and-a-half hours before the show opens. However, he must come in already with a make-up base to help speed up the process.
"Right at two-and-a-half hours before we can be in the [makeup] chair, get our hair done, putting our gold hairspray sprayed in, our glitter everywhere — it's a lot of work to be a fairy," Cope said.  
Throughout the time of hair and makeup, Cope talks with the students helping him transform into Oberon.
"I love talking with the makeup people," he said. "I'm a big ole extrovert. I cannot be quiet, and I love meeting new people." 
To finish preparing for a performance day, Cope has a mantra he says to himself — "opera is an expression of empathy."
"We sing music to the audience with a cast and crew of people where our main goal is to help somebody through that evening be it through the sound of the music or through the dialogue that's said or through the themes of the story," Cope said. "I think to myself 'how can tonight change someone? How can someone who came in here not feeling so great feel really great when they leave? How will tonight alter the way someone feels about music and how will tonight alter the way someone feels in their everyday life?"
After the show, especially when it is a long show like "A Midsummer Night's Dream," Cope likes to go out and celebrate with his fellow cast mates.
"We should all be giving ourselves a pat on the back," Cope said.