Mindy Bentley, 57, and William Gallagher, 66, have been homeless on-and-off for years, but best friends for decades. They like watching TV, drinking coffee and playing sports together — they've participated in several Special Olympics. Now at a new homeless drop-in center, they have a place to do some of those things.
"It really is serving a need," said Loring Henderson, co-director of the center.
The Drop-In And Rest (DARE) Center was founded by Henderson and Ruth Stromberg on June 3. Open from 2:30 to 6:30 p.m. during the week, DARE is meant to be a place for Lawrence's homeless community to rest and relax.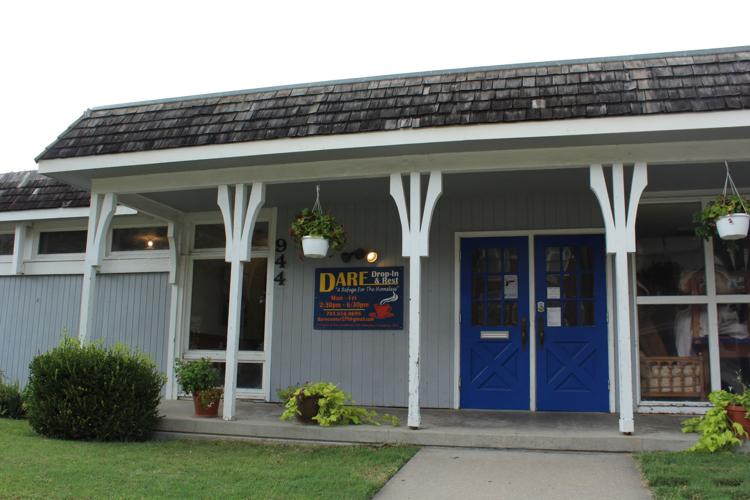 Bentley and Gallagher said they both have housing, but the DARE center is a place for them to hang out and use the center's resources with others.
"We have different aspects that cover homelessness, but no place like this," Henderson said.
Lawrence has the Lawrence Community Shelter, Family Promise, and Willow Domestic Violence Shelter, but DARE fills the gap for people who need a place during the day.
DARE has a washer and dryer, two showers, a library, T.V. and often coffee and donated snacks. Some toiletries and other supplies are also available for guests. Henderson said the washer and dryer are in especially high demand and the staff had to create a sign-up list for people waiting to use it. Henderson calls it the center's "most challenging administrative challenge."
Located at 944 Kentucky St., DARE is across the street from the Lawrence Interdenominational Nutrition Kitchen (LINK), which serves meals. Part of the planning behind DARE's location was to give people a place to go after meals wrap up at LINK. The space itself is about 870 square feet and can accommodate about 20 guests at a time, Henderson said.
In September, almost 500 people checked into the center. On Sept. 1, the Lawrence Community Shelter reduced the number of beds by half because of budget cuts. The shelter's capacity decreased from 125 to 65.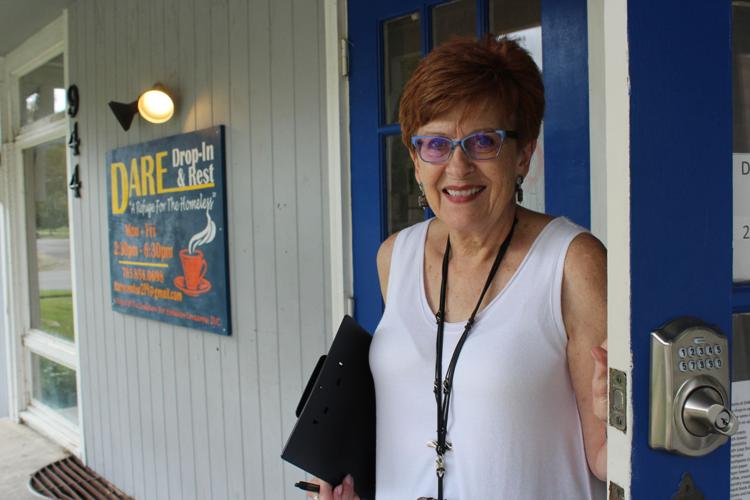 Many of the books in the library were donated — some by local stores like The Raven. Guests can take any book they want. However, often up to people can be found napping on the carpeted floor of the library, according to Stromberg.
One of the greatest struggles the Lawrence homeless community faces, Henderson said, is finding a place to sleep. It is prohibited to sleep in many public spaces.
Henderson and Stromberg connected by chance. Both are retired, but they have worked with homeless communities for years. Henderson, who was born in Lawrence, was the director of the Lawrence Community Shelter and Stromberg was a Christian Counselor for more 25 years.
When the location became available, both separately contacted the owner to see about opening a community space for the homeless. The owner then connected Henderson and Stromberg who have been working together ever since.
"We could call this place Serendipity Shelter," Henderson said.
Stromberg's faith is incredibly important to her and it's one of the reasons she got involved working with impoverished communities. She runs a Tuesday night Bible study at DARE. Her long-term goals are to help people "come to wholeness" and create a loving environment.
"All of us have had some difficult things," Stromberg said.
Many guests at the center are regulars like Bentley and Gallagher. Danny Bailey who is a self-proclaimed "bum" said he comes into the center every day for the same reasons: survival, coffee, and food. Bailey also said the staff is pretty nice. Regardless of the place, Bailey said he has seen some of the same people volunteering and the same people showing up.
"They can't change and we can't change," Bailey said.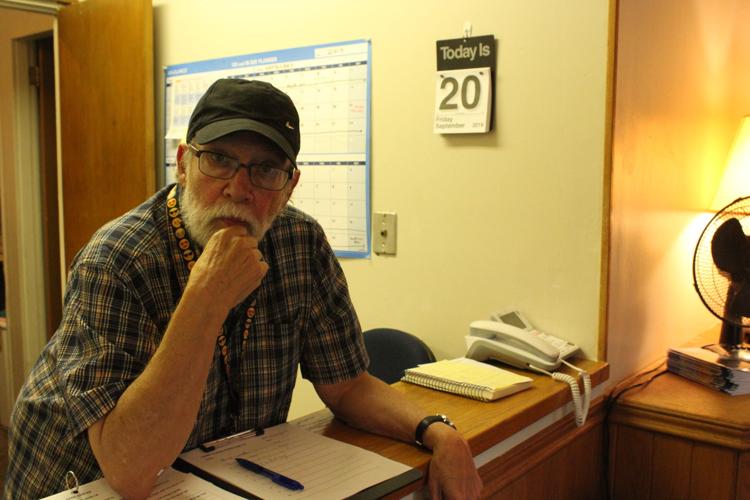 Since the center is entirely run by volunteers, Henderson and Stromgberg said they are always looking for more. Joe, 74, has been volunteering at the center for a over a month. Now retired, he was the Episcopal chaplain at the University of Kansas and said he just loves being around people.
"If you're looking for something to do and people that need you, sign up," Alford said.
Regardless of whether or not someone chooses to get involved at the center, Henderson wants the community to know that homelessness is everyone's problem.
"We are all in this together," Henderson said. "West Lawrence. East Lawrence. Central Lawrence. The city commission. The county commission.  Volunteers like Ruth and me. We're all in this together and we gotta talk about it. We can't just say I'm going to my part of the town and barricade myself."