After a five-day hospitalization his sophomore year at the University of Kansas, Kefrene Zakpa had to return to his home in West Africa to make his full recovery. Now, the international student is using his experience to fuel his newfound desire to change others lives for the better as a personal trainer.
His sophomore year at the University, Zakpa said he consumed a psychedelic mushroom and immediately regretted his decision. Afterward, he was unable to speak English and returned to his native language of French.
"I had no more sense of who I was or where I was," Zakpa said. "I was very frightened and broken. I remember refusing to speak to anyone in English because I wanted to feel secure."
Zakpa became progressively violent after the incident, he said. While staying at The Reserve on West 31st Street Apartments, he said he harassed other residents verbally and smashed his apartment window.
"I felt like I was in hell," Zakpa said. "I felt like God was punishing me for my decision because I did not originally want to take it, but everyone else did. He was teaching me how to stand my ground."
According to medical records, police escorted Zakpa to Lawrence Memorial Hospital July 24, 2018. The hospital transferred him to Osawatomie State Hospital, a psychiatric facility, after one day.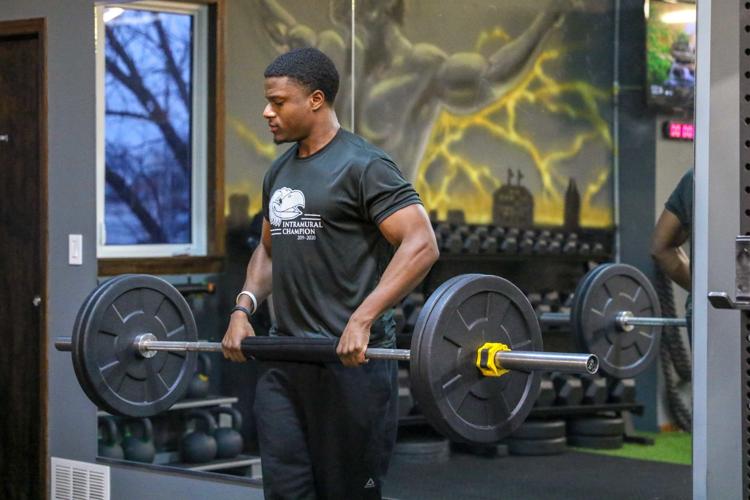 Dominique Zakpa, Kefrene's mother, said she was devastated by the news. 
"He called me saying he was going to hell, and he wanted to speak to his sister before," Dominique said. "It was a deep pain — as if someone stabbed me. I cried for days and started fasting and praying."
After being in the hospital for five days, Kefrene said he decided to return to his hometown, Abidjan, a city on the southern Atlantic coast of Ivory Coast. During this time, he turned to his religious views and asked God for advice on how to move forward, Kefrene said.
"After I prayed and got answers, I started doing pushups the next day," Kefrene said. "I felt like I needed to actively work towards getting better. That happened dramatically because I believed I was conquering my situation and not letting myself be defeated."
Kefrene said he's always been interested in health. Before the incident occurred, he received CPR and first aid certification. He then decided to pursue a certificate in personal training during his break from the University.
"I would read every day and then go to the gym so I could understand the concept of fitness from a personal level so I could train anyone," Kefrene said. 
Upon returning to the University in the fall of 2019, Kefrene said he made a vow to himself to listen to the voice of God and not allow others to influence his actions. He began building a social media presence and discovered Omni Fitness, a local fitness center in Lawrence located on 2500 W. 31st Street. 
Kefrene now has more than 700 followers on Instagram and is a personal trainer at Omni Fitness. He uses Instagram to give health, fitness and motivational advice. Kefrene posts content that includes workout tutorials, advice videos and client progress pictures.
Lexci Kimball, a senior from Haskell Indian Nations University, has been training with Kefrene for five months and said he has improved her physical and mental health.
"My personal goal was to gain weight and build muscle, and he's really helped me with that," Kimball said. "I struggle with depression and anxiety, and sometimes that causes me to lose my appetite or get into these moods where I don't want to do anything. But, he's really helped me see the bigger picture in life."
Kimball said she feels confident when investing in herself and relying on Kefrene for professional help. She said self-discipline is another concept of personal training that's improved her life. 
"He has really pushed me to show up on time and not skip days," Kimball said. "When we do workouts, he says, '10 sets is good, but 12 is great. Which one do you want to be?'"
Kefrene said he offers personalized programming, online coaching and personalized meal plans. His training sessions usually last an hour, and he creates a workout routine correlating with the client's strength, endurance, movement patterns, flexibility and cardiovascular endurance. 
Kefrene is now focusing on building his clientele and receiving his bachelor's degree in global and international studies. He said he plans to continue encouraging others to be vulnerable, to better themselves and to achieve their goals.