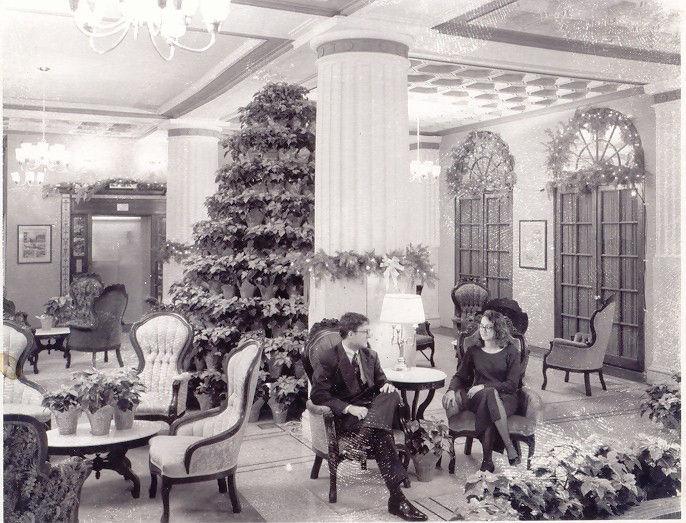 The Eldridge Hotel is a Lawrence monument because of its rich history and haunted stories that have been told and discovered throughout the years. The Eldridge Hotel is believed to be haunted by Colonel Eldridge, along with many other spirits. In particular, room 506 has had the most reported haunted occurrences.
In honor of the Halloween season, on at 6:30 p.m. on Saturday at the Eldridge Hotel, Ghost Tours of Kansas and the hotel are teaming up to give guests a look at why the hotel is reportedly haunted, as well as share some of its history.
The Kansan met with University alumnus Paul Thomas to talk about his new book, "Haunted Lawrence," which explores the different ghost stories of Lawrence and the Douglas County area. 
"This event is celebrating the history, and the ghost stories are a part of that history," said the Eldridge's assistant manager, David Longhurst. "There is one room in particular that has had strange things happen to it, room 506. Nothing evil has ever happened there, just unusual things."
The only thing that sets room 506 apart from the others is that the cornerstone from the original building is embedded in the wall. Multiple things have happened in 506 that set it apart from other rooms according to Longhurst, an employee of the hotel since 1967. 
For instance, housekeepers will go in to clean 506, and when they come back their key card will be gone. Once, a guest came down the morning after spending the night in room 506, requesting a different room. He claimed that right before he fell asleep, the bathroom door slammed shut. This happened several times.
Another time, a housekeeper said they couldn't get their key card to work on the door. After making multiple key cards and none of them working, they were forced to take the door off the hinges. After doing so, it was discovered that the door was dead bolted from the inside.
The ghost hunt will have a paranormal team, Road Trip Paranormal, there to lead the hunt and talk with guests. Following this, will be a gallery channeling session with psychic Lena Thompson, who owns a local business called Peaceful Whispers.
"Basically there will be a whole group of people in the audience, and whatever spirits come forth, she'll be picking up on messages or things that the spirits want relayed to people in the audience, so she just starts blurting out random information, and eventually someone in the audience will know that it's directed towards them," said Cathy Ramirez of Ghost Tours of Kansas.
University graduate Paul Thomas is more of a historian than a ghost hunter, but his first book "Haunted Lawrence," scheduled for release on Oc…
Originally the event was meant for people 12 years old and older, not kids. But Ramirez said she leaves it up to the parents to decide, but prefers nobody under 9 in attendance.
"This event has never been done before. The Eldridge is extremely haunted; Colonel Eldridge is one of the main ghosts, and room 506 is believed to be a portal for many spirits," Ramirez said. "I rented 506 myself so guests will be able to spend a lot of time in there, but we will have access to a lot of areas of the Eldridge."
You can purchase tickets for the Eldridge Hotel Ghost Hunt online for $30. Purchase of a room in the hotel is not necessary.