The Lawrence Parks and Recreation Department held its 48th annual Fall Arts and Crafts Festival Sunday, Sept. 8 in downtown Lawrence at South Park. Special events supervisor Duane Peterson said in his 27 years with the department, the event has quickly become more focused on community.
"It's more of a family festival — horse rides for the kids, free arts and crafts booth the kids can do, and live bands that start performing at noon," Peterson said. "It's all about family unity. There's just all kinds of stuff for a family to do."
The festival is not only a source of community gathering for Lawrence but also for all of the vendors.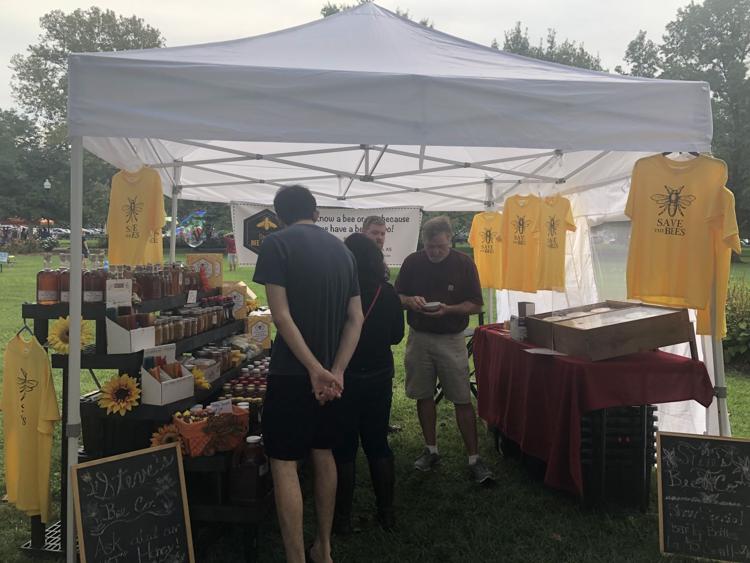 One of the vendors was Steve's Bees owner Steve Messbarger, who has been a beekeeper for over a decade as he started his beekeeping business in 2008. Messbarger said his favorite part about the fair is talking to the people there.
"They're always interested in the bees and how they're doing," Messbarger said.
Another vendor, Doris Teubert, has been selling pillow cases at the festival for two years now.
"It's a great show," Teubert said. "If you walk around, you will see the greatest assortment of good vendors."
Teubert said she recognizes a lot of the other vendors at the festival and has talked with many of them at other art festivals in Kansas.
Teubert said she goes to about 20 art festivals a year and uses it as a way to keep busy in her old age.
For some of the other roughly 125 vendors, the festival is a side project as part of a bigger business. However, the community is still a crucial part of the festival for all.