John Musgrave and David Longhurst did not return home from Vietnam in the 1960s as the same people they were when they left. As the former Marines told an audience Saturday, they were eager to serve their country when they enlisted during the early years of the fighting. Over time, however, they grew disillusioned with the war effort.
The northeast Kansas residents discussed their service and feelings about Lawrence's peace movement at a Watkins Museum of History panel, "Vietnam Comes to Lawrence: Remembering a Bitter War." The panel occurred in advance of Ken Burns and Lynn Novick's documentary, "The Vietnam War," in which Musgrave is featured prominently as an interview subject. The documentary premieres tonight at 7 p.m. on PBS.
About 60 people gathered in the Watkins Museum's basement to hear Longhurst and Musgrave speak. Roughly dozen audience members were veterans themselves, including the panelists. Will Hickox, a museum employee and doctoral student, moderated the discussion, asking the two men a series of questions before opening up the floor for a question and answer session with the audience.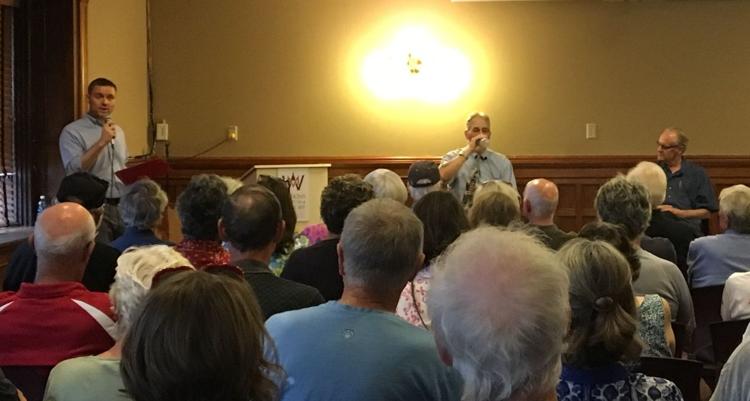 The event started with Longhurst and Musgrave discussing how young they and most of their fellow soldiers were. Longhurst was 20 years old when he enlisted in 1961, inspired to sign up after hearing then-President John F. Kennedy deliver the famous line, "Ask not what your country can do for you; ask what you can do for your country.
Musgrave said he was only 17 when he enlisted, spurred by a hatred of communism and a lifelong dream of becoming a Marine.
"All I needed to know, and all I really knew, was that we were fighting communism," he said. "The Vietnamese just happened to be doing the Russians' job."
In April of 1970, during a time when anti-war and racial tensions were high, the Memorial Union was set on fire, causing nearly a million dollars worth of damage. 
Both men, although they came to develop negative feelings about the war, cited a love for the Marine Corps as a reason they fought.
"I was there because of my fellow Marines," Longhurst said. "We were going to look out for one another. We were going to take care of one another."
The discussion took a darker turn about 20 minutes in, when Musgrave detailed the beginnings of his disillusionment with the war effort. Musgrave was shot in the chest during his 11th month of service. Marines typically served 13 months in Vietnam, a month longer than the other branches. Musgrave said that turned him bitter, as he lost friends and fellow soldiers who were mere weeks away from going home.
"Those bullets that hit me were traveling at over 2,300 feet per second," he said, snapping his fingers. "That's how long it took for my buddies to die."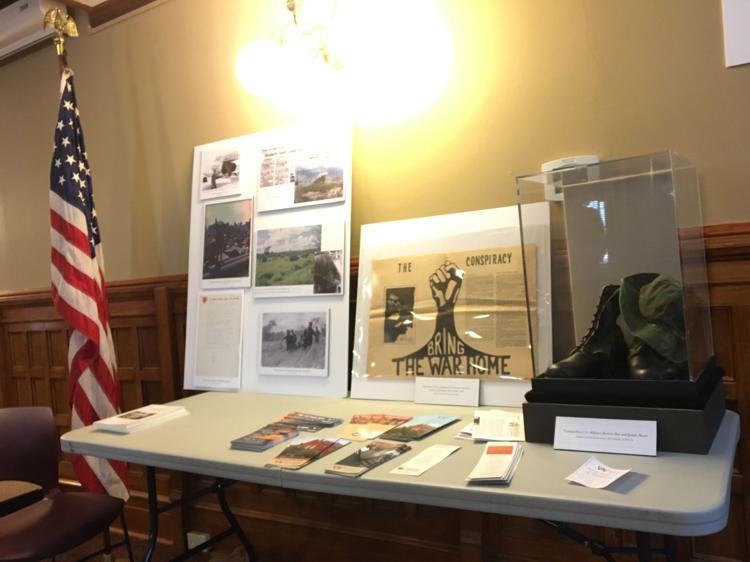 Fifty-nine University students died in the Vietnam War. A memorial, dedicated in 1986, stands just off Memorial Drive, bearing their names.
The University campus was also a hot spot for anti-war protests. Windows in the ROTC building were smashed, and the Union was burned down in the wake of the protests, which were tied into desegregation efforts. In the summer of 1970, two police shot and killed a young black man named Rick Dowdell, fanning the flames of an already politically tense environment.
Longhurst and Musgrave said that they experienced some of the effects of Lawrence's anti-war sentiment, although it was harder for Musgrave to cope with than Longhurst.
"Lawrence did have a pretty intense anti-war sentiment, and I had to endure some of that," Longhurst said. "To me it was like, 'F--- off, whatever.'"
Musgrave, who experienced heavier combat than Longhurst, talked about his regiment receiving a package containing a case of dog food. He was devastated.
"After I was home, the way I was treated by [anti-war protesters], I definitely thought of them as the enemy," Musgrave said.
At the Watkins Museum of History, there will be an exhibit that explores Lawrence's diplomacy efforts during the Cold War which helped improve sentiments between Russia and the United States.
Despite the heavy subject matter of the afternoon, there were moments of lightness. Musgrave told the story of his journey to Vietnam, a 33-day voyage on a ship carrying 3,500 soldiers. He was thrilled to begin his deployment building on the Marines' legacy as "warriors of the sea."
"Of course, they didn't tell me what it's like when thousands of kids are throwing up," he said.
The discussion ended with six or seven questions and comments from the audience, some serious, some not. "What can we do to help veterans?" someone asked. Another stated: "You love your country but distrust your government." A fellow veteran asked, "What kind of music did you guys listen to?" and "How was the pot back then?"
"You were mayor of Lawrence," Hickox teased Longhurst. "I think it's OK to admit it."
The discussion ended with Musgrave's advice to the other veterans in the audience.
"I want to encourage you all, if you haven't shared your experiences with your family, please do it," he said. "This is a perfect time. Your stories are too important to be lost. America needs to hear your stories, and your families are a wonderful place to start."