Seven local acts will perform at the Replay Lounge on Friday, April 19 for Girls Rock Lawrence's spring fundraiser. The bands are primarily made up of female, non-binary, and transgender artists.
Girls Rock Lawrence is part of the Girls Rock Camp Alliance, an international organization that intertwines social justice and music.
There will be shows at 6 p.m. and 10 p.m. The lineup for the all-ages matinee show includes LK Ultra, Rachel Mallin and The Wild Type, and Ex Brain.
The lineup for the late show, for the 21 and older audience, consists of Vigil and Thieves, Lovergurl, Khrystal, and Suzannah Johannes.
Both shows will include a variety of musical genres because highlighting diversity at the event is important to the Replay Lounge, primary booking agent at Replay Lounge Sheridan James said in an email.
James said the Replay Lounge has hosted the Girls Rock Lawrence spring fundraiser for several years, and that Girls Rock Lawrence is an integral part of the community.
"We are perpetually honored to be involved in supporting GRL in any way that we can," James wrote. "I honestly can't say enough about how important GRL is to the local scene, and our community. The best way to fully understand the impact of this organization is to come to the fundraising events, and the showcases. You will be moved by attending these phenomenal events."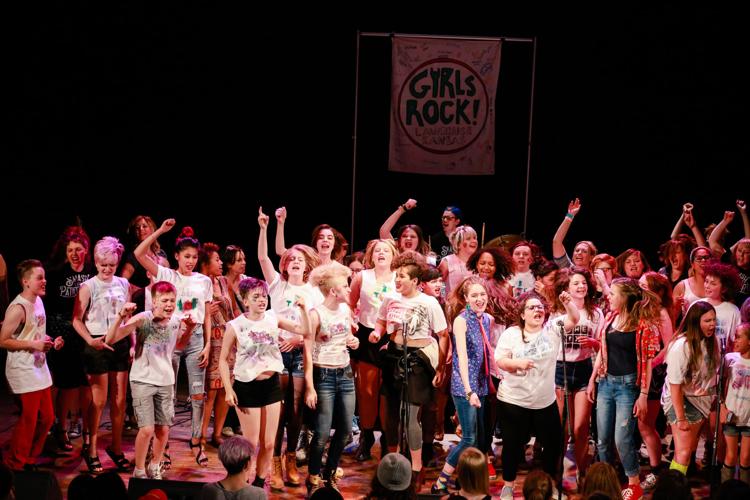 Hannah Novaria, a member of Girls Rock Lawrence's board of directors, said she hopes people of all ages will attend the event.
"It's just going to be an awesome show [and an] awesome lineup," Novaria said.
Tickets will be $3 at the door and all proceeds will go to Girls Rock Lawrence's summer camp. Tickets will not be available before the day of the show.
Girls Rock Lawrence offers a summer camp for girls and transgender youth ages 12 to 18. Campers form bands, write songs, and perform at a showcase at the end of the camp.
Novaria said the camp fosters an empowering environment for everyone involved.
"It's just really a loving and supportive and powerful community," Novaria said. "We just kind of use music to let kids explore and figure out who they are and what they're about and who they want to be and find their place in the world."
The week-long program teaches youth how to play musical instruments and encourages confidence and empowerment. 
Jennifer Welch, a volunteer with Girls Rock Lawrence, also said that the camp offers a supportive environment for both campers and volunteers.
"It's about the campers really experiencing who they are in a supportive environment that wants them to be fully themselves," Welch said.
Along with raising money for the camp, the fundraiser at the Replay Lounge will promote change within the organization, Novaria said. Girls Rock Lawrence is in the process of rebranding itself to better represent its participants.
"There are a number of things that are kind of in transition for us right now," Novaria said. "We've been joking about the organization going through puberty."
One of the main changes will be a new name. 
"The words 'girls' and 'rock' don't necessarily encompass all of the participants we have," Novaria said. "We want it to be a space where everyone feels welcome and where everyone can feel represented and included and safe."
Novaria said Girls Rock Lawrence wants to be thoughtful in making the change so the new name won't be announced until after the summer camp. She also said the organization hopes to have a more cohesive brand overall.
"We are all about undermining oppressive structures that tend to silence certain groups of people," Novaria said.
Groups like Girls Rock Lawrence and Petri Productions are just some of the people working to make Lawrence's music scene more inclusive. 
Novaria said that although Lawrence thinks of itself as progressive, it is a predominantly white community — and by default, so is Girls Rock Lawrence. But that's something that the organization wants to change as well. 
"We want to set an example in the community of being a space that is safe and empowering for people of color, and Indigenous and Native people, and trans folks, and all the people whose voices aren't heard and prioritized in conversations," Novaria said. "Those people deserve a space where they can exist and thrive."
This year's camp will be June 24 to 29, and enrollment opens Saturday, April 20. The camp costs $300, but financial aid is available and Girls Rock Lawrence won't turn anyone away because of inability to pay, Novaria said.