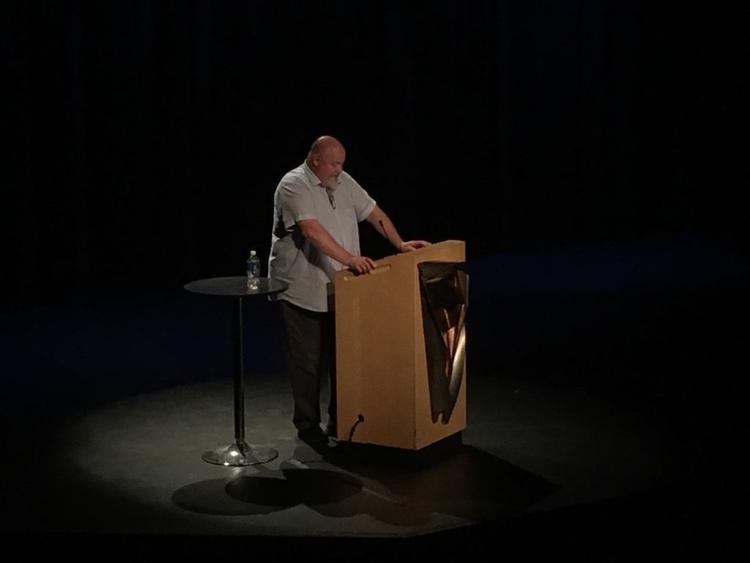 Correction: An earlier version of this article misidentified the title of a documentary and implied that Dortha Phelps is older than her brother Nate. The film is called "Not My Father's Child," and Dortha is younger.
Many call Fred Phelps a hate-fueled minister who terrorizes those who hold ideals he does not agree with. Nate Phelps calls him Dad.
Nate Phelps spoke to an audience on Thursday night at the Lawrence Arts Center about the physical and psychological abuse that the late Fred Phelps, Nate's father, put him through and how Nate overcame adversity to become an advocate for the LGBTQ community.
"I suffered physical and psychological abuse for not being who I was supposed to be," Nate said.
Nate also spoke about his past, present and future in order to promote and show scenes from a documentary focused on life as Fred's child titled, "Not My Father's Child."
Fred was the founder and leader of the Westboro Baptist Church, a Topeka-based ministry notorious for showing up at the funerals of dead soldiers and holding signs displaying messages such as, "God hates f---," and "Thank God for 9/11." Attacking members of the LGBTQ community, the military and divorcees, the Westboro Baptist Church spreads its hate in the name of God.
Nate was forced to grow up in a hateful environment, along with his 12 brothers and sisters. At midnight on his 18th birthday, he left both the church and his family's home. His sibling Mark and Dortha, who also escaped the church, were in attendance at Nate's talk.
The event kicked off with clips from the documentary that told Mark and Dortha's stories. Mark said he was verbally and physically abused by his father so much that he was beginning to treat his brothers and sisters in the same way, but that changed when he met his girlfriend and chose love over his father's religion.
Dortha's video focused on what she was put through, even mentioning how their mother would rarely attempt to stop the abuse. However, both Mark and Dortha both said they are in better places since escaping the Westboro Baptist Church.
Shortly after the videos, Nate took the stage to speak to the audience.
"We learned to do or say anything to hide our mistakes or shortcomings," Nate said.
While discussing punishments given to the children, Nate said his father would take the solid wood handle of a mattock, about 14 inches in diameter, and would swing it like a baseball bat at their legs. If a weapon was not handy, Fred would find other ways to punish them, including lifting them up and dropping them over his knee.
"He would use his fists, feet and knees," Nate said.
After Nate spoke with the audience and displayed his documentary clip, Mark and Dortha joined him for a Q&A session. Many questions were asked, and the majority focused around his father: "How did you hide the abuse?" "Why did Fred target the LGBTQ community?" and, "Was your father abused as a child?"
Dortha said she speculates their father was abused as a child as well, due to him tearing up during an interview when asked about how his father treated him. Fred's father was a bull at a railyard during the Great Depression, hired to keep hobos from sleeping and riding on trains.
Dortha said she thinks the fists may not have stopped flying when Fred's father returned home from work.
Although Nate grew up in a toxic environment that entrapped the lives of his 10 siblings still in the church, he now works to support the lives of those his father condemned, attending various parades and rallies for the LGBTQ community.
Jason Badgett, the co-director of "Not My Father's Child," said that if all goes well, the documentary will be completed and ready to premiere at film festivals in late 2018.