Fake blood drips down his suit as the zombie shuffles down Massachusetts Street. One arm clutches a brain and the other arm hangs by a thread and falls to the ground. The zombie turns to the man next to him.
"Can you give me a hand?" he asks. Parade watchers laugh as the man picks it up, and the two continue their walk down the street.
On Oct. 17, Lawrence hosted its 13th annual Zombie Walk, but this year it almost didn't happen.
Terry Taylor and his wife, Liz Taylor, who own the vintage toy store 1313 Mockingbird Lane, have attended the Zombie Walk since the first one took place. They loved the event for its ability to bring people together in the name of spooky things.
But when September rolled around, and they hadn't heard anything about a Zombie Walk, they realized no one was planning the event, they said. In past years, organizations such as the Lawrence Humane Society hosted the walk.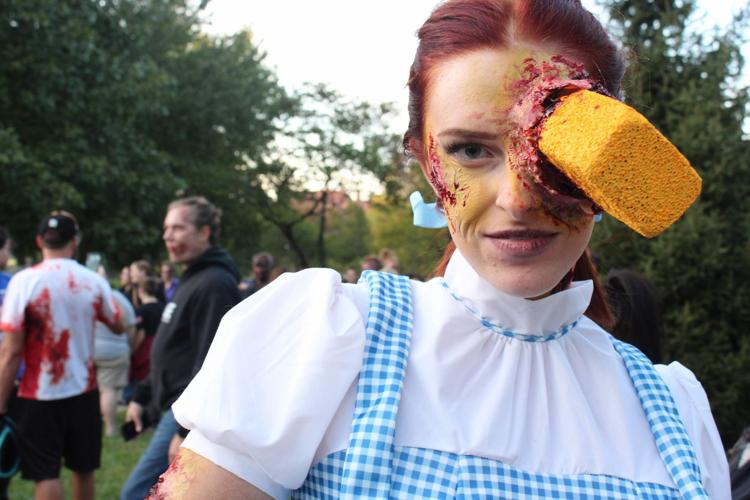 With about a month before the walk, the Taylors decided to take matters into their own hands. They got in contact with local business owners, including The Granada Theater owner Mike Logan and manager Mary Costello, and began organizing the event.
The event started with a gathering at South Park, which featured makeup artists, a blood pool (made with edible materials), and baked goods, such as "blood-spattered" brownies and brains. People could even get their pictures taken in front of Terry's "Zombie hunter" van for a costume contest.
People of all ages were welcomed to attend the event. For the Taylors, it was especially important to make the Zombie Walk as family-friendly as possible.
"There's just a big, good community feeling of everyone coming together and enjoying this — and that's what it should be," Liz said.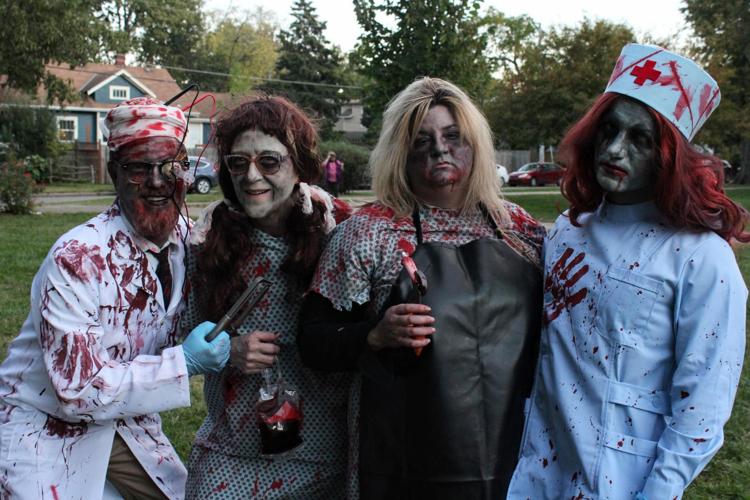 Josh Bailey, a Baldwin resident who grew up in Lawrence, has been attending the walk for the past five years. He loves the walk because it gives him a reason to dress up like it's Halloween, he said. This year, he dressed as a zombie hunter, and his family dressed as zombies.
"I'm one of those people," Bailey said. "I believe I could survive the zombie apocalypse."
Around sundown, the walk began, with zombies and humans alike shuffling down Massachusetts Street and turning around at Seventh Street. Lawrence community members lined the street to watch the zombies walk past.
Terry and Liz said they hope to plan the event for the following years, making it "bigger and better."