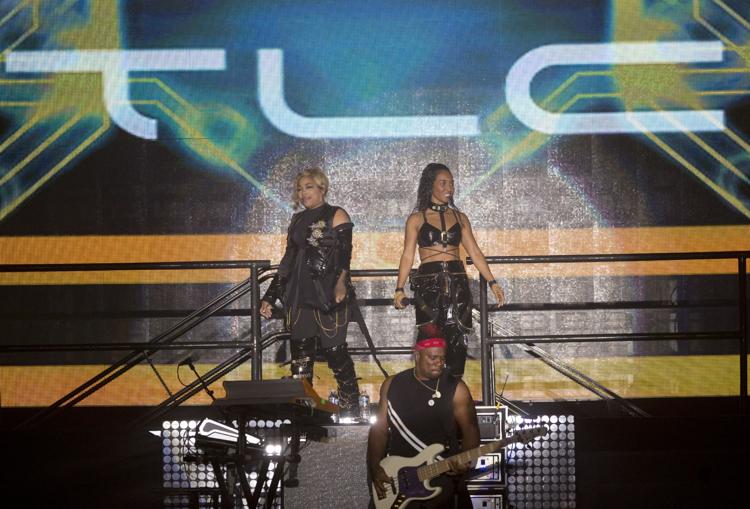 Nas - "N.Y. State of Mind"
Nas' "Illmatic" remains one of the most influential rap albums of the 90's. The second track of the album, "N.Y. State of Mind," demonstrates Nas' unique ability to fully convey his experience growing up in Queensbridge through incredibly detailed lyrics.
-Nicole Asbury | @nicoleasbury
Lauryn Hill - "Doo Wop (That Thing)"
The first single off Hill's groundbreaking album "The Miseducation of Lauryn Hill" was a prelude to Hill's significant impact on hip-hop culture. With her rhymes and soothing melodies, "Doo Wop (That Thing)" was among the first singles to bring a female perspective to hip-hop. In the song, she warned women from being manipulated by men for "that thing."
-DeAsia Paige | @deasia_paige
Spice Girls - "Wannabe"
Besides being a go-to karaoke song, "Wannabe" is a fun, upbeat bop with a message of friendship by an the all-girl band.
-Rachel Gaylor | @raegay218 
Backstreet Boys - "I Want it that Way"
A song that most people associate with the '90s, even though the album "Millennium" was released in May 1999. The song is a perfect culmination of every cheesy boy-band cliche in the book, but it's just so darn catchy! It made airports hotter (virtually impossible accomplishment) and a white-on-white attire attractive (how!?)
-Chihiro Kai | @KansanNews
Sublime - "Santeria"
Representing the ska punk movement of the '90s, "Santeria" is one of the most legendary songs from the movement as well as Sublime's most popular. Although it was released after lead singer Bradley Nowell's death, it is still considered one of their most influential pieces.
-Callie Pearce | @KansanNews
The Notorious B.IG. - "Juicy"
This song epitomizes '90's hip-hop. Not only did this song go on to break records during its time, Biggie's rhyme flow and lyrics are being taught in poetry classes all over the world to this day.
-Nathan Mize | @meyeze
Beastie Boys - "Girls"
Regardless of the art that is the three exceptional men that make up the Beastie Boys, I just like singing about girls for three minutes straight.
-Darby VanHoutan | @darbyvanhoutan
Naughty by Nature - "O.P.P"
In one of the arguably most important life lessons to come out of the '90s, "Naughty by Nature" taught us that it's important to know who is and who isn't down with other people's ... property.
-Darby VanHoutan | @darbyvanhoutan
TLC - "Waterfalls"
It's still a bop 23 years later, teaches us to never go after dreams without thought to consequences, and it's TLC … need I say more?
-Grant Heiman | @grantheiman
OMC - "How Bizarre"
After listening to the first few seconds of this song, I am immediately taken back to my youth. The melody and hooks are beyond recognizable and they create a sense of nostalgia that few other songs during this era can draw upon.
-Brianna Childers | @breeanuhh3
Radiohead - "Creep"
"Creep" is the quintessential angst song. It's angry and pleading, the kind of song you listen to on a dark, lonely car ride on the way home from a bad date. Thom Yorke's rough voice and devastating lyrics (I want a perfect body/I want a perfect soul) is the perfect validation of a generation's insecurity.
-Courtney Bierman | @courtbierman
— Edited by Wesley Dotson