In the basement of a suburban house in Gardner, the four members of indie rock band Kid Computer practiced their new song "Affection." Psychedelically bright-colored tapestries and acoustic sound panels covered the walls as the band played on their guitars, bass, synthesizer and drums.
The Kansas City, Missouri-based band is made up of lead singer, guitar player and songwriter George McMillian, drummer Dalton Grenier, bass player Matt Gore, and Christian Sanchez who plays the synthesizer, guitar and is beginning to dabble in singing and songwriting for the band. Sanchez is also a University of Kansas senior studying philosophy and political science.
Gore said the band's genre has been coined as "alien moon psych pop," but in terms of generic genres, it's closest to modern indie pop rock. The band agreed that "Hippo Campus" and "The Strokes" are the most similar well-known bands they could be compared to.
Kid Computer came together in 2017 but released its first few songs in 2018 and released an EP earlier this year. Every member of the band said they have been musically inclined since they were kids, but most took some time before beginning to play the instruments they're currently on.
Sanchez said the band's name comes from his love of Radiohead, combining the names of two of their albums, "OK Computer" and "Kid A."
Kid Computer will play a show at The Rino in Kansas City, Missouri, as a part of Jingle Jams, an annual holiday rock show, on Dec. 28, the day after their new single "Affection" will be released.
"[The new single] was influenced largely by the first day of the year in 2019," McMillian said. "It was New Year's Eve, and we were all in Lawrence, Kansas, hanging out having a good time."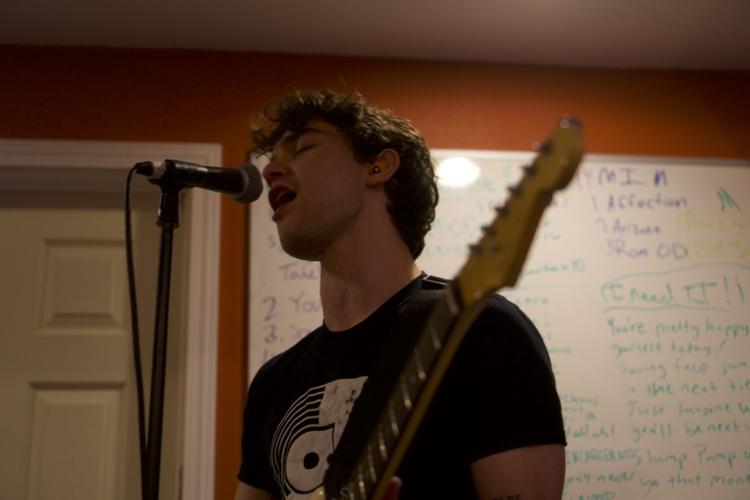 Kid Computer has a lot of plans. Two of the band members are still in school, but they plan to hit the ground running when they graduate. McMillian said they're hoping they all move to Kansas City, Missouri, together so they can focus on their music.
"We all just want to put out really good music," McMillian said. "We're hoping to do an album at some point in the next year or two — and we want to tour all over the world."
The band is also hoping to go on a Midwest tour soon. So far, they've played in Lawrence; Kansas City, Missouri; Tulsa, Oklahoma; Omaha, Nebraska; Springfield, Missouri; and Fayetteville, Arkansas.
"I'm pretty satisfied with the work we put in, but I think we all want to have a sustainable career, to some degree, in music and putting in the work and trying to make it a business," Grenier said. "Having that side of a band is a lot of work, but I think it's necessary to fulfill it to be just a viable means of living. But that's the goal ... to tour and fulfill that while we're young."
Kid Computer is set to play the Replay Lounge in Lawrence on Dec. 12.