Several University of Kansas graduate students and Lawrence locals gathered in Lucia Beer Garden & Grill to read fan fiction Wednesday, Dec. 4. 
"It was something that I had wanted to do because I knew a lot of people in this program wrote fanfic," said Lisa Favicchia, who organized and hosted the event as part of the Inklings Reading Series. "I think there's a lot of stigma against fan fiction, and I wanted to kind of bring that into the light — bring fan fiction to light."
The Inklings Reading Series is organized by KU graduate students in the creative writing department and has weekly events at Lucia Beer Garden & Grill, Favicchia said. While many events feature specific writers to read their work, Favicchia said every now and then, there are open mic nights with a specific theme, such as horror/sci-fi or the theme this week: fan fiction. 
"I love to write, and fanfic is something that's just very, very fun for me," said Yee-Lum Mak, a Ph.D. student in the English department. "It's kind of like a challenge to match the voice of the characters, match the setting. It's like a different sort of challenge than writing totally original work where you're in charge of all the people."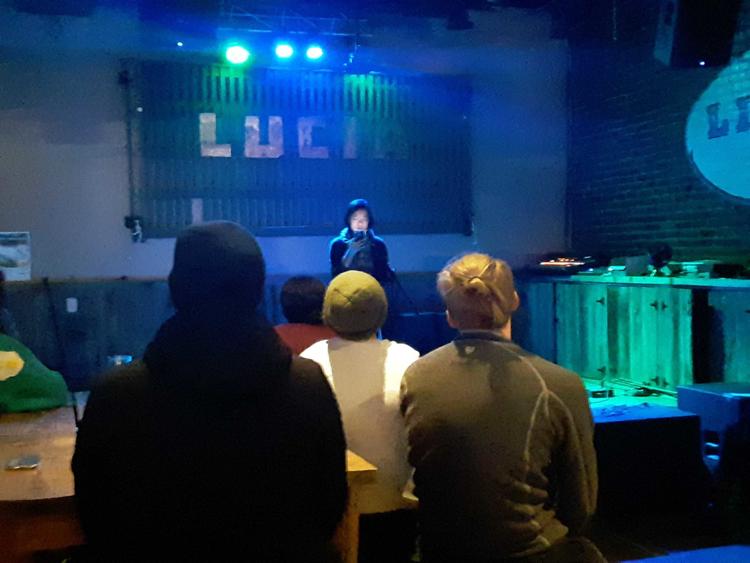 Six writers brought works to read at the open mic, with some reading their own work and others reading infamously terrible works for laughs. After everyone was done, some of the performers answered questions about fan-fiction writing and what it means to them. For Emma Kostopolus, a graduate teaching assistant in the English department, representation for identities who are overlooked in popular culture is the main draw.
"I tend to really like it when characters are explicitly asexual because I'm very explicitly asexual, and we get like zero media representation," Kostopolus said. "That's my favorite thing to see. Still don't see a whole lot of it, but more of it in fandom than in actual media representation."
While this event was the last for the Inklings Reading Series for the semester, Favicchia said there will be more to look forward to next semester.
"This event was actually highly requested, so I think we're going to do it again in the spring," Favicchia said.