KU alumna and assistant professor Laura Kirk teaches writing groups during the summer and recently led a screenplay reading, all to keep the work momentum going outside of the classroom.
A dedicated work ethic is a constant in Kirk's life; just recently, she and several of her former students walked the red carpet at the highly prestigious film festival, Dances with Films.
Kirk starred in "The Land," a film set right here in America's heartland. She notes that there is an interesting turn within the film industry where more stories are being told about the Midwest. With over 2,000 submissions to the Dances with Films festival, "The Land" is one out of 19 films that entered into the narrative competition.
"The Land" is about a couple who face losing the property that has been in their family for generations.
"With the crop and land crisis collapsing due to international trade tensions, the two are going to lose the only life that they've ever known, and it's about how they handle that," Kirk said.
Kirk mentions suicide rates among farmers have gone up exponentially; "The Land" covers the grim climate of today's struggling farmers while also conveying a relatable message.
"The main question of the film is, when you get adrift by certain circumstances and you're too old to start over but too young to give up, are you more than what you do," Kirk said.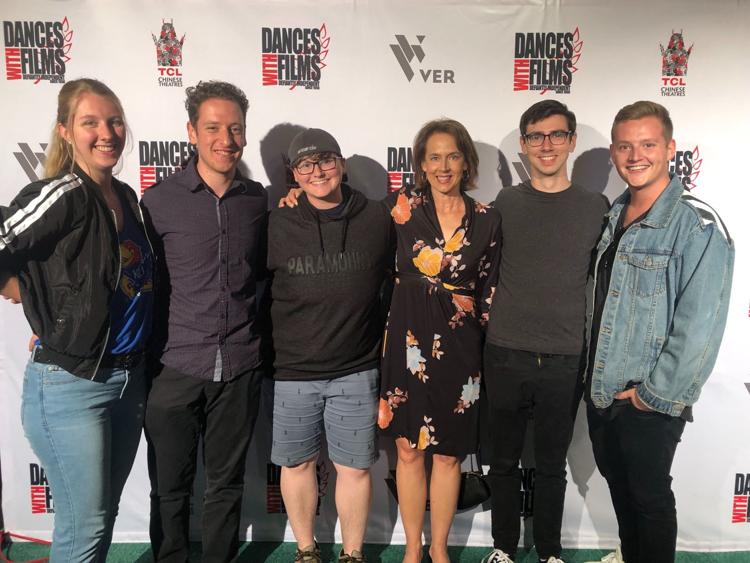 Kirk said she pictured herself pursuing theater after earning her degree in theater and film. That plan shifted as Kirk took to acting in films instead. She played a role in "The Land" alongside fellow KU alumna and longtime friend, Kathleen Warfel.
It's now been seven years since Kirk contacted KU film professor Kevin Willmott about coming back to her alma mater. She still works closely with Willmott and maintains a close relationship within the film program and beyond.
Kirk highly values the tight-knit relationship among her past and present students, acting as a mentor and colleague in order to support their future endeavors.
Besides the incredible honor of seeing "The Land" on the big screen, Kirk says the premiere was even more special because a handful of her students were able to experience it, too.
"I wouldn't feel like I was doing as good a job teaching my students if I wasn't helping them move into the world. It just helps me understand where I'm sending them," Kirk said. "I always really encourage everybody to hang in there, network with each other, and help each other out."
Kirk adds that the film and media industry are soaring with opportunities.
"There is no company that isn't using film in some way to promote themselves so there are a lot of jobs in media," Kirk said.
Take Savannah Rodgers, for example. Rodgers is an LA-based filmmaker who considers Kirk to be the guiding force in helping Rodgers develop her voice and sense of authenticity.
"Laura was in a film group that she founded called Women of Lawrence Film, otherwise known as WOLF. Basically, I was a college student and hadn't had her in any classes, but we took a liking to each other there," Rogers said. "I was seeking mentorship and she was able to give it, and she's such an incredible actor, screenwriter and teacher. That mentorship meant a lot to me."
With a TED Talk and commencement speech under her belt, Rodgers is no stranger to taking the stage. In her latest project, Rodgers will work behind the camera this time. She now has a documentary in the works called "Chasing Chasing Amy."
The 1997 film, "Chasing Amy," impacted nearly every aspect of Rodgers' identity as an adolescent and that influence is still present today. Rodgers details her journey in this powerful, honest and witty TED Talk.
"Chasing Chasing Amy" is about the cultural impact of "Chasing Amy" on the LGBTQ+ community and her life.
Without Laura Kirk's unwavering support, Rodgers believes her upcoming movie wouldn't be possible.
"She's genuinely one of my favorite people on the planet," Rodgers said.
As for Kirk's latest endeavor, her newest short film "Fear Not" begins filming late July in Hillsboro, Kansas.