KU Recreation Services has added a new intramural sport this year — a game where teams attempt to sink each other's canoes in a swimming pool. 
Team Boaty McBoatface was declared winner of the University of Kansas' first canoe battleship event on Nov. 13. This year's event consisted of "five enthusiastic teams," said Assistant Director for Intramural Sports Jon Randle in an email with the Kansan. However, it was the team composed of Sam Campbell, Kobe Gelles and Kyle Kramm that came out on top.
Randle said canoe battleship is an event where teams of four canoe in a pool. Each team bails water from the pool into the other teams' ships, and the last ship afloat at the end of the round is the winner.
"I was the one in the water for each round," Gelles said. "I absolutely would suggest it to anybody. It was the most fun I've had in intramurals while I've been at KU."
While the event debuted on the University's campus for the first time this year, other universities have done canoe battleship in the past. Schools such as Texas Tech University and the University of Connecticut have had success with canoe battleship, which gave Randle inspiration to bring it to the Kansas.
"This event was introduced to me by other campuses across the region and country who are currently playing Intramural Canoe Battleship," Randle said. "After pitching the idea of Intramural Canoe Battleship to Jayhawk students, the interest level was high enough to offer it for the first time in the history of Intramural Sports at the University of Kansas."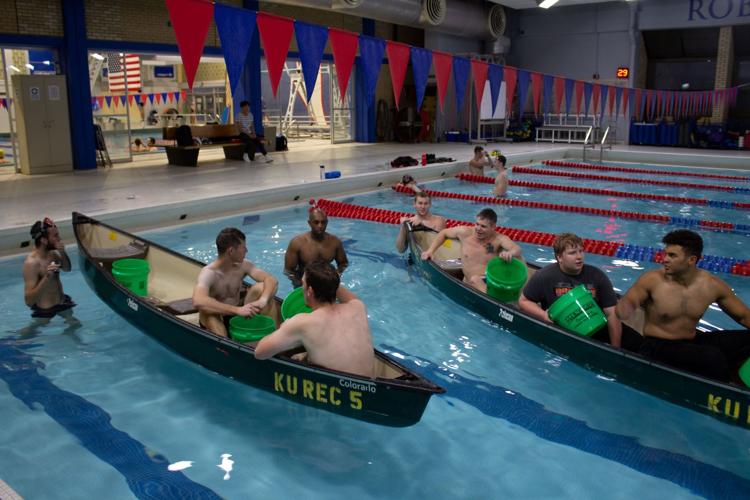 Despite the event being its first at the University, canoe battleship drew a fair amount of success among the players and fans. This success will likely translate into a repeat of the event in future semesters, Randle said.
"In fact, based on the overwhelming feedback we received by every player and fan that came out about just how fun it was, we plan to play Intramural Canoe Battleship each semester," Randle said.