Connor Remboldt was led to jewelry making by chance. He enrolled in Introduction to Metalsmithing at the University of Kansas because the other introductory design courses were full. Now, after four years, the Perry, Kansas, native is thankful for the path he's taken.
"I had always been into artmaking and creative work — especially a lot of fine detail work," Remboldt said, a senior at the University. "[After taking the introduction class] I fell in love with it."
Remboldt has focused in on jewelry making while working with his aesthetic, which he said expands upon the ideas of minimalism.
"[Minimalist] is a broad term to use. I'd say it's architectural," Remboldt said. "I take a lot of inspiration from engineering sketches and illustrative art breakdowns — a lot of line-based work."
Remboldt uses different items as the focus of his art, whether it be stone, tree bark or even egg shells — as seen in a piece he entitled "Breakfast Platter."
Angela Li, a senior from Olathe, is one of Remboldt's friends and classmates. Their friendship blossomed since they were in the same metalsmithing studio. Li said his eye for design helps when creating unique pieces of jewelry.
"It's tough to get perfect angles and nice clean lines, but he manages to pull it off well," Li said.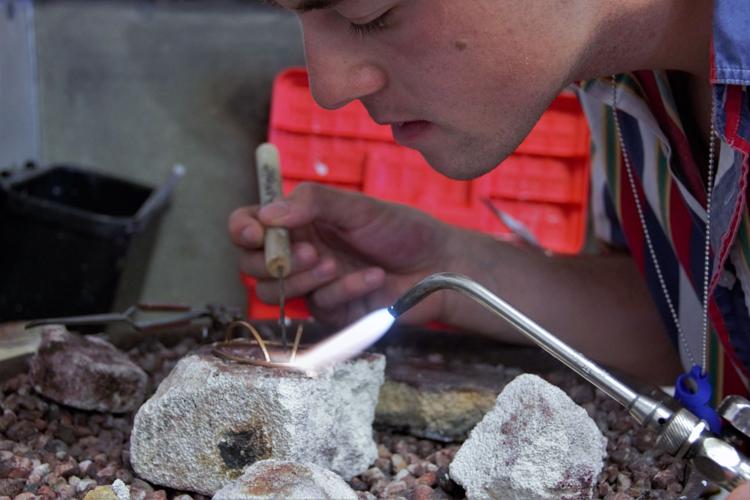 Li said Remboldt's personality has lent him to be successful as an artist and a friend, and his study abroad trip to Finland last year has allowed him to share a different perspective.
"He is very supportive. He brings a lot of wisdom," Li said. "He is very helpful. If something ever goes wrong, he's always there to help out."
Remboldt knew he wanted to be a designer from an early age. As a child, he would use Legos to help bring his designs to life. Realizing his vision as a designer is why he feels so drawn to jewelry making.
"I essentially make my own instructions and create the work," Remboldt said. "I think that's probably the biggest thing I like about it."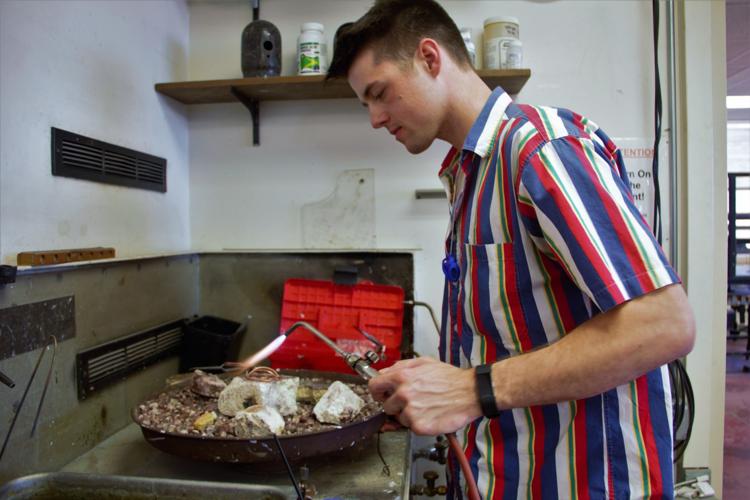 Remboldt said his professors have pushed him to become more creative with his work — making each piece and design detailed.
Being absorbed into his work can be a detriment, however. Remboldt said he sometimes becomes so focused that he misses the small details.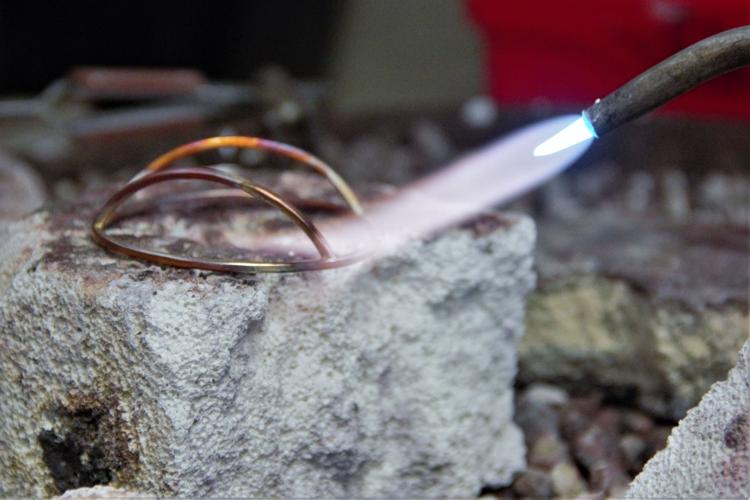 "When you work on a piece for a long time, you get really focused on it and can't pick out the details as well as someone else could," Remboldt said. "[It's hard] overcoming those difficulties in trying to make things look exactly like you want."
Li said Remboldt has been a great colleague — especially in a rigorous and demanding major such as this one.
"It's always nice to have someone who understands," Li said. "It's nice to just have a shoulder to lean on and someone else to talk to."
With graduation in May, Remboldt is currently constructing his portfolio to send to potential art shows and employers.
"I'm trying to find a place where I can use my skills and build them so I can boost my art in the future," Remboldt said.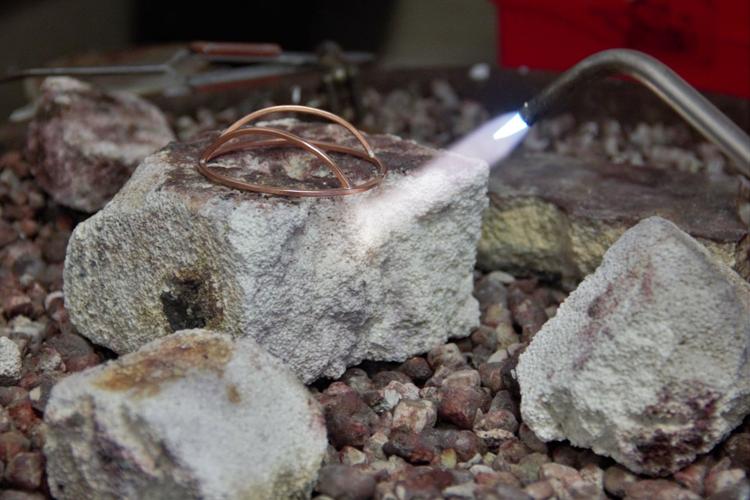 With looking towards future employment, Remboldt hopes opportunities will still come up for him to show his work.
"I want to continue going to shows and going to conferences and being active within the art community," Remboldt said. "I haven't really taken a step out into the community as much, and I really want to connect with people with participation in the arts community."
Remboldt said he encourages any students who may have an inkling of interest in jewelry making, metalsmithing or any design class, to enroll and give it a try.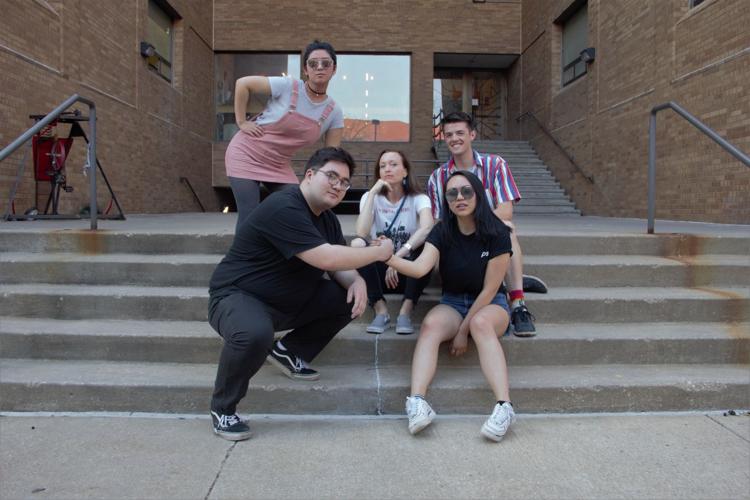 "The intro classes are open to everyone. If you're looking to find something out of your comfort zone, it's definitely a good class," Remboldt said. "Just be prepared to get out of your comfort zone."