University of Kansas senior and Overland Park native Brooke Metz showed her fully immersive art experience "Dizzzybomb," as part of Lawrence's Final Fridays on Jan. 31 at Art Emergency, located at 721 E. 9th St.
"[Dizzzybomb is] an escape from pain, a state of mind, and a character that I embodied and lived as for about four years of my life," Metz said.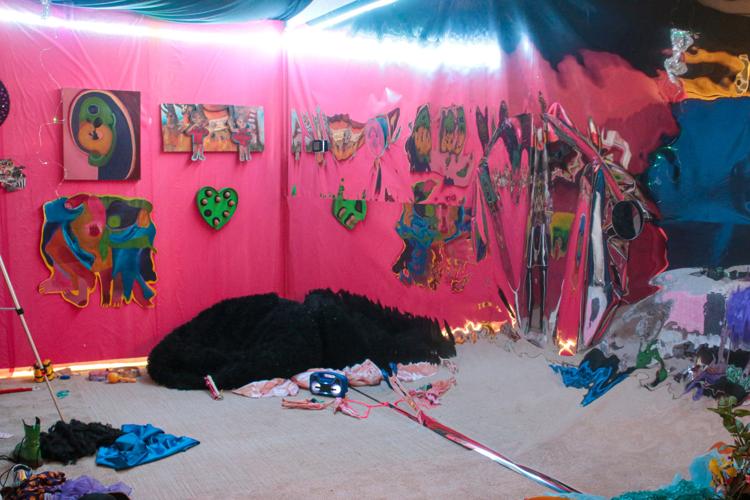 Visitors of the exhibit begin by opening the door into a colorfully but dimly lit recreation of Metz's childhood bedroom. Inside, one wall is entirely covered by warped reflective surfaces, creating an off-kilter feeling similar to walking through a carnival funhouse. Costumes, art supplies and assorted odds and ends litter the floor, as well as several dolls — with and without their heads attached. 
"That's just the kind of stuff I had in my parents' house," Metz said.
The walls and desk are adorned with paintings, sculptures, drawings and photographs — all depicting a distorted view of reality.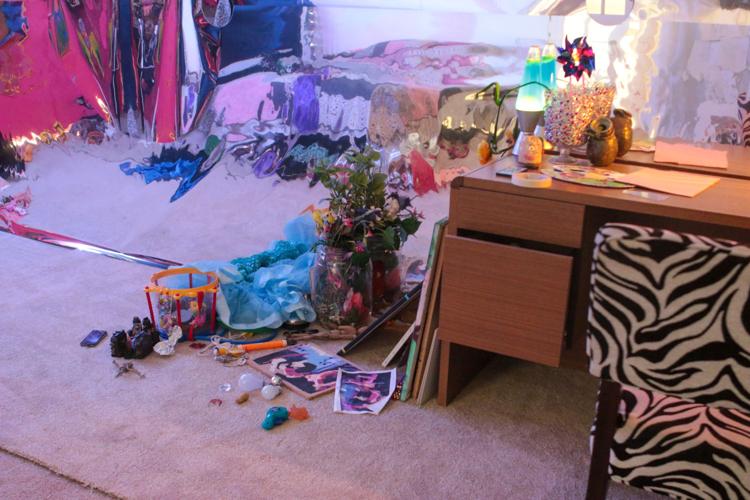 Projected onto the wall above the bed, rapid-fire video clips play one after another, each more uniquely disorienting than the last. A speaker sitting on the floor sets the tone, playing a mixture of music that could be described as anything but pop.
A room the size of a walk-in closet is partitioned by a curtain, behind which visitors are invited to paint and draw their own art on the walls. And sitting on the bed, drawing, talking to visitors, and seeming comfortable as if this happily creepy place were indeed her home, is Metz.
"I had all of these underdeveloped ideas, but with so much passion," Metz said.
Metz said she fell in love with art when she first began painting outside of school during her sophomore year of high school. Before that, she choreographed videos she had made with her friends in middle school. 
"Most of the time when I came home from high school, I would just make art for the rest of the day, and then do it again, because that was my escape," Metz said. "It was just living life, and then either ignoring my feelings or feeling my feelings through art."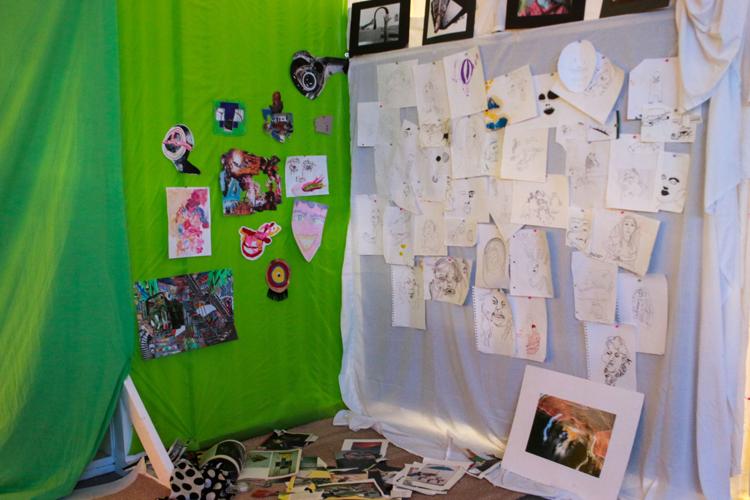 Metz said she uses an extremely detail-oriented approach to produce pieces focused on being honest and true to her vision.
 "Everything needs to flow and everything needs to be the way that it is — like, the way that it actually is," Metz said.
She said realizing the power of community and allowing herself to accept assistance and support from those around her has been important in her growth as an artist. 
Metz said her friend, Chloe Hull, who is currently a junior at California School of the Arts in Duarte, California, worked with her "in the realm of 'Dizzzybomb.'" 
"She's really, really outgoing. If there is an opportunity out there that she wants, she'll go and get it," Hull said. "She lives in a creative space where she doesn't really have limitations; she just creates what she wants." 
Metz is currently working on plans for an immersive theater project incorporating nature and exploring concepts of Lois Lowry's "The Giver," as well as an online project called "The Hub of Human Feeling," which she said would provide a space for individuals to share their feelings and experiences.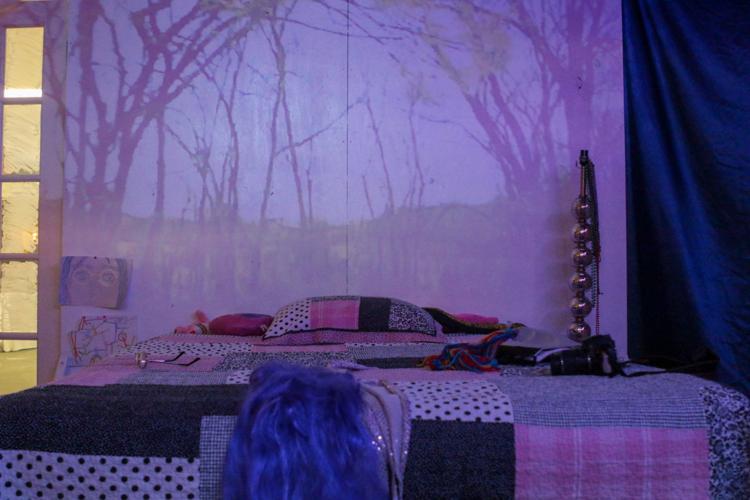 Metz said her message to younger artists and anyone who may be working on their own art careers is that as long as the creations are honest expressions of the artist's humanity, then "any way you're doing it is the right way."
"Dizzzybomb" will show again at the Percolator, located at 913 Rhode Island St. as part of Final Fridays on Feb. 28. It will be open on Saturdays and Sundays from noon to 5 p.m. until March 22.