Participants stand in a circle known as a "roda," clapping to the rhythm of the drum-heavy Afro-Brazilian music as two students kick, dodge, cartwheel and dive out of the way of their opponents. Once a week, club members meet to practice this Afro-Brazilian art form known as Capoeira, which combines martial arts, aerobics, dance and sport. 
The form, created in the 16th century, has endured despite being outlawed in Brazil until the 1930s because of the dangerous nature of the art form when utilized for self-defense — as it was in times of slavery, said Tera Fazzino, who is a co-adviser of the club and an assistant professor of psychology at the University of Kansas. 
To disguise this, "they added flow to have elements of dance," Fazzino said.
Capoeira initially began as a class at the University but is now open as a club to students and the general public.
"Capoeira will be what you want it to be," said Luciano Tosta, instructor of the class and club and associate professor of Brazilian literature and culture. "It is defined as an art expression, though its practice takes many forms." 
Given the long history of Capoeira, those who attend a meeting will learn not only about the art of movement but also about the history and culture of the martial art form.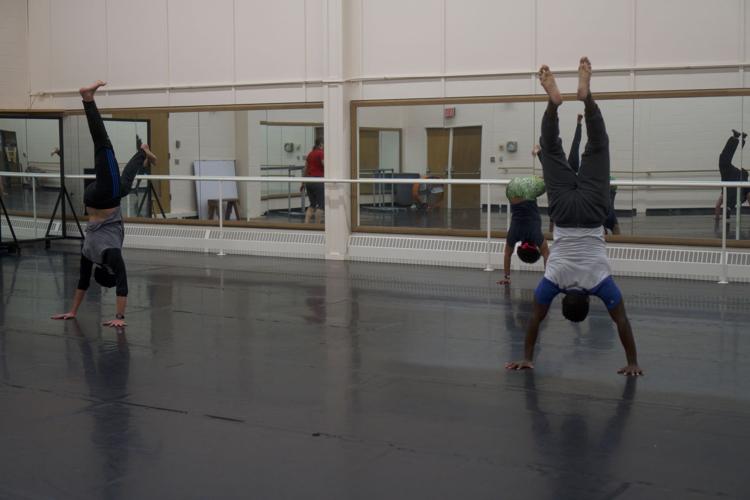 "Brazilian culture is so interwoven into the art. You can't just learn the move and call it," Fazzino said. "You have to learn the names of the steps, and you have to learn the music that goes along with it."
Caio de Castro, who is a graduate student and president of the club, said the heavy influence of music in Portuguese leads many who try Capoeira to learn the language.
"It is said to try Capoeira is to drink from the spring," said Castro, who began practicing Capoeira ten years ago in his home country of Brazil. 
"For me, it is a therapy — it relieves me from stress. It is my main force of relaxation. In Brazil, they would say 'Capoeira heals everything,'" Castro said.
Both Castro and Tosta recommend that anyone interested in learning more should come by their practices in Robinson 242 on Thursdays from 6 to 7 p.m.
"The club is divided up to where people of all abilities can come in and learn," Tosta said.
Both students and community members are able to learn more about the art form and the culture behind it by attending meetings. 
"At KU, we often teach contemporary Capoeira, which mixes different types of Capoeira," Tosta said. "Since we are at a university, we bring the history and philosophy as well."
What participants get out of it is often a measure of what they bring to it, Castro said. Those seeking sport, art, dance, religion, music or philosophy are all able to benefit and find what they are looking for.
Tosta said he will be the instructor of the class when it returns in the fall of 2020.