The Lawrence Arts Center is preparing for its 40th annual Benefit Art Auction, which supports many of the free exhibitions at the Arts Center.
The exhibit auction, which includes 175 pieces all donated by local, national and international artists, will begin with a month-long silent auction starting on March 12. The artwork will be on display for the public at the Lawrence Arts Center from March 13 until April 11. On April 11, there will be a reception and a live auction of around 30 reserved pieces.
Every year, the Lawrence Arts Center has chosen one featured artist for the Benefit Art Auction. To celebrate 40 years this year, the auction will instead include the work of 32 past featured artists.
Exhibition Program Director Ben Ahlvers said the Benefit Art Auction serves as the primary funding source for the exhibitions program at the Lawrence Arts Center. The Center holds around 25 free exhibitions every year in its gallery spaces.
"I think what's unique about the Lawrence Arts Center and our exhibitions program is that we share work from artists who are just starting out their career, as well as artists who have shown in the Smithsonian," Ahlvers said. "It's a really great opportunity for us to have a lot of people looking at art and talking about art and supporting work that provides free access to the community."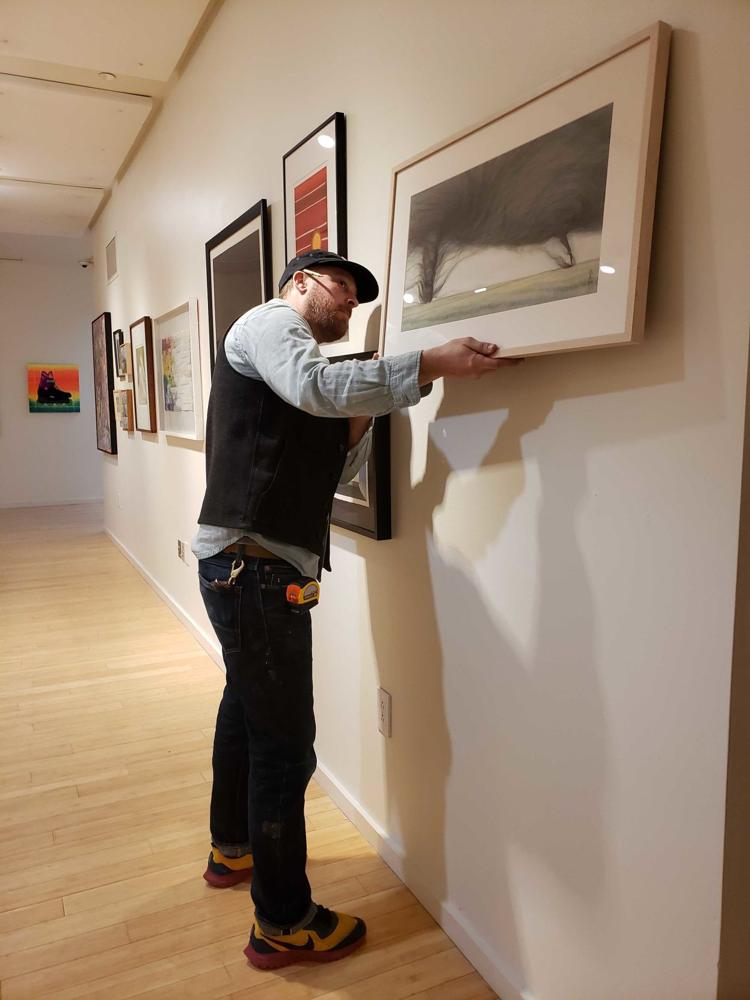 The exhibit auction includes work from many local artists and pieces ranging from landscape paintings to metal sculptures. Some of the local artists in this year's auction include Roger Shimomura, Clare Doveton, Lisa Grossman and Jim Slough. 
Angie Pickman, a Lawrence-based artist, has donated one of her art pieces to this year's auction. Pickman specializes in silhouette-style cut paper and collages. She has also had her art included in multiple past exhibitions at the Lawrence Arts Center. She has participated in every Benefit Art Auction at the Arts Center since 2011.
"I think it's a great way to bring the Lawrence community together in one place, the artists and the supporters all together," Pickman said, "And it's also a really great way to fund all the educational endeavors that the Arts Center does for the community." 
Pickman works from her Lawrence-based location, Rural Pearl Studio. Although she now lives in Kansas City, Kansas, she comes to Lawrence every day for work.
"I am just happy to support what they do for the community," Pickman said.
This year is the first time the Lawrence Arts Center is using an online version for the silent auction. Now, bidders will be able to see and bid on artwork up for grabs on the mobile site. 
"It's very intuitive and it's a great way for the patron to stay connected at all times and in real time with what's happening," Ahlvers said.
Tickets to the April 11 live auction and reception are now available for $60 on the Lawrence Arts Center's website. Food and cocktails will be served at the event.