Matt Williams first drew inspiration from colorful chalk art while strolling through the streets of Denver, where entire blocks were closed off to showcase sidewalk art.
As an avid supporter of the Lawrence Arts Center, Williams was eager to create an event that mirrored the large-scale chalk art festivals he'd attended in the past. It only seemed right to incorporate the idea at the business he co-founded: Lawrence Beer Company.
Located at 8th and Pennsylvania streets, Lawrence Beer Co. provides more than a convenient sidewalk space for local artists. The building itself is incredibly spacious, and a wide range of outdoor seating, as well as accessible parking, make this the perfect venue for events.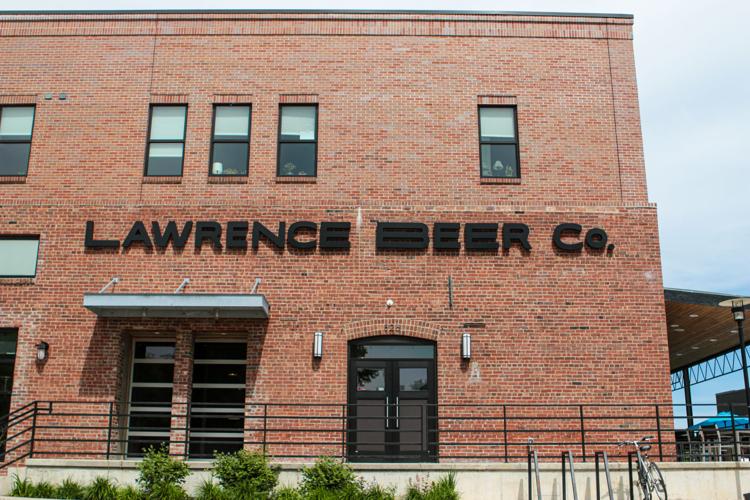 On Sunday, June 9, Lawrence Beer Co. hosted its first Chalk Art Festival. Event-goers were given a ticket upon purchasing a beer, or they could buy a ticket for a dollar a piece. Each artist was equipped with a ticket jar, and whoever was given the most tickets at the end won the coveted Chalk Art Festival trophy, along with some additional goodies gifted by Lawrence Beer Co.
Williams was enthusiastic about showcasing local talent while also donating to a good cause.
"We love the Lawrence Arts Center and all that they do, so we thought it would be a good tie in for this festival," Williams said. "The proceeds are going to the Starship Program at the Arts Center, which is for kids and adults who want to take photography or painting courses but can't necessarily afford it."
Besides a potential trophy and bragging rights, incoming freshman at the Milwaukee Institute of Art and Design Mikayla Kaufman was intrigued by the opportunity to showcase her passions: art and environmental activism.
The debate about plastic straws is just one of the ways Kaufman wants to raise environmental awareness about through art.
"I think that public art is a great way to connect with people," Kaufman said.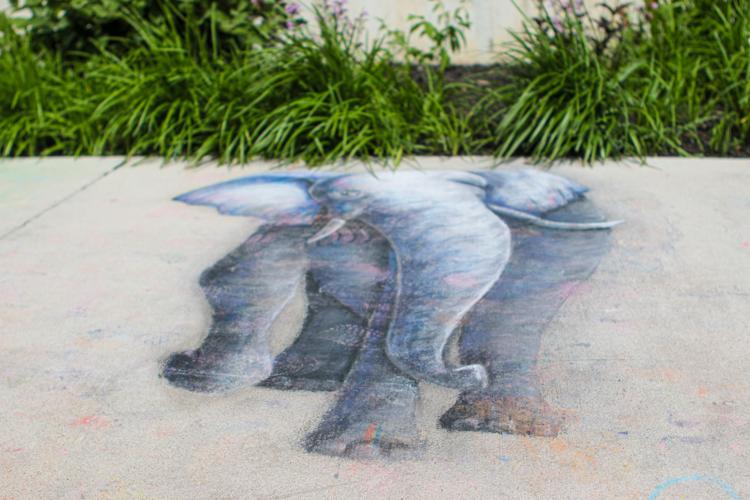 The Chalk Art Festival is only the beginning for Kaufman. The student artist hopes to incorporate activism through art, and wants to gain newfound connections and experiences during the process.
Chelsea Harrington is also an avid believer in telling stories through artwork. Just a few squares down from Kaufman's, Harrington sat beside an incredibly detailed chalk drawing of an elephant, which ultimately won her first place.
Like Kaufman, Harrington discovered the event through Facebook. Moving to Lawrence helped Harrington immerse herself in creative outlets. Besides the Lawrence Arts Center, Harrington practices her craft through art shows at the Bottleneck.
"Art is a wonderful way to express yourself and work through whatever your struggle is — by expressing yourself in a way where you don't have to explicitly say something," Harrington said.
Recently, Harrington's personal favorite creative outlet includes writing poetry on top of self-made collages.
Harrington, who is also a therapist, believes creative outlets encourage self expression. She mentioned a variety of creative techniques that help her patients confront mental illness in a unique way.
"The young people I work with are so creative," Harrington said. "Art is amazing because you can find whatever your medium is, and creativity is such an important tool in processing whatever you're going through."