Pantaleon Florez III, the owner and sole operator of Maseualkualli Farms, focuses on getting food to those in need. Through his Unsuspended Food Program, Florez donates to food banks and pantries, such as the KU Campus Cupboard and Just Food. 
"When there's food there, I feel like my role is to help feed people," Florez said.
The Unsuspended Food Program's mission is to put food first and funds second, Florez said. Instead of relying on donors to cover the cost before he gives food, Florez provides fresh produce to those in need with no strings attached. This means donations to the program are for food that has already been delivered. Florez said he's donated around $3,000 worth of produce since October 2018.
"I have the label of farmer, which is true, I am a farmer," Florez said. "But I kind of look at myself more as a food security worker than a farmer."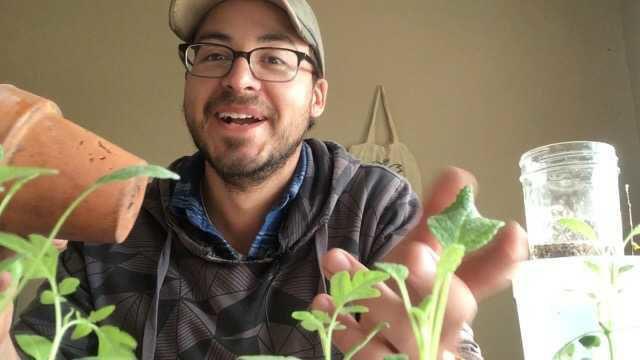 The one acre plot of land Florez farms on is leased from the City of Lawrence, but Florez does everything on the farm from planning and planting to harvesting, cleaning, packaging and delivering produce boxes to customers once a week. 
"There's definitely a few volunteers who've come through for me, and I really want to get back to that kind of programming because I love teaching people as they're doing something, but for the most part it is me running everything," Florez said.  
Before the shutdowns due to the COVID-19 pandemic, Florez sold his produce at farmers' markets. Now, with the stay-at-home orders in place, Florez has started delivering produce boxes every Monday to his customers. The boxes include a mix of anything in season and ready for harvesting. Customers can also choose add-ons, such as homemade bread, herbs and tea leaves. The subscription is week by week, so customers can choose how often they receive the box.
"It's pretty simple," Florez said. "It just requires a little bit of planning, but really all you have to do is order, and then most of it is either next-day or the-day-after delivery."
Maseualkualli, which is Nahuatl for "The People's Farm," is no-fossil fuel and no-till. Being a no-fossil fuel farm means that Florez doesn't use machines to plant, harvest or carry the produce back to be cleaned. No-till means using healthy farm practices that minimize the disruption of the soil's environment and microorganisms that help plants grow.
"It's a lot of work, especially with the no fossil fuel aspect," Florez said. "Farming is one of the biggest polluters and one of the hardest places to cut that out, but we have to imagine and try a new way — and a way without fossil fuels." 
Florez recently finished creating a food garden for the Lawrence Community Shelter. The shelter originally reached out to him for his garden consultation service, but Florez said he decided to plan and create the garden free of charge. He donated extra plants he had from a bulk order and helped plant them together with guests of the shelter and community members while maintaining social distancing.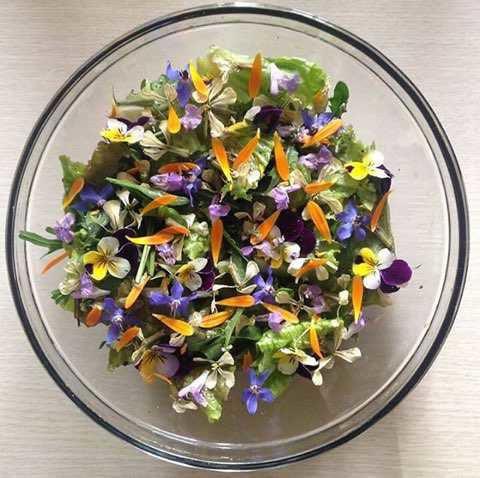 "They were like, 'How much does it cost?' and I was like, 'This is for the shelter. I love designing and doing all this stuff, so I'm just going to design it for you. Don't even worry about it,'" Florez said. 
When he's not working on his farm and providing food to those in need, Florez works as the assistant kitchen manager at Fields & Ivy Brewery, which is located at 706 E. 23rd St. Fields and Ivy buys produce from Florez and other local farmers to use in its dishes. Jeff Ward, the kitchen manager at Fields & Ivy, said he buys from farmers like Florez to support local farmers and to get the freshest produce possible.
"When he drops stuff off in the afternoon, he literally pulls it out of the ground that morning, so it is the freshest spinach, as opposed to other larger companies," Ward said.
Fields & Ivy is one of the many Lawrence restaurants preparing breakfast and lunch for school kids during the stay at home orders through Lawrence Hospitality United. The goal is to provide food to kids in the school district who usually depend on the school district for their meals. Florez helps prepare and pack these lunches whenever he has time.
"We've been for the past two weeks doing 150 lunches and 150 breakfasts five days a week, and now we are doing seven days a week to just make sure the kids have access to food every day," Ward said. "We get to provide school lunch; we get to bring people back from unemployment; we get to see our friends, and doing the school lunch program has been amazing."
Florez has also participated in online video lectures with the KU Commons and the City of Lawrence. The lecture with the Commons on March 30, called Spotlight on Care: Food Security and Seed Starting, focused on local food systems and how to start growing your own plants and produce. The video lecture "Home Gardening for Health and Self-Sufficiency" was part of the City of Lawrence's Earth Day celebration. More lectures with the KU Commons are currently in development.
Florez said he wants to encourage people to donate and to buy from local farmers.
"I've been telling people, 'If you decide to do some kind of vegetable delivery service, make sure it's from one of our local farmers,'" Florez said. "I really want to see everybody else do a really great job so that we can have a really strong network of farmers who are producing really awesome food for us right here in Lawrence." 
Florez's box of farm-fresh produce starts at $10 a box. For more information, visit the Maseualkualli Farms Facebook page.