The Arsonists sparked a fire with their new music video featuring commentary on school shootings.
Hailing from Lawrence High School, The Arsonists is a band composed of a group of sophomores. The current band is Aden Smith on the drums, Jaxon Ray on the keys and accordion, Giovanni Ventello on guitar and vocals, and Giovanni Lule-Paredes on bass.
For the band's most recent song, "Alex," which also features fellow student Sadie Capps, the music video is filmed in black-and-white and features a school undergoing a lockdown situation during a lyrically implied school shooting. While the band plays in the gym, students hide under desks in classrooms and bathroom stalls, following procedure.
Jacob Schermerhorn, a University of Kansas junior from Wamego studying film and media, directed "Alex" with the goal of making something new.
"I was like, 'How can we do more than having these kids hide?'" Schermerhorn said. "We didn't want to use any kind of gun imagery, and just focus it on the experience of the kids."
True to Schermerhorn's wishes, one student leaves the classroom and walks down the hall. As the video progresses, more students join him, simulating a march against the unknown danger.
"Alex" ends with the band staring at the camera in silence as the same students who marched lay on the ground in positions that symbolize dead bodies.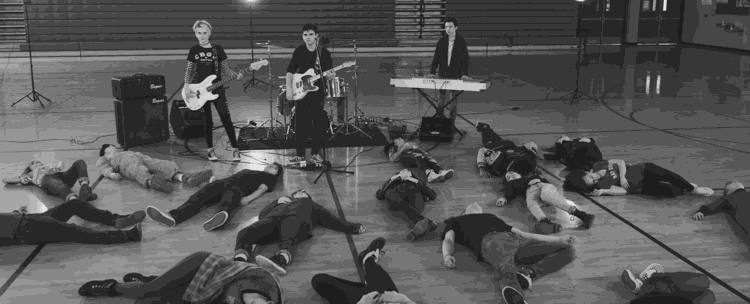 After cutting to black, the video then shows a statistic from edweek.org, stating there were 24 school shootings in 2018 that resulted in injury or death, and 5 deaths as of February 2019.
Lyrically, "Alex" is a politically-charged song, commenting on politicians and older generations attacking students when they speak out about gun violence.
"Florida kids got down to biz while we shut up and dribble, yeah we can be civil if ya sit down and admit that you are wrong," Ventello sings in "Alex."
The lyrics even speak out against President Donald Trump, saying "the president sends his bullshit prayers."
The story behind the title of the song has a message hidden behind it. Alex Schachter was a victim in the Parkland school shooting. The fourteen-year-old played baritone in the school marching band and trombone in the orchestra. The Arsonists said they named the song after the late student musician to remember him and other victims of gun violence.
"The song's not necessarily about him, but that kind of resonated with me because, you know, just a kid my age playing music, and his life was cut short," Ventello said. "The song, I guess it's titled after him, but it's about gun violence. It's for him, but not about him."
At their own school, the band has allegedly experienced a close call with gun violence. In early February, there were two incidents of students allegedly bringing guns to Lawrence High School within a week of each other, according to the Kansas City Star.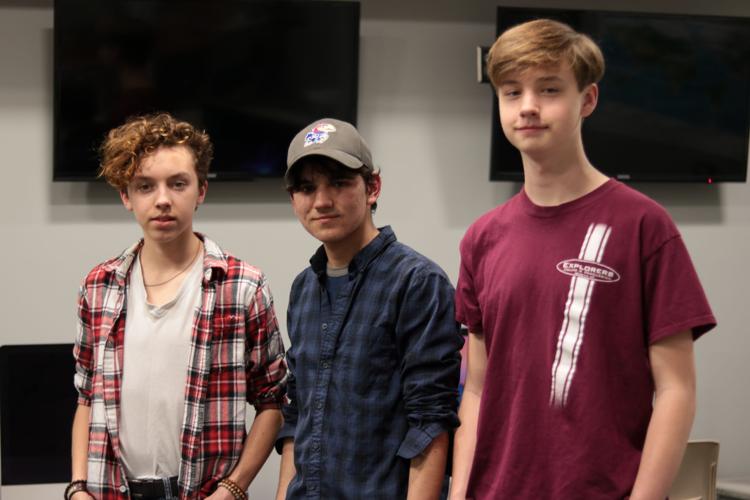 "It just makes you think about, that could happen here," Ray said. "Even though there's so many high schools out there, like the chances are very slim, but there's this thought that lingers in the back of your head. It's been brought to the top due to these recent incidents, and it's just stressful."
According to The Washington Post, 189 students have been killed during a mass shooting. Between January of 2009 and May 21, 2018, there were 288 reported school shootings, according to CNN. These statistics bring a reality to the lyrics of the song.
"Texas, Florida, Kansas, Wichita, churches, schoolyards people getting shot up in, you think we'll be safe with a few more guns," Ventello sings.
The Arsonists are planning a music festival featuring over eight local bands performing at the White Schoolhouse. The festival will raise money for March for Our Lives.
"It doesn't matter where it happens," Ventello said. "It is happening, and kids are getting killed just trying to go to school."