"Everyone should collect something."
That's what Randy Walker believes. From the piles of sock monkeys to intricate can art to Elvis' DNA, Walker has it all in the Museum of Odd. But this is not your traditional museum — this is Walker's house, a project over 40 years in the making.
Located at 1012 New York St. surrounded by suburbia, the house does not look like much. On the door, a small sign reads "Open." All it takes is a simple knock, and Walker ushers his guests inside.
The main level of the house is no more than a few small rooms, but the whole place is filled. Every wall is covered with pictures, paintings, sculptures, artwork of any kind. Stacks of old books rest on every desk, ranging in topic from roadside attractions to taxidermy to sex. Dozens of lamps stand around the room, casting light on a variety of trinkets. All of these items represent just a few of Walker's vast collections.
Guests sign their names with a feathered pen, and then Walker begins his tour.
Featured is a wide variety of eccentricity. Walker has vintage clothing, pictures of circus freaks (including a card signed by the world's tallest man), bezoars (inches thick cow hairballs) and a painted pile of cow dung dubbed "Adolf Shittler."
"It's got to hit me. It's gotta be something real weird or kind of off or folk art," Walker said. "Or it's like 'What the hell is that?' I like that...Or it's just so weird that I have to buy it."
He even has an array of celebrity memorabilia — Charles Manson's signature, Bob Barker's toothbrush, the gloves of the world's tiniest man, a rock Helen Keller touched, clippings of Elvis' hair and even Elvis' underwear.
Walker especially loves to collect items made from nothing — toothpicks made into tiny cabinets, aluminum cans cut apart and peeled into blossoming flowers and bottle caps stacked into human figures. But most notable is a collection of roughly 400 sock monkeys on the front couch.
"The human spirit has to create," Walker said.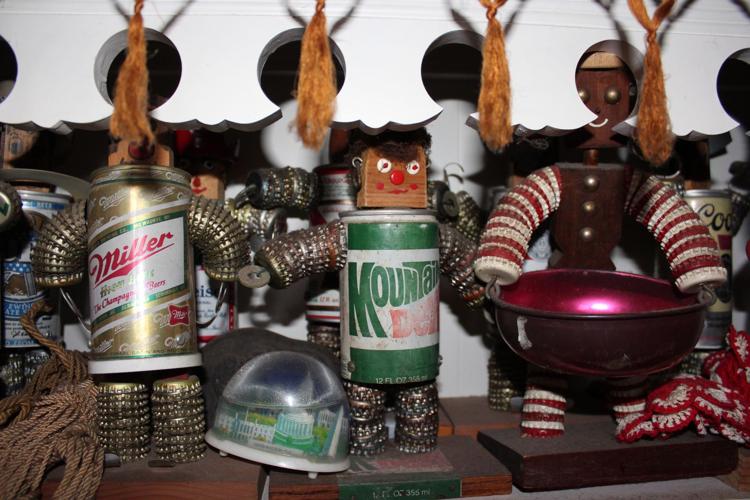 Having grown up in St. Louis and Overland Park, Walker first started collecting during a junkyard run with his family when he was 12 years old. There he found dozens of daguerreotypes and he was fascinated. After that, he caught the collecting bug.
Before he could drive, Walker was renting out his own booth in Westport, where he sold insulated glass his grandpa had. He's been buying and selling stuff ever since. He's taken breaks, but over the years he's operated several booths, owned a shop and sold goods on eBay. Now, he works as an estate-sale manager so he can pay for more oddities and travel.
As soon as he was able to, Walker began to travel as fast and as hard as he could, driving wherever, stopping whenever, looking for unconventional destinations and items. He has been to almost every state in the U.S. and a couple of locations overseas.
"If you ever want to go junking, I'm the man to talk to, because I know every place in the Midwest," Walker said.
Because to Walker, the best part of collecting items is the acquisition itself.
"That whole hunt, it's the process," Walker said. "Buying it is almost anticlimactic."
Paul Harfleet was a visiting artist last week at the Spencer Museum of Art, where he discussed his use of pansies to address the hatred associated with homophobic abuse.
Despite the vast collection, what matters most to Walker are sentimental items that his family gave him. He is not too attached to anything he owns.
"As far as I'm concerned, I don't own any of this stuff. I just rent it for a period of time and then it goes somewhere else," Walker said. "It's all one big kind of movement. It's not permanent, it's a temporary stop at my house and then it goes somewhere else."
It wasn't until a couple of years ago that Walker began treating his collection as a museum. When he held parties, people would tell him that his place looked like a museum and eventually he started doing tours.
"Randy captures your attention with all the vivid information he provides," visitor Kebra Panko of Yates Center said. "There were a lot of laughs, questions (which he always welcomes) and makes you appreciate the small things."
Since he started giving tours, he has been featured in the book "Kansas Curiosities," the website "Roadside America," HGTV's show "Home Strange Home," and numerous articles.
With that fame has come some judgement. Even in Lawrence, where Walker says "you have the freedom to be yourself," he has encountered backlash.
To that, all he can say is, "As long as I'm not doing you any harm, what do you care about what I'm doing?"
Because at the end of the day, Walker believes there's nothing wrong with a little odd.
"People are unique and they should express their uniqueness and not be afraid to show it," Walker said. "Even if it's a little left to center of what normal is, because, in my opinion, normal is full of shit. Only because, who's to say what's normal and what's not? I think you need to express yourself however you want to express yourself and not be afraid."