As a child, University of Kansas sophomore Mackenzie Greckel would pick up dead cicadas off her deck in her hometown of Omaha, Nebraska, when she was feeling sad. Greckel said her father would call cicadas "Mackenzie bugs" because of the "m" shape on their back.
"It's almost like an upside-down "m" if you look at a picture of one," Greckel said.
Greckel now uses the name "cicada" for her Instagram shop, Cicada Camp Company, that she started at the end of her freshman year of college after having success selling banners for dormitory room decor.
At the beginning of her freshman year, Greckel said she made banners for her dorm walls, and her friends wanted banners made for themselves. Greckel then decided to make 10 more banners to post on her personal Instagram story, hoping people would buy them.
At the time, she said she did not have a business model. Greckel would meet each of her customers at coffee shops to complete the transaction.
"I didn't have Venmo," Greckel said. "It was so messy, but it worked."
After creating Cicada Camp Company less than a year ago, the Instagram account now has over 2,100 followers.
Sophomore Julia Shyver is in an art history class with Greckel. At the beginning of the semester, each student had to present who they were as a person, and Shyver said Greckel never mentioned her company.
"I was surprised," Shyver said. "If somebody is that successful with something like that they would mention something like that to the class, but I thought it was kind of cool that she chose not to."
Greckel sells banners, bags, keychains, prints and upcycled clothing from thrift stores. Some of Greckel's banner designs include motivational words and university pride words, such as "Rock Chalk." During the summer of 2019, Greckel said she sold 430 banners. 
"I like that there's a very recognizable style and that you can really see the artist hand in a lot of her work," said Grace Hatesohl, a sophomore member of Alpha Chi Omega sorority.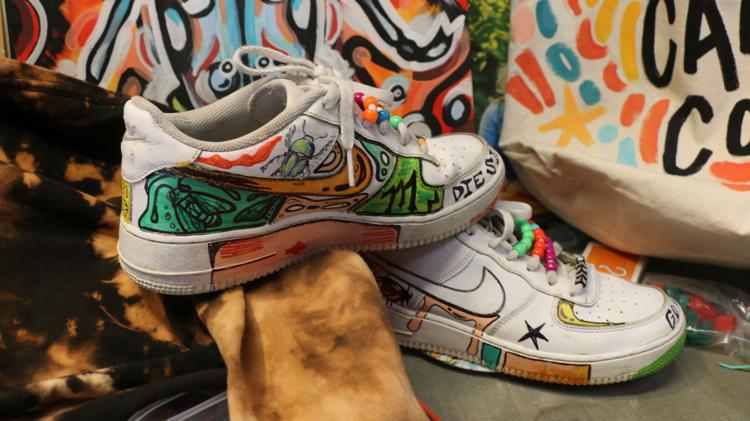 Greckel met Hatesohl after joining Alpha Chi Omega one year ago. Hatesohl said Greckel is the person the sorority asks to help with artistic projects, such as painting banners and being in charge of planning Bid Day for Alpha Chi Omega's fall formal recruitment in August.
Hatesohl said she bought one of Greckel's prints of a cicada as a gift for her mother at Greckel's pop-up shop hosted by Boss Girls KU in December 2019. The Boss Girls KU organization hosted the pop-up event for women who own small businesses.
Greckel hosted a second pop-up shop in the University of Nebraska Kappa Alpha Theta sorority house on Jan. 16. Greckel said she sold at least 20 items, including shirts, keychains and bags.
Macie Clawson, a senior Nebraska native, said she likes that Greckel sells Nebraska and Kansas apparel.
"I don't know a whole lot about art, but as someone who doesn't know a whole lot about art, I like it just because it's really colorful," Clawson said.  
Greckel said she is working on a website for Cicada Camp Company to make purchases easier and to have all of her merchandise in one database. Currently, customers can purchase products through Instagram. Greckel will post a photo of a product, and the first person to comment on the post or directly message her gets the item.  
In the future, Greckel said she would like to open her own coffee shop called Cicada Camp Coffee and sell her art in the coffee shop or open Cicada Camp Consignment and Coffee so she can continue her love of thrifting.