During last Saturday's Kansas football game against Oklahoma, ESPN aired a short video of a student crocheting while the game was going on. The video went viral, getting 1.4 million views on Twitter and 2.5 million views on Facebook. But "Crotchet Lady" said she wasn't there to watch the football game — and she wasn't even there to crochet. 
"I don't like watching football, so I don't really go to the football games," said Hailey Solomon, a University of Kansas senior studying civil engineering. "That was the first football game I'd ever been to."
Solomon said she decided to go because she had been notified that University engineering professor Matt O'Reilly was going to be announced as the winner of the Honor for an Outstanding Progressive Educator Award at the game. The H.O.P.E. Award was established in 1959 to be given to an outstanding professor by the senior class, and Solomon said she was one of the students who nominated O'Reilly.
"As a whole, Dr. Matt is one of the most remarkable people I have ever met. He is not just an exemplary professor; he is a genuinely good person," she wrote in her application nominating O'Reilly for the award. "He not only gave me the confidence to pursue engineering, he reignited my passion for it at a time when I needed it most, and he treats everyone with limitless respect, patience, and genuine concern. I will spend the rest of my life striving to be as kind, as dedicated, and as willing to help others as Dr. Matt."
But while Solomon attended the game because she was told who the winner was, O'Reilly himself was not told and assumed he hadn't won.
"I had assumed they had notified the winner to make sure they were there, and they had just brought the other two finalists," O'Reilly said. "So, when they announced my name, I was kind of surprised. I jumped a little at the game on the jumbotron."
Despite the fact O'Reilly won the award, it was Solomon's crocheting that got most of the attention that day. During the game, she was crocheting a potholder for one of her bosses. But, she said she also uses her hobby for altruism as she is one of the founders of Warm the World.
"It's an all-inclusive organization. We teach people how to knit or crochet for free, and everything we make is donated to the homeless to help them during the winter," she said. "It's one of my greatest accomplishments."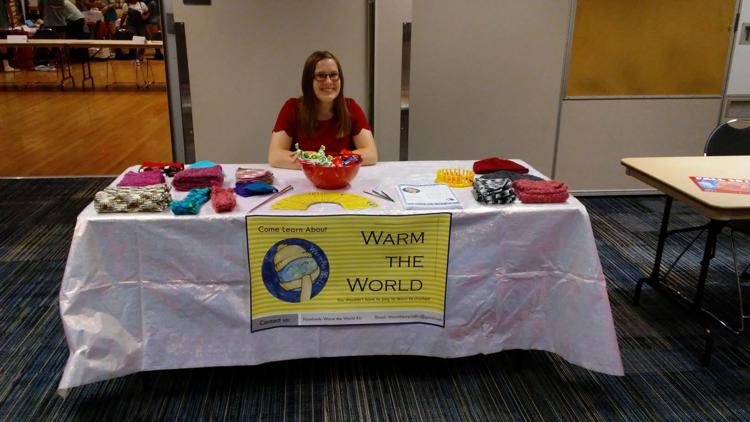 Just as she brings comfort to the homeless with her crocheting through Warm the World, Solomon said she hopes she was able to bring happiness to anyone who saw the viral video.
"It was really surprising — I didn't expect it at all," she said. "At the end of the day though, the way I really responded was, even if a little video, a 30-second video of me crocheting just in the rain brought people joy, then that brings me joy too, and I'm happy it happened if it made their days better."