As a first-generation college student at the University of Kansas, senior Jirick Hunter often found it hard trying to navigate school and find resources that would help him along his college journey. Although he sought help from the KU TRIO SES & STEM program, he said he needed more resources on campus.
"There's just not enough," said Hunter, a sports management major. "There were a lot of times when I just didn't want to be here. I didn't know anything and didn't know where to go for certain needs. I was just working and not focused on getting the full college experience because I needed to work and go to school. With being a first-gen, I would talk to my parents and cousins [for help], but they just didn't know and that was hard."
However, after seeing this year that The University of Texas at Austin had a graduation dedicated to first-generation students, Hunter wanted the University to have the same thing. He talked to his TRIO adviser LaTisha Davis, who serves as an associate director for TRIO SES & STEM, about the opportunities they could create for students.
That was the start of F.I.R.S.T. (Fearless Individuals Reaching Success Together), a student organization that aims to build a community for KU first-generation students.
F.I.R.S.T was registered as a student organization in June, and this is its first semester providing mentorship for students. Hunter currently serves as the organization's president, and Davis is the organization's director.
"We're more of a community support and recognition organization," Hunter said. "We base ourselves to just bring support to all the first-generation students on campus for undergraduate and graduate and provide them with the resources that are available on campus."
The group doesn't meet weekly, but they do have events during the semester that are catered to building a community among first-generation students. The group had a meet-and-greet this week, and next month they'll host a resource mixer where first-generation students can learn more about the variety of services on campus created for them. The organization also has a GroupMe chat that acts as a virtual space to share experiences and learn about resources.
Hunter said a group like F.I.R.S.T. is essential in helping first-generation students navigate the unknown.
"It's hard as a college student," Hunter said. "It's hard as a minority student, but most first-gens have a lot of marginalized backgrounds, and a lot of people don't realize how hard it is to be a first-gen. If you're not a first-gen, you have people in your life that you can go to that have experienced at least a little bit of it, but as a first-gen, you have nobody. As much as your family or your parents can support you and mentally support when you go to them for help, they literally just don't know."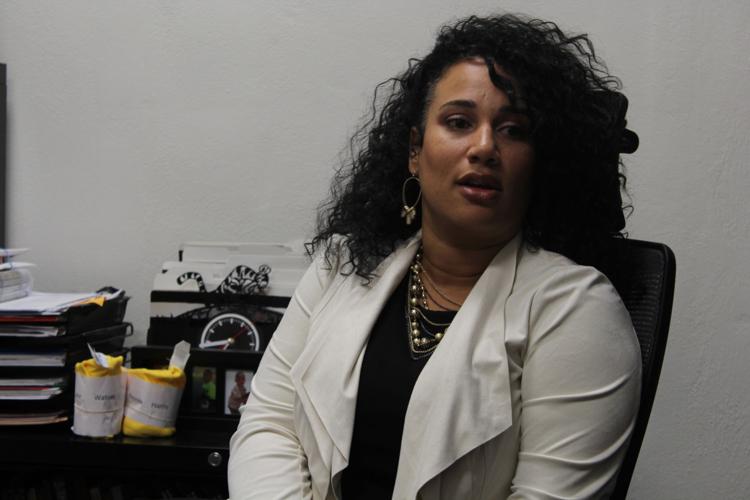 Davis said for fall 2018, about 14% of students at the Lawrence and Edwards campuses were first-generation students. She said it's a number that continues to increase each year. Davis, who was also a first-generation college student, said she wishes F.I.R.S.T. was something that existed during her time in undergrad.
"When I started my undergrad many many years ago, I did not even know what first-gen meant," Davis said. "I didn't know I was eligible for services. I think we're trying to really bring awareness to first-gen college students as well as cultivate a sense of pride of being a first-gen student and making sure students are aware of the resources that are out there to support them."
The group's lack of weekly meetings is intentional. Hunter said he doesn't want to compete with other groups that students may be a part of. He said its community has grown from 15 students in May to 60 students this semester.
"We're not that organization that wants to overcrowd organizations and events," Hunter said. "As a first-gen, if you're in Greek life, we want you to go to all of your Greek events. If you're a part of Black Student Union, we want you to go to all of your events. We don't want to take away from other organizations. We just basically want you to meet other first-gen students and get acclimated with them."
Davis said F.I.R.S.T. is a great opportunity to amplify students' voices and to ensure that they are being heard on campus.
"I think a student organization is definitely needed to bring in that student voice because although we [offer] support on [the] faculty, staff and administrator side as best as we can, we need that student voice," Davis said. "We need to hear what their needs are and what their challenges are. I truly believe this organization is bringing that voice to the tables now."