Most people tend to avoid using public restrooms. The words "beautiful" or "fun" aren't adjectives usually used to describe them, but there may be a few exceptions in downtown Lawrence.
Here are five of the best bathrooms to check out in Lawrence chosen for their design, history or overall aesthetic:
Alchemy Coffee & Bake House,
816 Massachusetts St.
Alchemy's bathrooms are for people who love attention to detail. The bathroom is clean and seemingly simple at first glance, but upon further inspection, one can see art nouveau inspired details, such as the golden bird-shaped faucet that spews water from the mouth.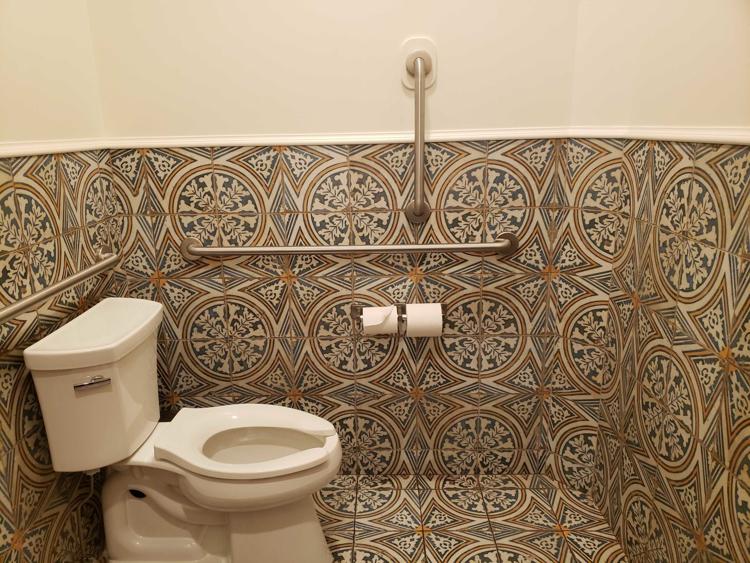 Gold metal is a recurring detail in this bathroom, which can be seen in the gold and pearlescent wall coat rack, the flower engraved door push plate and the gold doorstop with an engraved leaf design. The floor tiles are reminiscent of Roman floor tiles with geometric shapes and leaf motifs. All the elements seem to follow a nature theme, which is common in art nouveau design.
Merchants Pub & Plate,
746 Massachusetts St.
Merchants Pub & Plate's bathroom lets customers do their business in a real bank vault. The building used to be home to Merchants National Bank from the late 19th to early 20th century. Now, instead of money, the vault houses bathrooms.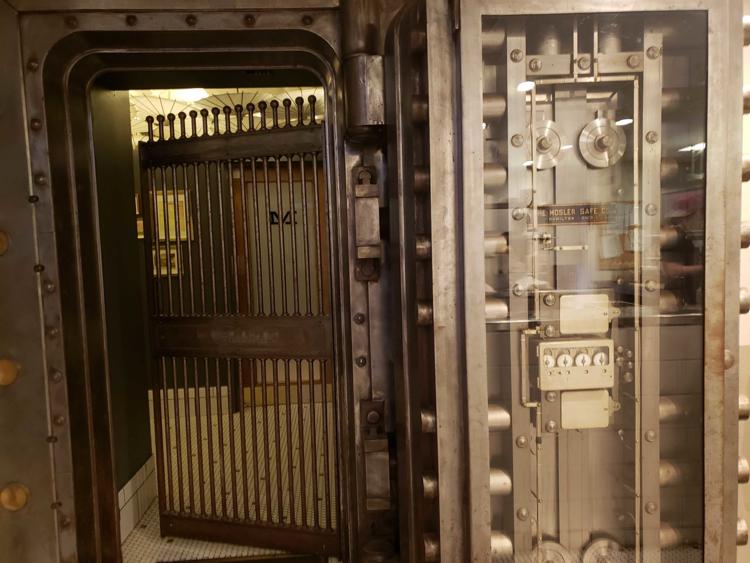 The entrance features the giant vault door with glass covering the back, showing the interior. Inside, paper parasols cover the lighted ceiling and pictures, and documents from the original Merchants National Bank are displayed on the wall. The actual bathroom interior is elegant and simple with brass features, tiled floors and dark wood.
The Java Break,
17 E. 7th St.
The Java Break cafe is home to multiple quirky rooms with different designs and themes. Similar to its free speech room, The Java Break bathroom is covered floor to ceiling in writing and drawings, including a good amount of potty language. The bathroom fits in well with the cafe's quirky and hodgepodge aesthetic and allows customers to leave their mark on the business in their own artistic way.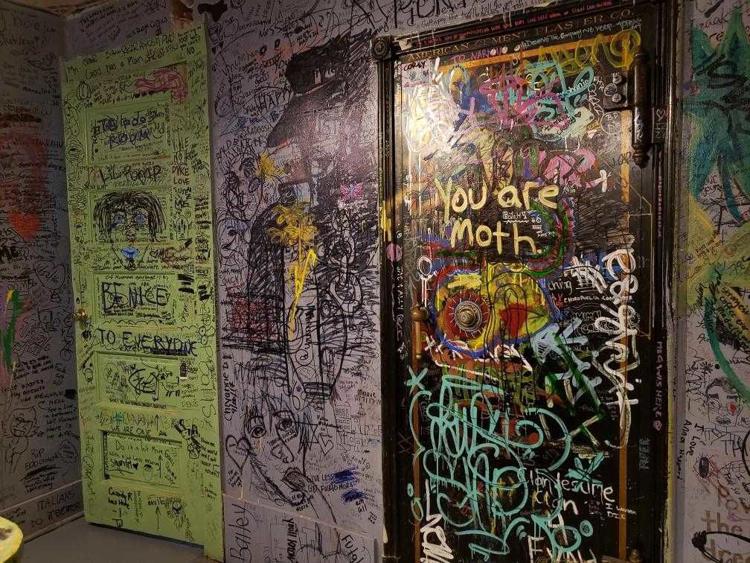 Eldridge Hotel
,
701 Massachusetts St.
The Eldridge Hotel lobby bathroom takes inspiration from neoclassical design with white marble walls, minimalist decor and geometric floor tiles. The roses add to the high-class aesthetic this bathroom displays, and the large windows allow natural light to filter through, making this bathroom the perfect place to take selfies.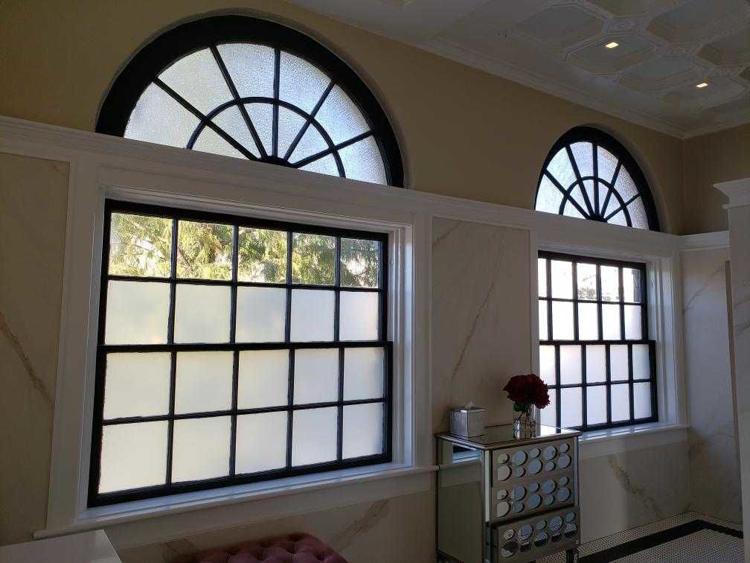 Wonder Fair,
841 Massachusetts St.
Possibly one of the most well-known bathrooms in Lawrence, Wonder Fair's Haunted Bathroom is actually a permanent art installation at the art supply store. Created last year by Kansas City, Missouri, artist Dustin Williams and Wonder Fair co-owner Paul DeGeorge, the bathroom features special effects, a soundtrack, fake cobwebs and creepy kittens.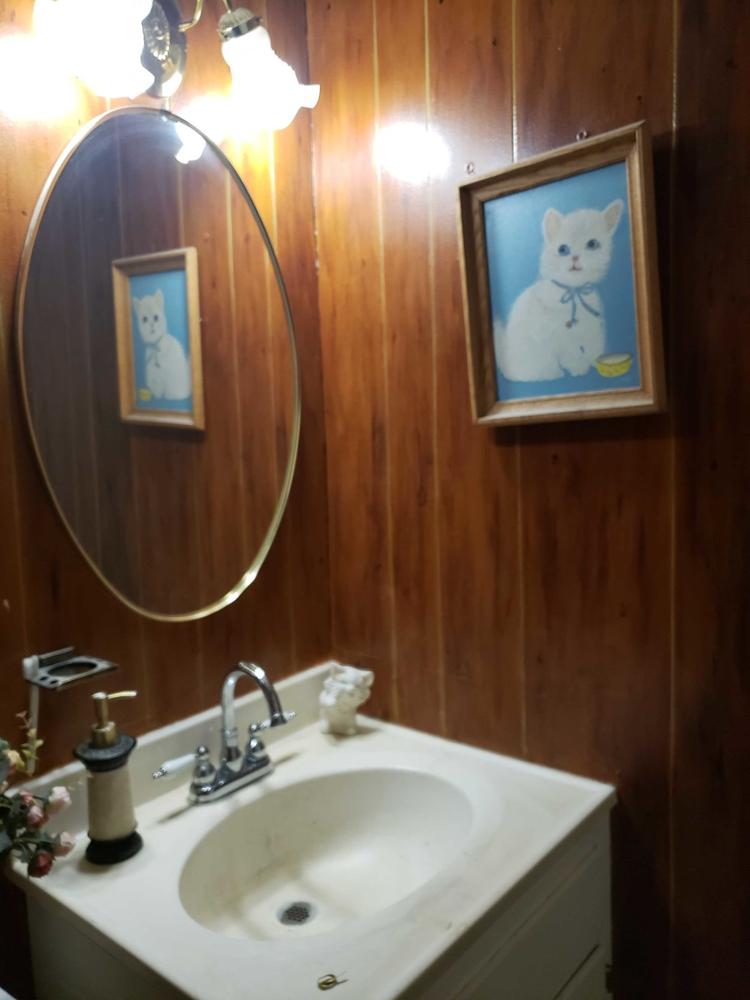 Williams has done multiple haunted installations for Wonder Fair in the past, including a haunted office and a haunted diner, but the Haunted Bathroom is Wonder Fair's first and only permanent haunted installation.
"There's a wide variety of reactions to it, but there are definitely people that believe in hauntings that kind of refuse to engage with the joke," DeGeorge said.
According to DeGeorge, when they moved to the current location four years ago, the cat painting was left in the bathroom by the previous owners. DeGeorge and Williams decided to stick with the theme and added other creepy cats to the bathroom. They even sell replicas of the original painting. The bathroom has been featured on websites, such as Roadside America, for its weird and spooky theme.
"We wanted to create a tourist destination," DeGeorge said. "We wanted it to be something like, 'Oh, you're going to Lawrence? Make sure you go to the haunted bathroom.'"
The Haunted Bathroom soundtrack was released at Wonder Fair's soundtrack release show on Oct. 25 and is now available for purchase along with merchandise on Wonder Fair's website.