Ondori Noodle Shop has reopened after going on a four-week hiatus. 
The noodle shop, located at 1008 Massachusetts St., redesigned its kitchen and menu. The restaurant originally opened December 2018. 
"I am excited about the menu," said General Manager Rebekah Sheridan. "With the restructuring, we went from being mainly broth-based dishes to half of our menu being Chinese barbecue kabobs." 
Ondori will feature a ramen cuisine as well. Sheridan said the black garlic ramen will be a crowd favorite on the menu. She said the black garlic oil is a specialty because it's really flavorful. 
"It's simple, but it packs such a punch," Sheridan said. 
The restaurant added a ramen dish called "Double Ramen" that takes a total of seven hours to cook. 
Wanna and Dan Zhao are the owners of the restaurant. They have also owned Encore Cafe for 15 years. 
Sheridan worked at Encore Cafe while she was finishing her degree at the University of Kansas. After graduating, she worked different jobs before being asked by Wanna to come back and run the business at Ondori. Zhao and Sheridan have been working together for eight years.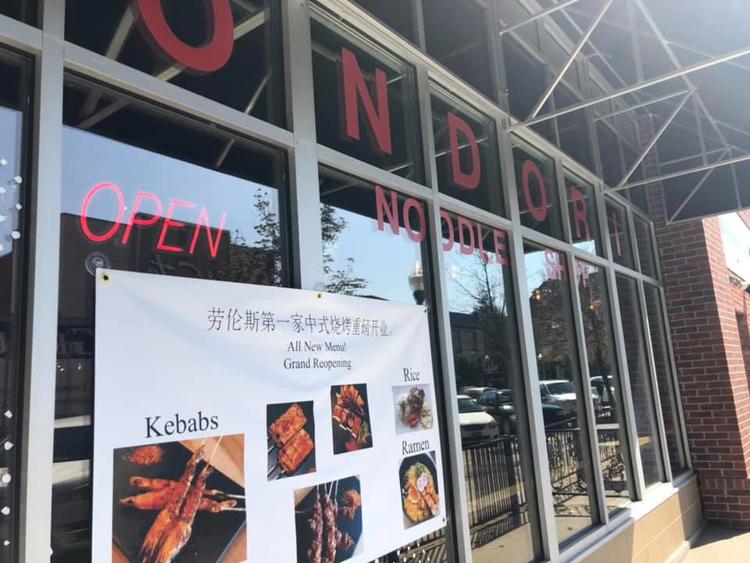 Restaurants that previously occupied the space, such as Jerusalem Cafe and Stonewall Pizza, closed down. 
"Businesses haven't lasted very long in this location," Sheridan said. "We plan on changing that." 
Ondori Noodle Shop aims to be more than just a restaurant — Sheridan said they help promote blood and food drives. 
"We want students [to come to the restaurant], but we also want locals," Sheridan said. "We want to break the curse of this building and become a part of this community."
Sheridan said Ondori is now a full-service restaurant. Customers can be seated and take their order at the table instead of ordering food when they first walk in. The restaurant also changed its portioning.
Sheridan said the restaurant also uses a food delivery service called StarveBird that is great for international students because the menu on the website has pictures and is written in Mandarin. 
Ondori Noodle Shop is open 11:30 a.m. to 9:30 p.m. Sunday and Monday and 11:30 a.m. to 10 p.m. Tuesday through Saturday.