Following conversation about how this might be one of the more boring Oscars shows in recent years, "Parasite," a South Korean film from legendary director Bong Joon-ho, came out the victor of this year's Academy Awards following its major category sweep. It's the first non-English speaking film to ever win Best Picture.
Joon-ho also tied Walt Disney for the most Oscars awarded to someone in a single night — an ironic twist knowing "Parasite" is a criticism of capitalism and its affects on society. The film was championed by movie fans around the globe for most of the year and many felt it finally got the awards recognition it deserved.
The event itself was overall rather basic in its second year without a host. The night started off by hitting the ground running with a flashy performance by Janelle Monáe celebrating the best of movies in 2019. It was quickly followed by a monologue by Chris Rock and Steve Martin who poked fun at different celebrities and the Academy itself, particularly about the lack of diversity in this year's nominations.
"Cynthia [Erivo] did such a good job in 'Harriet' hiding black people that the Academy got her to hide all the Black nominees," Rock said.
Chris Rock: "So many great directors nominated this year."
Steve Martin: "I don't know, Chris, I thought there was something missing from the list this year."
Chris Rock: "Vaginas?"#Oscars

— Kyle Griffin (@kylegriffin1) February 10, 2020
The awards then officially began, with a wonderful speech, as always, from Best Supporting Actor winner Brad Pitt. He threw in a clever shot at the U.S. Senate for good measure.
"They told me I only have 45 seconds up here," Pitt said. "Which is 45 seconds more than the Senate gave John Bolton this week."
Once things got going, it went mostly as planned. Idina Menzel sang "Into the Unknown" with foreign language-speaking Elsa actresses from all around the world. "Parasite" grabbed its first award of the night in the Original Screenplay category. Laura Dern won her long-deserved Oscar for Best Supporting Actress.
Things got a bit weird after that though. Eminem came on stage and performed "Lose Yourself" — for no apparent reason — a song almost as old as the other big musical performer of the night, Billie Eilish. "Ford v Ferrari" won some awards that everyone thought were locked up for "1917." James Corden and Rebel Wilson came out in outfits from their recently released "Cats" and pawed at the microphone.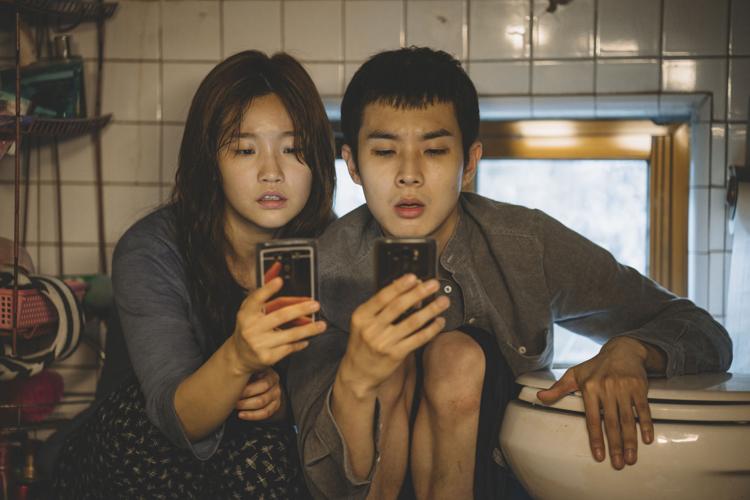 We then started coming back to Earth after "Parasite" won its second Oscar of the night in the Best Foreign Language Film category, which the Academy renamed this year as Best International Feature Film. Joaquin Phoenix and Renee Zellweger both won their respective acting categories and gave strange speeches as expected.
But that's also when things got fun. Following the screenplay win earlier in the night, there was a buzz around the later categories that Joon-ho was nominated in. That buzz then became excitement as he won Best Director, the first South Korean person to do so. The odds were in favor of Sam Mendes and "1917" before that point, so seeing Joon-ho take that award brought some much-needed enthusiasm to the show.
That excitement then came to a head as everyone eagerly anticipated the final award of the night, which was announced by the legendary Jane Fonda. The nominees were shown, the card was opened, and none other than "Parasite" was called out as the winner.
Both the room and social media erupted all at once as fans began to celebrate around the world for the movie winning the biggest prize of the night. The Oscars sometimes do some things right, and as we saw here, those moments are spectacular to watch.
This year's Academy Awards were a pleasant surprise and a wonderful ending to an awards season following one of the best years for film in the last decade. If you haven't seen "Parasite," now's your chance to go watch and experience it. It's easily the best movie of last year and earned every award it won. Go see what all the hype is about, you won't regret it.