All of the members of the band Hembree attended the University of Kansas at one point and will return to Lawrence for a show April 27 at the Bottleneck. The indie rock band formed in Kansas City, Missouri, and is made up of members Isaac Flynn, Garrett Childers, Eric Davis, Austin Ward and Alex Ward. Hembree just released its debut album, "House on Fire," April 26.
Hembree will also begin a 15-city tour as part of SiriusXM and Live Nation Alt Nation's Advanced Placement Tour starting June 12.
The Kansan interviewed lead singer Isaac Flynn ahead of Hembree's April 27 show.
The following interview has been edited for brevity and clarity.
How did you form the band?
We started playing in bands together right around the time that we all went to KU. Garrett, Eric and I were in a different band together. When that band ended, we weren't really ready to be done playing music. We were really young at that point in time and started Hembree with some of the people in that previous band.
Then everyone went on their separate life path. Some people moved away, but we were like, "Let's still do the band" because we love doing this, and it's getting some momentum. It's something that we've really always wanted to do.
At that point, we needed a drummer to tour with, so we called our friend Austin, and his brother Alex plays guitar with us. They're a package deal — if you get one Ward brother, you get the other one. Naturally, because we're such good friends with them, it made sense to bring them into the fold. That was just last year before we started finalizing the lineup for our record. We all became friends throughout that process. It just worked out pretty perfectly to bring them into the band.
How would you describe your music and sound?
It's definitely a rock band at its core, but a lot of electronic elements are infused into it.
What's the inspiration behind your debut album, "House on Fire"?
It's certainly a coming of age album. I started writing it post-college at about 23 or 24. There's more uncertainty at that age: What is the next move in life? Is it music? Is it a certain career path? Is it back to school? Where am I at with everything? It was some of my own personal life infused with the world we're living in.
There's definitely moments when the record is influenced by the current political climate. It's also a very personal record to me and becoming who I am.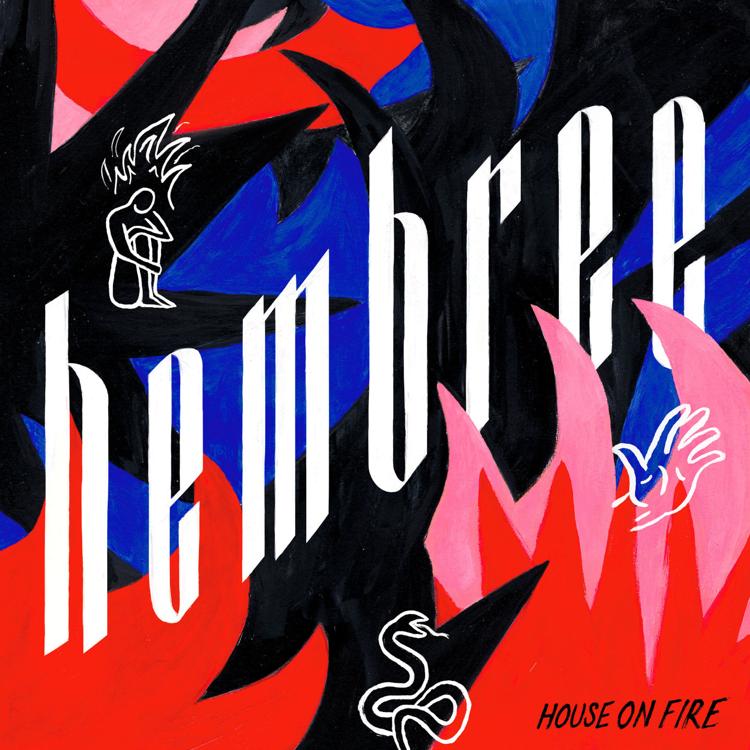 What's your favorite song on the album?
"Heart." I think it's the most personal. I've heard a lot of songwriters I really respect say they don't necessarily know where the best songs came from or they feel a little beyond them. For me, "Heart" feels that way. I don't necessarily know how I wrote it — it feels beyond me. It's my favorite song because I think it's the best song writing on the record.
What is the inspiration behind your music in general?
I've been obsessed with music my entire life. A big influence on the music that I'm making is definitely the world that we're living in. I care deeply for other people. You see a lot of sad things happening right now, and I think it's a way for me to express and put those feelings of empathy or desire for making the world a little bit better out through song.
I love writing songs because my personality is very upbeat. I'm a very positive person in general. I think there's an expectation of that positivity from me, and so to be able to grapple with darker aspects of life in music has been really good for me — it's a good outlet.
What has been a challenge you've come across in your career so far?
A challenge has been to take the band from something with momentum and hype behind it, and turning that into something that's a full-time job.
We're at the place in life where we are older than we were when we first started playing in bands. That is really beneficial in some ways, and then in other ways, it makes it more difficult because we're at a stage in life where we have to survive. We can't just couch surf and do all the things that were easier in college.
What are you looking forward to for SiriusXM and Live Nation Alt Nation's Advanced Placement Tour this summer?
I'm really thrilled to be out playing music with my friends. We all live in different places now.  When we get to come together and play shows, it's a really fulfilling experience because we're very spread out. Every time we get to play, it's just a really fun time for all of us because we don't see each other like we used to in the traditional sense like having band practice every Tuesday night.