River Rat Skate Shop in north Lawrence is a one-stop shop for all skating needs, including skateboards, parts, shoes, stickers and clothes.
Located at 608 N. Second St., the skate shop recently celebrated its one year anniversary.
Owner Justin Shiney and manager John "Nish" Niswonger are veteran skateboarders. Niswonger said he has been skateboarding since he was in high school in the mid-'80s, and Shiney, who continues to skate regularly, said he has been skateboarding since he was 7 years old. 
"[Skateboarding] has always been number one for me," Shiney said. "Everywhere I go, anything I am doing, I almost always have a skateboard with me."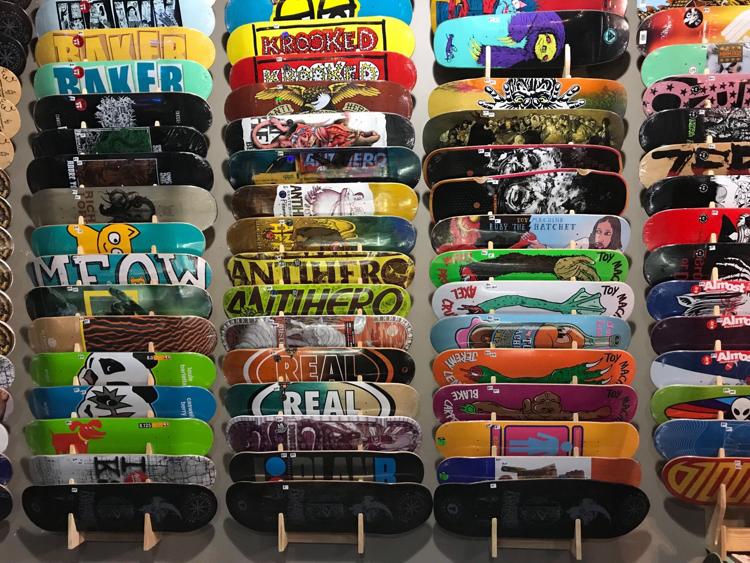 Currently, River Rat is the only skateboarding shop in Lawrence after White Chocolate Skate Shop closed in 2015. Niswonger said local skate shops are important because it's difficult to get the right size boards, wheel size and trucks when buying online.
"There's all different kinds of skating, and going to your local skate shop can help you get outfitted for all those kinds of skaters and different styles of skating," Niswonger said. 
Shiney also owns a screen-printing business in the space called Happy Shirt Printing, which creates custom apparel, hats, license plates and stickers designed by both customers and River Rat.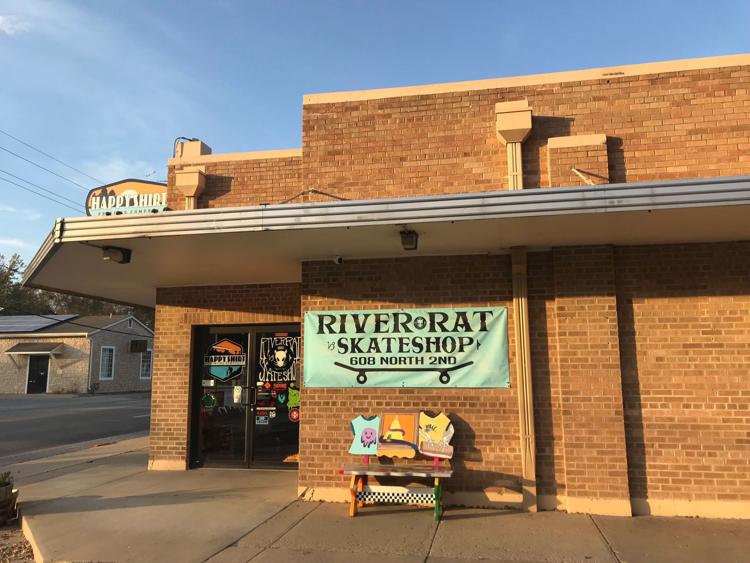 "I'll try and print anything that I can if it is printable," Shiney said.
River Rat sells products from many big name skating brands, including Thrasher, Spitfire and Vans. 
Shiney and his team of designers at River Rat have also focused on making their own line of boards, clothing and accessories. Niswonger said they are able to sell their products cheap because they are all printed in-house.
One of Shiney's goals with River Rat was to create a space where skaters could hang out somewhere that wasn't the skate park. This is reflected in the staff as some of the workers are childhood friends of Shiney's, including Niswonger.
"It's is a very relaxed, all-inclusive environment here," said Samantha Foley, who was the nanny to Shiney's kids and is now a receptionist and salesperson at River Rat. "[Shiney] allows me to sometimes bring my dog here, and another lady brings in her baby."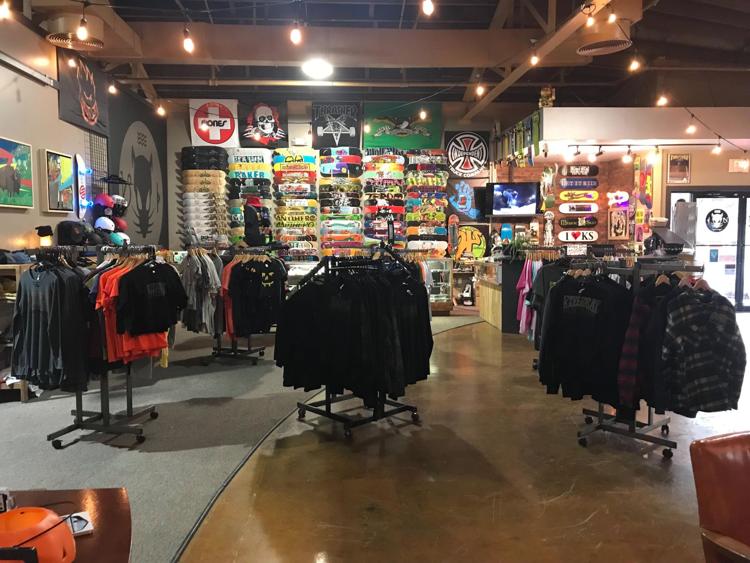 Shiney said he sees the skating community as part of his family as well. To give back to the community, he has worked with the city of Lawrence to help build skateparks. In 2008, he helped redesign the skate park in Centennial Park, located at 600 Rockledge Road. More recently, he is working to rebuild Edgewood DIY, which is a skate park in east Lawrence.
"I have always wanted to give as much back to [the skating community] as I can," Shiney said.