The fashion resale market is growing 21 times faster than the retail market, according to Fortune. Thrifting is taking over, especially among younger generations, whether it's because thrifting is more sustainable, cheaper or just for the enjoyment of the hunt to find a unique piece.
According to the EPA, there was an estimated 16 million tons of solid textile waste in 2015. On top of that direct textile waste, the process of making clothes is also pollutive. The textile industry in China creates three billion tons of soot every year, and for every ton of fabric dyed, up to 200 tons of water is used according to the National Resources Defense Council.
"We buy too many clothes. We make too many clothes, and it's hurting our budget and our world," said Josie Gilliland, a junior from Lawrence who is the owner of Instagram thrift shop Happy Girl Thrift. "I don't think most people really understand the impact the fashion industry is having on all of us."
Buying just one used piece of clothing abates the item's carbon footprint by 82%, according to Fortune.
Price is also a major factor for the growing popularity of thrift shopping. The average U.S. family expends $1,700 per year to the $12 billion U.S. apparel industry according to Forbes. In the past, many have opted to buy fast fashion but for higher-quality clothing. Now, young people are turning to thrift shops. The economy of secondhand stores is charted to be almost 1.5 times larger than fast fashion within the next 10 years, according to Fortune.
Gilliland said she recently thrifted a Levi denim jacket for $10 that usually retails new for about $90 to $100. At mid-range quality stores like Gap, most pairs of jeans cost more than $70. At your average thrift store, high-quality jeans can be found for a fraction of that price.
The fast fashion industry, which includes mass-produced clothing from stores like H&M and Forever 21, makes clothing from material that is lower quality. This is why fast fashion is sometimes called "throw-away fashion." Making and buying clothes for this cheap is also less cost effective, according to Lifehacker.
"The quality of older clothes is honestly nicer than a lot of the things made in 2019," said University textiles student Jason Fondaw, a junior from Wichita.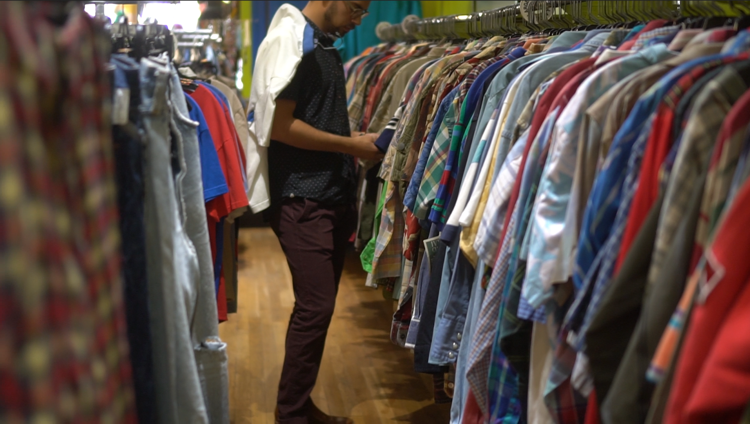 Frequent thrift shopper Beth Roth, a sophomore from Jetmore, said she began thrifting in the seventh grade. She said she would see outfits she wanted but couldn't afford them, so she used thrift shops to emulate those outfits. Since then, it's become more about finding unique clothing that no one else is wearing.
"You just find pieces that are not what everyone else has," Roth said. "Everyone is shopping in the same places, but if you go thrifting and find vintage from a couple years ago, no one is really going to have that anymore."
One of the best parts of thrifting for Wild Man Vintage sales associate Allison Meyer is "being able to wear something with confidence in knowing this is a one of a kind item."
Clothing sold in the U.S. often comes from other countries. 
According to CNBC, 97% of apparel sold in the United States are imports, often made in countries where labor laws are unregulated.
"I think that there's been so many issues brought up with fast fashion and the fact that most of the clothes that are made in department stores are made overseas by black and brown women and children," Meyer said.
According to the Guardian, "A recent report by the Centre for Research on Multinational Corporations (SOMO) and the India Committee of the Netherlands (ICN) revealed that recruiters in southern India convince parents in impoverished rural areas to send their daughters to spinning mills with promises of a well-paid job" — often in the fast fashion industry.
Lawrence has more than eight thrift stores, including Arizona Trading Company, Goodwill and Plato's Closet.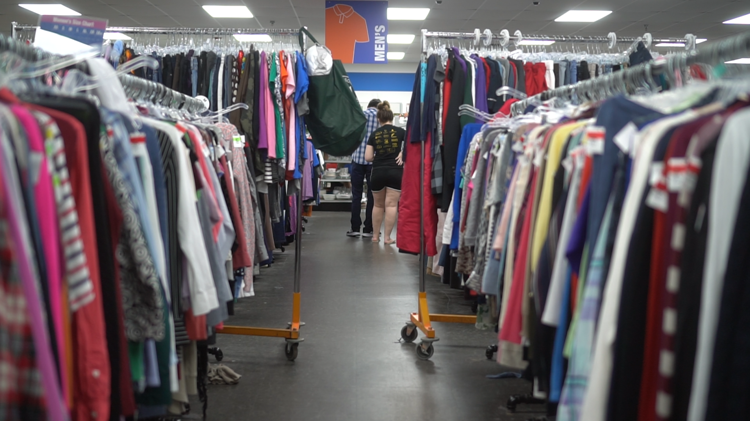 The look of used clothes is also a large reason for its popularity. People are beginning to prefer clothing items that are "pre-loved" because they look like they've had a previous life — and they have.
In an attempt to appeal to young people, big department stores, such as J.C. Penney and Macy's, are adding used clothing portions to their stores. According to NPR, both stores are partnering with online consignment store ThredUp.
In the NPR report, ThredUp CEO James Reinhart said this move is intended to attract regular thrifters and get new people who usually shop at department stores to begin thrifting.
For some, thrifting is just an enjoyable way to spend an afternoon. For others, it's a business that is changing the world for the better.
So, what are some of these regular thrifters' best finds?
"I have this fur tiger print mini skirt, and it's beautiful," Roth said.
"This pair of old Adidas shoes that became my favorite pair of shoes. They're like orange," Fondaw said.
"There was this one red velvet jumpsuit that I found one time," Meyer said. "It's from the '90s. It's like bodycon — tight all the way down — turtle neck, and it was backless. And it was the coolest thing ever."
"I found this brand new Levi's jacket, half off of $20," Gilliland said. "So I got it for 10 bucks — and I'm keeping this baby."