Ladybird Diner continues to be a breakfast destination for those looking for traditional American diner food and a nostalgic atmosphere — and for a hangover cure.
Ladybird owner Meg Heriford said she would like to think her restaurant is a go-to breakfast destination because of its inviting and nurturing atmosphere.
"But it's probably the gravy," Heriford said. "We've got some bonafide hangover cures on this menu."
Ladybird Diner, located at 721 Massachusetts St., has been serving downtown Lawrence since it opened in 2014.
A few of the hangover cures on Ladybird's menu include the chicken fried steak and "The Slinger," which Heriford said was "expressly designed to be a hangover cure." The Slinger is made of hash browns, a hamburger patty, chili, eggs, cheese and jalapeño onion relish.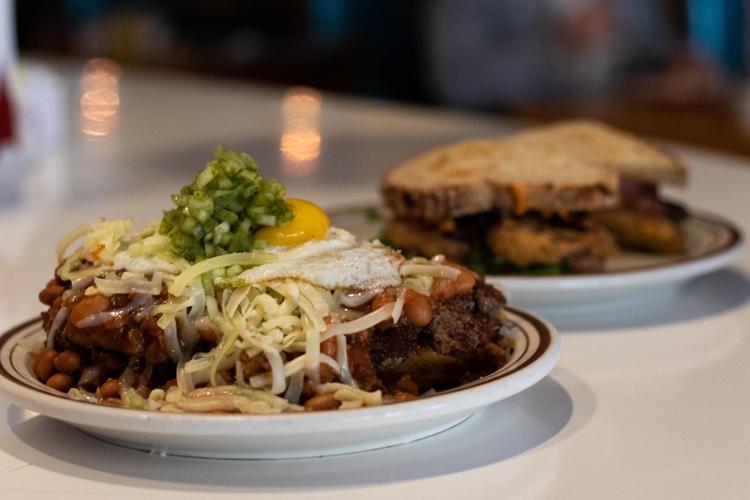 Ladybird's menu features traditional diner fare inspired by regions across the nation — and of course, Heriford's signature pies she makes from scratch. Heriford said she calls the diner's food "grandma-centric."
The diner closed for a six-month period in 2015 after a fire at a neighboring restaurant put its kitchen out of commission. After the fire, Ladybird Diner streamlined its menu.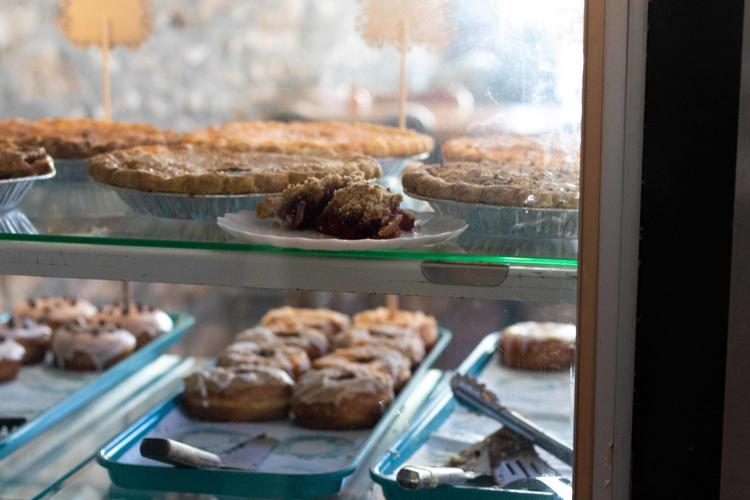 Heriford said serving a full menu all day sets her restaurant apart.
"You can get a cheeseburger and fries; you can get a hot beef sandwich; you can get chicken and noodles at seven in the morning if that's what you're craving," Heriford said.
Heriford's cakes are so famous, that they have attracted customers from hundreds of miles away. Kendra Phillips traveled to Lawrence from Denver with Kristin and Mark Goldsberry, who were visiting the University to watch their son play baseball. They stopped by Ladybird to try a cake they had seen featured in Food Network Magazine — Heriford's black forest cake.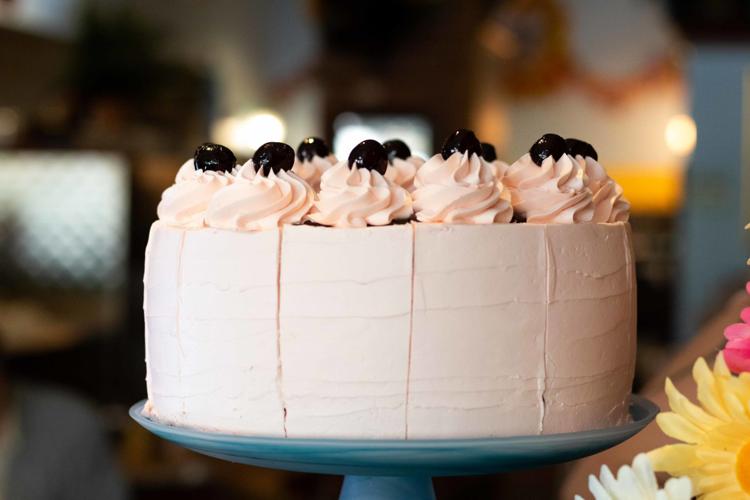 "It was worth the drive," Phillips said. "I cannot tell you how many people we are going to tell about Meg and her black forest cake."
A lot of work and effort goes into each of Ladybird's dishes and pies — some of which take days to make, like the pot roast. Heriford said Ladybird has become a staple in Lawrence because of its atmosphere and nostalgic diner vibe.
"It is sort of silly to wait in line for bacon and eggs — almost anyone can cook bacon and eggs, but there's something about sitting in here to have your bacon and eggs that feels kind of special," Heriford said.
Ladybird Diner is open Saturday through Thursday 7 a.m. to 3 p.m. and Friday 7 a.m. to 10 p.m.