The University Theatre's latest production, "One Man Two Guvnors," is a lighthearted comedy encouraging audience participation, improvisation and other unconventional theatrical elements.
The show, based on a 1743 Commedia dell'arte play, "Servant of Two Masters" by Carlo Goldoni, opens Friday, Feb. 22, at 7:30 p.m. at the Crafton-Preyer Theatre. 
Commedia dell'arte was one of the earliest forms of professional theatre, originating in Italy and popular throughout Europe from the 16th through 18th centuries. It is known for its exaggerated stock characters, the use of physical comedy and most notably improvisation. Commedia actors were given a script which consisted of a rough outline for a plot, and they improvised nearly all of the dialogue in the show.
"One Man Two Guvnors" will utilize a similar approach as the script calls for quite a bit of improvisation. Throughout the show, characters will even interact with members of the audience, which means every night, viewers will see something slightly different.
The show is set in 1963 Britain and follows Francis, an out-of-work skiffle player secretly working for two men who are running from the police. Francis goes to extraordinary lengths to ensure the two governors do not find out they are in the same town, even though they are looking for one another.
"Basically, they're trying to find each other, but Francis keeps screwing everything up and pushing them apart," said Hunter Hill, who plays the part of Francis.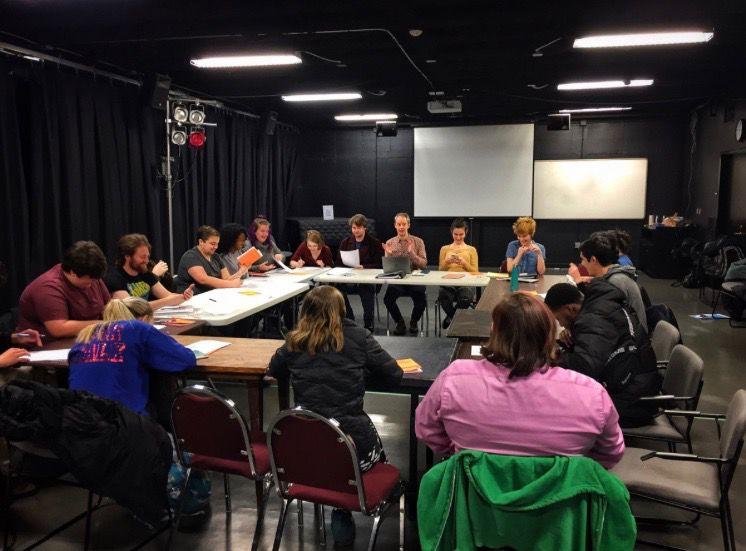 Jason Bohon, the director of the show, said he is confident his actors have the skills necessary to execute the performance as many of them have taken both physical comedy and improv courses at the University. A very important aspect of both stage fighting and improv, Bohon said, is timing.
"It's kind of like a well-oiled machine," he said. "It has to be incredibly well-nuanced and well-timed for it to work, and when the timing is off, the audience can really feel that."
He added that the actors must be on their toes at all times to ensure the pacing runs smoothly.
Bohon said the play will be sure to make viewers laugh, and it will be a lighthearted and action-filled show for audiences to enjoy. Tickets are $25 for adults and $15 for students at the door. They can be purchased at the box office or on the University Theatre website, which also hosts a list of showtimes.