A new weekend market called Makers, Bakers & Acres had its grand opening at 608 N. Second St. in north Lawrence Saturday, Nov. 2.
Zoe Smith, marketing manager and owner of the market, said the idea came to her when she realized it was something the north Lawrence community needed.
"We haven't had a grocery store [in north Lawrence] since I was a kid," Smith said. 
Inspired by her parents, who are business owners in Lawrence, Smith said she was always surrounded by the Lawrence art community in her childhood and adult life. Because of this, she said she called people she knew within the community to become vendors for her first-ever market. 
The market features local vendors that serve sweets, locally grown produce and handmade goods. One of the vendors, The Bap Stop, serves all gluten-free Korean rice bowls.
"We have meat. We have year-round produce, and we have baked goods, and we have canned goods," Smith said. 
Smith said it took two months to make the idea come to life after calling the city to see how much work was needed. 
"I like to put the cart before the horse," Smith said. "I'm ambitious." 
Next year, Smith said the market plans to partner with the Double Up program that provides Electronic Benefit Transfer food stamps. 
Right now, however, the weekend market mainly works as a platform for Lawrence locals to display their goods, Smith said. 
"We were really surprised at how many year-round farmers came out of the woodwork needing a venue to sell their produce that isn't just to restaurants," Smith said. 
Margot Self, co-marketing manager of Makers, Bakers & Acres, said she hopes using social media will help get a younger crowd to visit the market.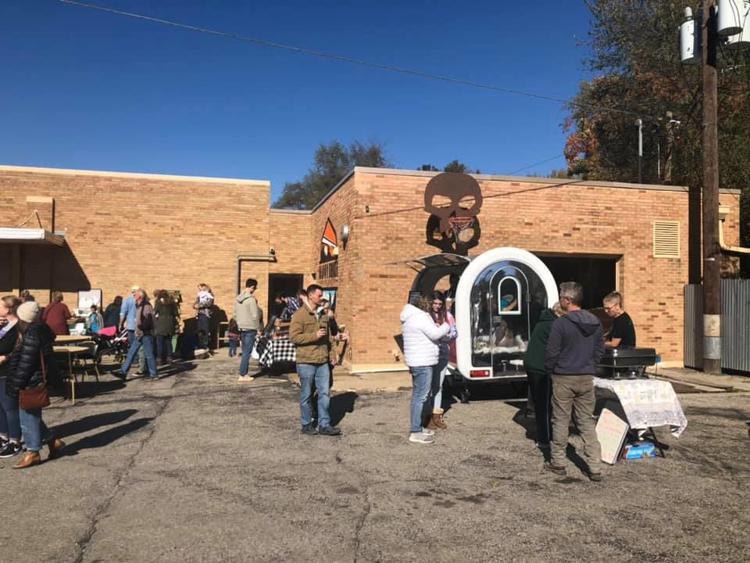 "This part of town doesn't get a lot of student interaction because people don't know we're over here," Self said. 
Makers, Bakers & Acres plans to be open every Saturday from 2 to 4 p.m. year-round. Smith said tables will be set up outside at the north Lawrence location or inside River Rat Skate Shop, which is located around the market.
"When the weather's bad, we'll be inside, and when the weather's good, we'll be outside," Smith said.