Twelve-year-old Walmart yodeling sensation Mason Ramsey performed a loud, energetic concert at The Granada in Lawrence Saturday night with special guests Jenna Paulette and Ernest.
Singer-songwriter Jenna Paulette opened the show with a lineup of country music, similar to Ramsey's style. 
"Mason is everything you'd ever hoped him to be," Paulette said to the crowd. "He is precious and just so good at what he does — and so humble at what he does." 
She closed her set with her song "F-150" just before leading the crowd in yelling a massive "yeehaw" at Ramsey backstage in the green room.
Ernest followed Paulette's performance. He said he has written and contributed to songs for famous country artists and has even had a hand in writing some of Ramsey's songs. 
"Mason told me last night, you have got to stop drinking White Claws," Ernest said to the crowd. "You're gonna mess your voice up."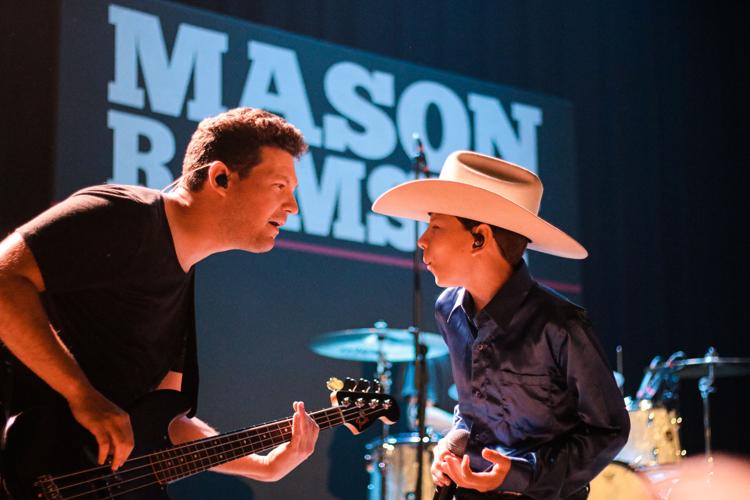 Between each song, Ramsey's openers spoke of how great he is and told stories about their experiences on tour with him. 
"He loves y'all," Ernest said. "He gets out here and does this and works his ass off for y'all every night, and it's so cool to see. It's inspiring."
Ernest ended his set strongly to get the crowd ready for the headlining act.
The crowd chanted Ramsey's name numerous times, anxiously waiting to see the "Yodeling Boy." 
Before long, Ramsey made it out on stage and chanted, "Rock Chalk, Jayhawk, KU." He continued and yelled "1, 2, 3, KU," telling fans he loved them. He even told the audience that he got a score update that Kansas had just beat Texas in football and the crowd went wild.
Of course, Ramsey did not know there were still 50 seconds remaining in the game — and a coming loss for Kansas football. 
He continued on with his show, playing crowd favorites such as "Twang" and his version of "Old Town Road" and of course, the song he became famous for singing: "Lovesick Blues."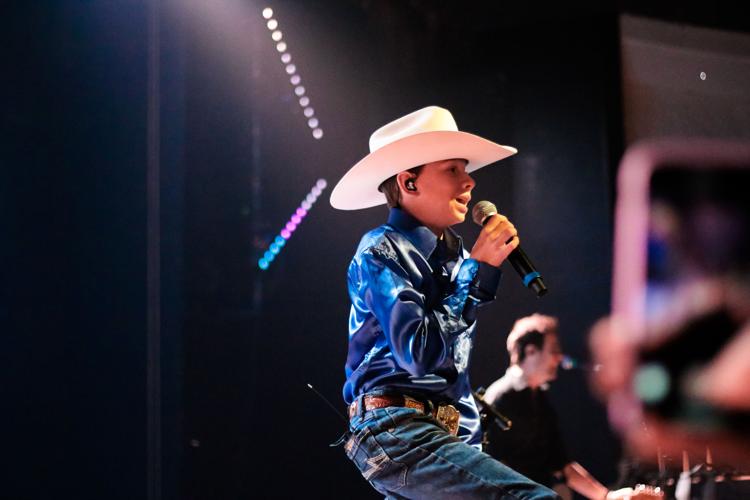 Ramsey even spotted a girl in the front row of the crowd who he said he had met at the state fair. He showed the crowd his friendship bracelet that she had made him and said he never takes it off. Following his show, he invited her backstage with him. 
Midway through his performance, Ramsey was brought three t-shirts that he signed and threw to the audience. He gave a size small shirt to a young boy in a white cowboy hat. The medium sized, he gave to the girl he had spotted earlier. Finally, he threw the large sized shirt randomly into the crowd and audience members jumped to grab it. 
During his show, the crowd consistently chanted "Famous" in hopes of hearing the song that inspired the tour's title "How's Your Girl & How's Your Family," which is a line in the song. But Ramsey saved that song for the encore. When Ramsey came back out on stage, he brought special guests Jenna Paulette and Ernest back out with him to sing his final song. Concluding the performance of "Famous," Ramsey thanked Lawrence for coming out and wrapped up his concert.
GALLERY: Mason Ramsey at The Granada
Internet yodeling sensation Mason Ramsey brought his How's Ur Girl & How's Ur Family tour, featuring songwriter Ernest and country singer Jenna Paulette, to the Granada Theater Saturday, Oct. 19.