Matthew Willie Garcia's latest work is a series of screen prints entitled "Quantum States and Queer Realities."
Garcia is an artist and "queer interdimensional explorer" from Tulare, CA. He received a Bachelor of Fine Arts degree from the Kansas City Art Institute and is currently a candidate for a Master of Fine Arts in printmaking at the University of Kansas. 
I was very hyperactive and had a lot of problems with attention as a child. When I finally started taking art classes, it really became the thing that I just wanted to keep doing.
I did it all of my childhood through high school and in college I decided I wanted to teach. While I was going through junior college, I was also taking art classes and at some point I was taking significantly more art classes than education classes. That's when I realized it was my main focus and what I cared about the most. 
I had a professor that suggested I apply to KCAI.
At the Junior College I went to, a lot of the professors were KCAI alum, so it was an easy transition. I did it without visiting the school, but I loved it there. I hated the snow, but stayed anyways. I took a few years off between undergrad and grad school, but my partner lives in Kansas City so I knew I wanted to stay in the area. I applied to Washington University and KU and I decided that Lawrence is a lot closer to KC than St. Louis.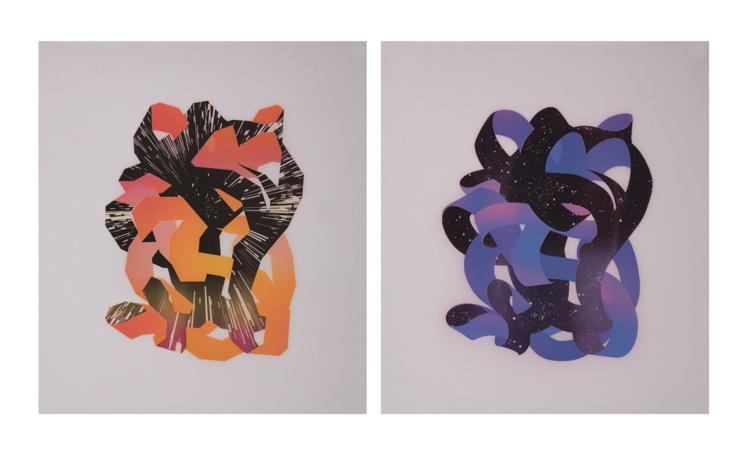 I love KU. This is my third and final year, so I'm working on my thesis show. 
The show is open to anybody and it's at the Visual Art and Design Gallery in Chalmers Hall from Feb. 24 until March 5. I came to graduate school as a means of being able to teach at the collegiate level; most colleges require you to have a Master of Fine Arts to teach art. When I got here, I really pushed myself to expand my body of work.
I was making very different work before I started at KU. 
I think the freedom to just make work and not have to worry about showing or having it be the thing that supports me has really changed my work, because I have this ability to just explore myself and explore the research that I've been doing.
As an artist, I'm really interested in astrophysics and quantum mechanics. 
I'm thinking about time and space in a very specific way and trying to get to a higher sense of dimensionality. I'm trying to get the viewer to move past our own understanding of the dimension we exist in and try to think about things which our brains are actually incapable of doing. When I say I'm an interdimensional explorer, I'm just curious and researching stuff and sometimes I like to pretend I'm an alien.
My latest series of works is called "Quantum States and Queer Realities."
It's using quantum mechanics as an analogy to talk about queerness. It's based on the idea that something, someone, two people or many people can be entangled in such an extreme way that they react instantaneously to each other. It's thinking about how relationships occur between bodies.
I have some work at the Nerman Museum of Contemporary Art in Overland Park.
There's a show called "Queer Abstraction" and they invited local artists to be a part of the conversation, so I have an animated installation in there as well as two drawings. The show begins Nov. 21 and it's at the museum until March.
Click here to view Garcia's website