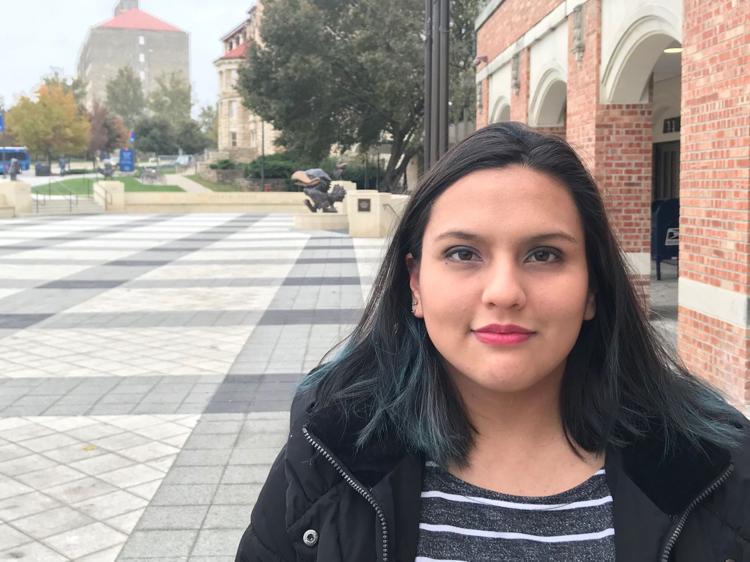 Nikole Rodriguez Abensur is a fourth-year student at the University of Kansas. She is from Lima, Peru, and is majoring in film and media studies with a minor in visual art. Rodriguez Abensur is a painter whose favorite medium is oil paint. 
I mostly focus on portraits of myself. Full body or just my face. I'm very focused on identity or themes of identity.
I am an international student, I'm a different race than everyone else. I'm a lesbian and that's also part of why identity and expression is very important to me. So that's what my work is about.
When you spend so much time examining yourself, you realize other people hold that many multitudes in themselves.
When you realize you are this complex and that you have all these feelings, you realize how others are the same. What you're seeing on a first level is probably not who they think they are or who they want to be. There are many layers to other people.
I think that when I'm painting, I'm in a state of freedom.
Of feeling like the problems in my head or the problems outside of myself are at bay. I can focus on what I'm painting or what I'm feeling. 
I have ADHD and anxiety. So I usually tend to focus on things either very, very intensely or not at all. It's very difficult for me to have hobbies that I can keep persistently. But I've found that painting, specifically oil painting, is such a release. It's something I can do without fear of messing up.
It's a very flexible medium. You can erase a whole thing. You can paint over it. Which is not something you can say for ink and other mediums that I have tried. They just don't offer that kind of liberty and freedom. There's a very, very refreshing feeling of working on something that can be malleable. 
I don't make my art for people to think, "Oh, that's beautiful." My art is for myself. 
If my art can make people think of something or feel something, then I think I'm accomplished.