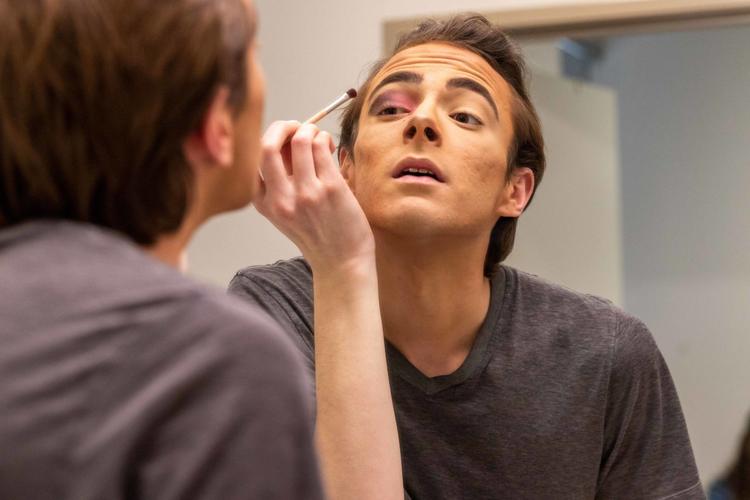 Derek Dunn is a sophomore studying political science and global and international studies at the University of Kansas. Dunn is originally from Valley Center, a town in Sedgwick County with a population of about 7,300 people. He was one of the few openly gay people in his town growing up.
I'VE ALWAYS KNOWN I WANTED TO GO TO KU. I've always known it to be a very liberal and accepting school. My mom is an alumna, so I felt a strong connection. It was the only college I applied to.
I'M FROM A SMALL TOWN where being an openly gay person got me death threats. When I moved to Lawrence, it became part of who I am, but it's not the only piece of who I am. I felt a burden lifted.
I CAME OUT WHEN I WAS 13-YEARS-OLD. I always tried to be as open about it as I could. In Valley Center, most of the bullying I got was online. It was mostly people who told me I "chose the wrong lifestyle" when I'm just being who I am. 
WHEN I FIRST CAME TO KU, I read about Noah Ries, the former student body president. He was the the first openly gay man to have the position. Reading that story, something about it made me feel like it was really the right decision to be here at KU.   
BEING HERE HAS ALLOWED ME TO ACCEPT MORE OF WHO I AM. I would have never become a drag queen if it weren't for the acceptance I got from the KU community. 
MY DRAG QUEEN NAME IS ANNA CONDA. It was given to me by an old high school friend that I worked with as a lifeguard for a few years. We were trying to think of names. We were listening to "Anaconda" by Nicki Minaj, and she said, "This should be your name." 
MY FIRST TIME PERFORMING DRAG AT THE JAZZHAUS, I remember I was shaking backstage with my friends and other queens. I was listening to my song, "Sweet but Psycho" by Ava Max the whole time before I got on stage so I could make sure I remembered the words. As soon as I got on the stage, I just started dancing and moving. I did what I felt. I just stopped thinking and let the emotions take over. I was able to express that side of myself that way.  
DOING DRAG IS SUCH A UNIQUE EXPERIENCE TO ME. Politically speaking, I'm always in the spotlight as the Student Senate Student Rights Committee Chair, but it's very professional. I'm always fighting for what's right. Doing drag is all about having fun, and not about following all these strict roles that you have to do in politics. It's all about expressing your emotional side while being physically active and letting loose.
WHEN PEOPLE START TO GET TO KNOW ME, THEY SEE THE DIFFERENT SIDES OF WHO I AM. Most of the time when people meet me, they just see a white guy who cares about politics. But then they get to know me, and they see all these different aspects of me — like my passion for equality and how I want to break down gender roles. They see all the fun I like to have, while trying to get some serious change done as well. 
Voices is a Q&A section for students from underrepresented backgrounds to discuss their experiences at the University of Kansas. If you or someone who would like to be featured in Voices, email us (chalkeditor@kansan.com) or send us a message on Instagram (@chalkmagazine).