When Brandi Beeson checked her phone at 11 p.m. on Feb. 11, her Twitter notifications had blown through the roof.
Earlier in the day, Beeson tweeted out a photo of a digital painting she spent more than 30 hours sketching, erasing, drawing and tweaking. Her subject? Kansas junior guard Devonte' Graham.
This has been the hardest portrait I've ever done. Nearly 10 hours on the jersey and I'm still not satisfied with it. 😅 pic.twitter.com/gpkP7NzblJ

— Brandi B (@BrandiBeeson) February 12, 2017
She'd posted images of her artwork before to social media, but the reactions had never been that large. Beeson said that first night she gained more than 100 Twitter followers and she had more than 500 notifications, thanks to Kansas football coach David Beaty and Graham himself for sharing her work on their profiles. 
Beeson met Graham in the lobby of McCarthy Hall a short time later, giving him a poster of the painting. It now hangs on his wall, sometimes making a background appearance on his Snapchat stories.
"It was nice," Graham said. "It's a real good piece."
The painting is currently Graham's Twitter avatar. 
This is dope 💯🙏🏾 https://t.co/I8bNPAzZLa

— Devonte' Graham (@Devonte_Graham4) February 12, 2017
Even though her digital painting of Graham took more than 30 hours to create, the work was years in the making.
Beeson was surrounded by sports, starting at an early age. The daughter of former Kansas football great Terry Beeson, Brandi grew up with photos of her dad everywhere, as he played in the NFL for a few years.
Using her father as inspiration, Beeson began to draw. She drew photos of him and photos of football players in general. She started out with pencil drawings, bringing pieces of paper to draw on while she attended football games with her dad.
Beeson moved to digital paintings when her dad bought her a tablet in 2011 after a trip to Kansas City, Missouri.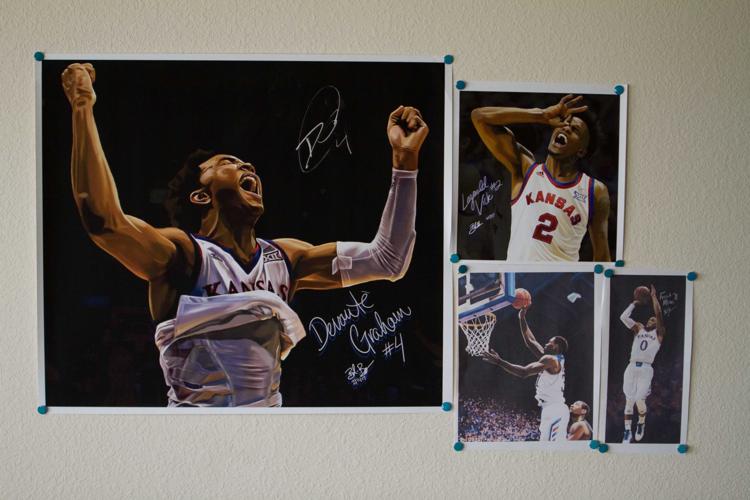 "Once I got the tablet, it opened up a whole other world," Beeson said.
But, it took time to master the technology. Beeson said it takes plenty of hand-eye coordination, as you're drawing, you're not looking at your hand. You're looking at a computer screen. She said it took her approximately two years to finally figure it out.
Once she learned how to use the tablet, Beeson began creating digital paintings in 2012, after one of her classmates asked if she could draw them.
"I was like, 'OK, I can try that," Beeson said. "'I don't know if it's going to be any good or not. And before you knew it, I had a lot of people asking."
Beeson, currently a sophomore illustration and animation major at the University, is self taught. She never took a high school art class. The last art class she had before studying at Coffeyville Community College was in eighth grade.
Even though she takes classes specializing in illustration and animation every day, much of what she learns is at home in front of her workstation, as the technology Beeson uses wasn't completely integrated into the curriculum at Coffeyville. The technology is implemented here at the University.
"I've had to teach my teachers," Beeson said of her community college instructors. "They're like, 'this is a whole new world of technology.'"
When Beeson's creating a digital masterpiece, she closes herself off in her room. She listens to music or throws on a sports movie — "Coach Carter," for example —  and opens up Photoshop. On one side of her computer screen will be a high-resolution photo of her subject, and on the other is a blank file.
Sometimes the creativity flows off her fingers the second she sits down. But that's not always the case.
"When I'm sitting there, I have a vision in my head of what I want it to look like," Beeson said. "I want to see vibrance in the colors. The hardest thing is when I'm sitting there looking at it, and I'm thinking, 'how am I going to do this?'"
For Graham's painting, she sat in her chair for an hour staring at the movement of the jersey.
"I just love sports pictures, the emotion in them," Beeson said. "I love the challenge of them, because moving bodies are really hard to draw."
Over the course of her time as a digital artist, she's drawn Jeff Withey, Rio Adams, Jamari Traylor, Lagerald Vick, Graham, Josh Jackson, Frank Mason III, Landen Lucas and others. She finished her painting of Vick in a day with 10-15 hours of work.
"Seeing the finished work? I want to do this again," Beeson said. "I know it's going to be hard, but I'm going to do it, challenge myself and do it again."
— Edited by Mara Kubicki