Kala Stroup first accepted a position as Hall Director for the University of Kansas in 1959, the first of many firsts for the iconic educator and administrator.
Over the next 36 years, Stroup became the first woman vice president of academic affairs in the Kansas Board of Regents system, the first woman president of the Kentucky system of higher education, the first woman president of Southeast Missouri State University and the first woman president of the Ohio Valley Athletic Conference.
Stroup also served as Missouri Commissioner of Higher Education from 1995-2002 and as president of the National Nonprofit Leadership Alliance from 2002-2010.
Stroup made a career as a trailblazer for women in higher education and as a national leader in the nonprofit sector. 
Stroup says she owes her career to the University of Kansas, and more specifically, the University's honors program.
"I was a Kansas girl from Great Bend, Kansas. Thinking about being a university president was not anything I had ever thought about in high school or even college," Stroup said. "It was thanks to all those people. I owe this University a lot." 
Stroup retired in 2010 and has since taught for the University's Honors Program, where she has developed and introduced several courses on nonprofits. She also currently advises 65 honors students in addition to serving on several regional and national nonprofit boards.
Stroup says she hopes to inspire students the same way her mentors inspired her.
"I thank the Honors Program and people like Emily Taylor and Chancellor Wescoe and Chancellor Murphy and Francis Heller, head of the honors program, for saying to me as I went through, 'You can do more. You can do more,'" Stroup said.
Stroup holds a bachelor's degree in speech and drama, a master's degree in educational psychology and a Ph.D. in speech communication, all from the University.
Stroup began her professional career at the University in 1959, and by 1975 she succeeded Emily Taylor — the namesake of the University's Center for Women and Gender Equity — as the University's last dean of women.
"I had two mentors. One was Emily Taylor and the other was Martha Peterson," Stroup said. "They were the highest-ranking women in the KU administrative system. They were both deans of women."
Stroup has been working toward gender equality in higher education since the 1960s, and she personally advocated for the passage of Title IX.
"Once Title IX passed, I was one of the few women in the country that had the credentials — both the teaching, the Ph.D. and the academic credentials — to be considered to be a provost, or vice president or president of a university," Stroup said. "I thank this University for getting me ready."
Stroup left the University in 1978 to become the vice president of academic affairs at Emporia State University. She returned to the University of Kansas 30 years later, where she now serves as a beacon of knowledge to those around her, including Bryan Young, director of the University's honors program.
"She's a force of nature," Young said. "She has an incredible amount of energy and passion and drive, and all of that is focused on students and the student experience."
Young says that Stroup has been a mentor to him as a result of her extensive experience.
"She's extremely generous with her time," Young said. "To have someone in the building who has served in higher education in pretty much every capacity and at the highest level is a tremendous resource for all of us in the building and at KU."
In addition to teaching and advising, Stroup also helps students apply for internships and compete for national scholarships, such as the Rhodes, Udall and Truman scholarships. 
"Kala is fantastic at helping us identify students that we should keep in mind, have on the radar for those opportunities," Young said. "She helps work with the students on their applications. I'm sure she's written stacks and stacks of letters of recommendation for students of those types things."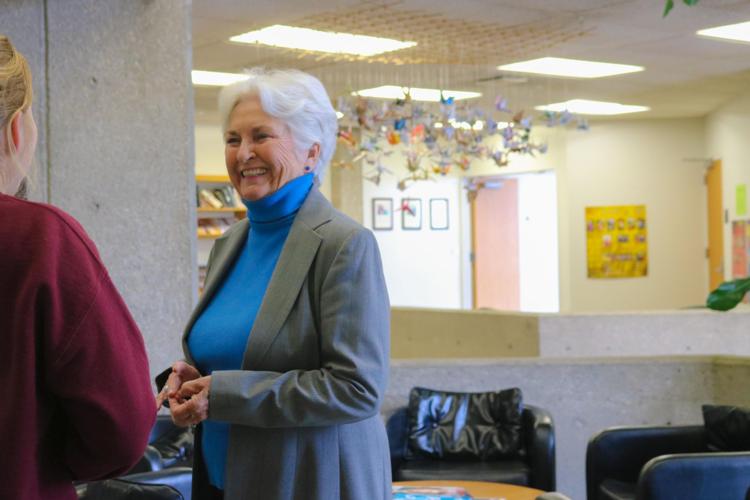 Though she is officially retired from her administrative career, Stroup still works with students because she believes education is the gateway to a good life.
"I have really always enjoyed that part of it," Stroup said. "I wanted to work with students. I knew I could open doors for students. I wouldn't get the job for them. They have to do that, but I could open doors and let someone from Kansas be considered, and I enjoy doing that and I've done that my entire life."
Paramount to Stroup's mission is ensuring that equitable education is provided to everyone, regardless of gender, race or creed. She said she is pleased by the inclusive conversations taking place at the University today.
"I've been gone 30-some years. When I came back I thought that the place had changed. It was great," Stroup said. "The Honors Program was still doing well, our basketball team was still doing well, our debate team was still doing well, but I noticed that there wasn't some of that same passion for inclusiveness. Recently, that's really surfaced again. That's something I think we can never forget in higher education: that we left someone behind."
— Edited by Paola Alor