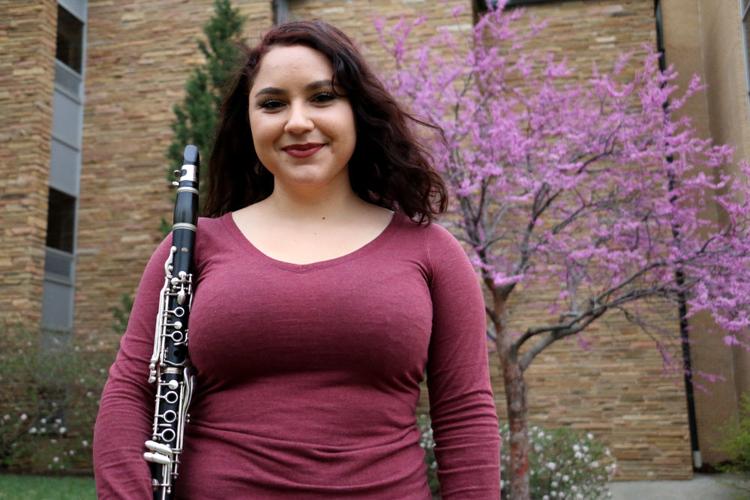 Monica Carvajal Regidor experienced a defining moment in her life when she met a man with down syndrome who would always play guitar in downtown San Jose, Costa Rica. Carvajal Regidor said that the man always seemed joyful when he was playing.
Watching him, she envisioned herself using music to help others.
It was the moment that sophomore Carvajal Regidor realized she wanted to be a music therapist. Carvajal Regidor, from San Jose, Costa Rica, currently studies music therapy with an emphasis on clarinet.
Carvajal Regidorhigh school in San Jose. Carvajal Regidor was involved with band and choir at a young age, and has been playing clarinet for almost 13 years. 
Carvajal Regidor said that playing music and singing was always something she was passionate about and always felt like somewhere she belonged. 
She used that passion and found herself back in Lawrence to attend the University. Her older brother, two older sisters and dad all once attended, so she came back to keep the Jayhawk legacy alive.
"I pretty much always had my mind set on KU, especially after I realized I wanted to do music therapy, because KU has one of the best music therapy programs in the U.S.," Carvajal Regidor said.
She is currently taking 11 classes — a 17-credit-hour load for her. Between practicing her instruments and classes, she works as a peer advisor at the Undergraduate Advising Center and is a part of the Sigma Alpha Iota music fraternity.
Her day typically starts when she wakes up to get ready for her music theory class. She then has a short break until her women's choir class. At noon, she attends a choral clinic and then piano lessons. From 2 to 4 p.m., she has band. 
In her free time she enjoys painting, drawing, dancing and has a passion for makeup, she said.
Both of her parents are musically inclined, so she said she feels like they passed down that love for music and the arts. Carvajal Regidor said that her parents always encouraged her to pursue music, but it was her passion that kept her going.
"Music has always been a really big part of my family because its always been a social thing," she said. "I think the Latin American culture is pretty musically inclined — like salsa dancing, and I grew up dancing."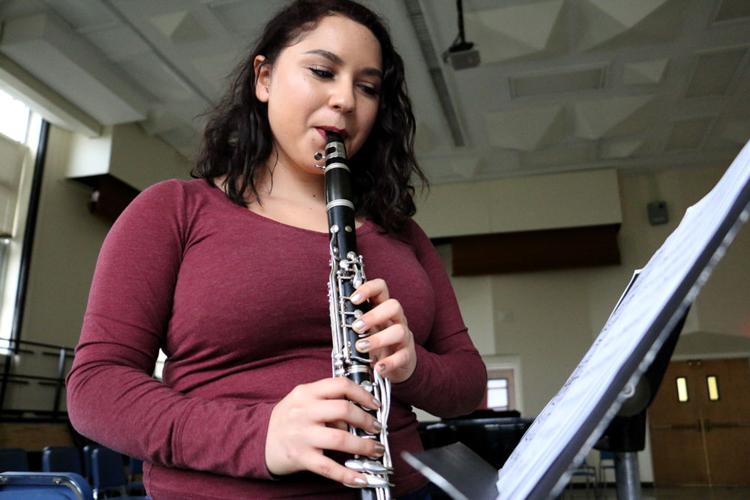 Dr. Stephanie Zelnick, an associate professor of clarinet, has known Carvajal Regidor for about three years now through private lessons and classes at the University. 
"Monica is a wonderful combination of extremely high work ethic, intellect and compassion," Zelnick said. "That's really such a winning combination."
Zelnick added that she feels very fortunate to have Carvajal Regidor as a part of the studio because the clarinet community is close knit, and she has seen Carvajal Regidor playing an important role in that setting by giving constructive comments and being an overall insightful musician.
That compassion for others has carried through to Carvajal's aspirations in the plans for her future. She envisions herself working with patients who have Alzheimer's and dementia because teaching that population intrigues her. 
After working as a music therapist, she wants to return to Costa Rica to implement a music therapy program at one of the local universities, if one hasn't been started yet.
"She has the potential to really be an innovator and maybe even come up with new ideas in music at this point, which is pretty cool," Zelnick said. 
— Edited by Ashley Hocking