With a built in support system and numerous opportunities to travel and study abroad, students at the University who participate in the Reserve Officer Training Course say the benefits of a military lifestyle outweigh the rigorous physical demand.
The ROTC program was founded in 1916 and is currently offered at 1,700 universities and college in the U.S., according to TodaysMilitary.com. Students graduating from ROTC programs enter the military as commissioned officers.
Even while ROTC students endure physical training and a stringent military lifestyle, two Navy ROTC freshmen said the experience has been beneficial to their college experience. One Air Force ROTC junior even had the opportunity to study abroad in Lithuania.
Navy ROTC student Donovan Killeen, a freshman from O'Fallon, Missouri, said the week begins bright and early, when he wakes up for Marine Corps-specific physical training, or PT.
"Monday mornings I wake up at five, put all my stuff on, shave any stray hairs, then I head to campus for PT," he said. "They have us head over to west campus or to the Military Science building and we do workouts. The workouts suck, so you start the day pretty tired."
Beyond physical training, Killeen said Navy Cadets participate in Navy Lab on Wednesdays, as a part of their normal school day.
"The entire battalion will get together at the MSB and head over to Malott. They give us mandatory briefs we need to do, or sometimes we do breakout labs where we learn some news stuff that we can apply to being an officer," he said.
Killeen said ROTC is demanding, and made his first semester at the University difficult to manage.
"Personally I hated it at first. I was like, 'this is not me. I'm not used this.' High school was really easy for me, but coming to college was a wake up call for me. You have to stay on top of your own stuff, get your homework done and stuff but then you have ROTC commitments," Killeen said. "You have to be at a certain place, at a certain time, you have to be shaved, you have to be wearing the right stuff. There's just a lot you have to know."
For junior Hannah Jerome, the military lifestyle came a bit easier and helped her adjust to college life.
"It wasn't a shocking experience having to do PT three days a week and go to class," Jerome said. "I think it actually helped me adjust to college. It made the huge KU campus feel that much smaller, working out with 80 of your closest friends. It's really just a great start to the day."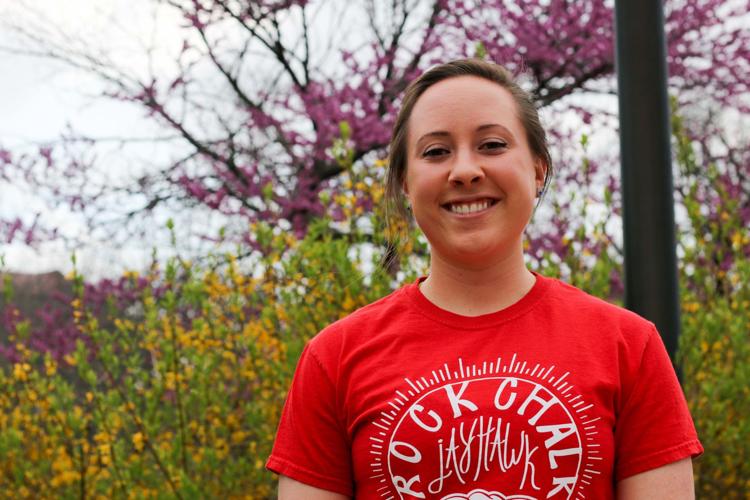 Jerome, who is from Des Moines, Iowa, traveled to Lithuania last summer through the Army program Cultural Understanding and Language Proficiency. During her time in the country, Jerome helped Lithuanian military officers learn English.
"They gave us our mission in Fort Knox, and we didn't know if they had any prior knowledge of English. Thankfully they were somewhat fluent. So we were just helping them become more comfortable," she said.
Jerome said she and her fellow cadets also participated in weekend excursions, which allowed her to experience more of the country during the summer.
"We were able to go to different areas of Lithuania and really become immersed in the culture. It was unlike any experience I've ever had," she said.
Jerome said she was able to serve as the Designated Public Affairs Officer for her Lithuania trip. Now, she's considering working as a PAO during her service after graduating.
"I was able to document the trip, take photos, write articles about what we were doing, and report back to Brigade here in America," she said. "It was a really great way for me to get my feet wet in what I want to do eventually. One of the things I've learned in the military is there are so many opportunities out there."
Jerome said her experiences in ROTC have been beneficial both professionally and personally.
"I think you gain a sense of what really matters as an ROTC student," Jerome said. "When you first get to college, it's fun to kind of try out the party scene and let loose. As you get closer to graduation, you realize there are more important things. It just gives you a different perspective on what's actually important."
Richard "Joey" Procell, a freshman Navy ROTC student from Shawnee, Kansas, said the experience was initially overwhelming.
"It wasn't what I was expecting at all. I did JROTC [Junior ROTC] in high school and it was hard, so I thought it would be similar. School is a lot harder and ROTC is a lot harder, so big difference."
Killeen said mandatory student hours and a sense of community are some of the most helpful benefits of ROTC.
"People say you're on you own when you come to college, but with ROTC you have the staff, the officers, and the other midshipmen who are there to help you," he said. "Everybody accepts you with open arms. It's hard to make friends in college, but with ROTC there's automatically 40 people there to talk to."
— Edited by Erin Brock