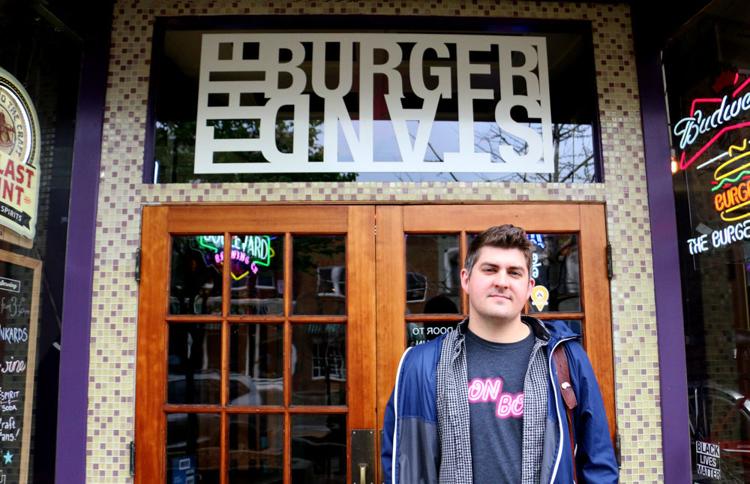 Immediately, his mind is racing at a blistering speed. His elbows perched on the Australian timber oil stained table in one of the many booths at The Burger Stand. His hands are gesturing with a swagger like he's prepped for this moment his entire life. Words like "spicy harissa barbecue," "rough chopped tender duck," and "watermelon radishes" shoot from his mouth as if they were locked and ready, sitting patiently on the back of his tongue. His mouth a smoking gun.
At around the age of 15, Topeka native and owner of The Burger Stand at the Casbah, Simon Bates worked his first cooking job at a neighborhood steakhouse. Bates was eager to get as much experience as possible, but it wasn't just for his love of food.
"It had this little mafia family vibe. The owners were so fancy. I was like, 'that's cool. I want to drive around in a limousine,'" he said.
Bates looked up to the poise and class he saw in the owners. It was a level of respect he said he aspired to attain. Now years later, as Bates explained his special duck spring roll he would make later that day for his bistro establishment BonBon, his charisma demanded the attention he once yearned for.
He isn't riding to work in a limousine, but it's because he doesn't have to.
Bates along with his wife Codi opened the popular Massachusetts Street restaurant The Burger Stand in 2009. Originally the restaurant was a temporary project after Bates got word that the job waiting for him at a Topeka bakery was no longer available. He had just moved after working in Chicago.
"I opened The Burger Stand on the fly, and it was just my wife and I working the first day. We had about 60-70 customers. Then every day since, we've just gotten busier and busier. We're still growing," he said.
With extensive experience as a line cook and sous chef, Bates saw the growing popularity of the location as an opportunity to introduce to Lawrence a new food palette while still delivering an American staple. His initiative included bringing in fresh, local produce with an eccentric twist.
"Why would you pair dates with cauliflower? And on a burger," Bates said. "Why would you do that?"
The answer, it seems, is simple.
"We're trying to introduce people to new flavor combinations that work really well," he said. "I know how combinations work together in fine dining, and we're trying to bring that flavor to the mainstream."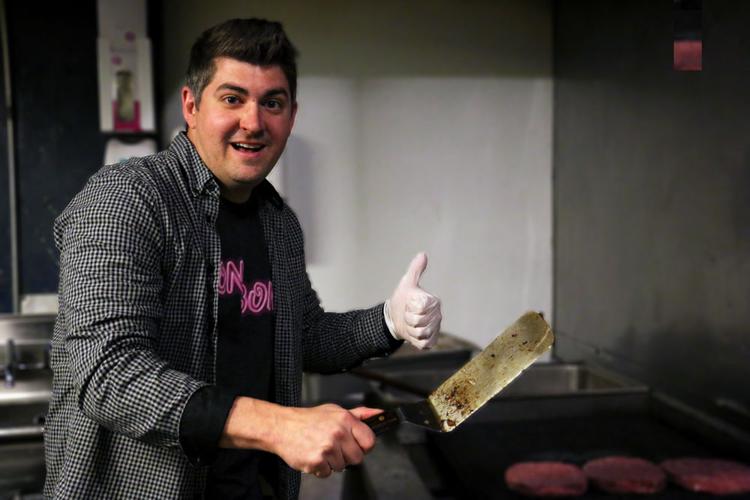 Bates has built the knowledge to execute this mission by going to culinary school in New York, in addition to working over 20 jobs in the food industry and traveling across the globe. Liz Tally, a longtime kitchen manager at The Burger Stand — or as Bates likes to call her, "the kitchen mom" — sees Bates's ability to cultivate new and exciting flavors as a main player to the restaurant's success.
Bates said they currently average about 1,000 burgers a day.
"I love cooking with him because I learn flavors that I would never put together myself, and he puts them together and "I'm like 'wow that's so amazing.' I love watching him cook and tasting all his food," she said. "I'm not trying to brown nose him."
But not everything can be a guaranteed hit. To ensure quality for the Lawrence community means a morning to night commitment even to this day. Days will often begin for Bates at around 7 a.m., when, as he puts it, he has to go and "put out all the fires."
"I have a lot of areas where I have to be and where I want to be. There's times when I end up plumbing a toilet, where I rather be making a duck roll," he said.
Meetings with upper management in his company take up another good portion of his morning. These meetings usually take place in their recently opened downtown office. This is where he'll often find the managing director, director of operations and kitchen director. This hub oversees all their locations, including The Burger Stand in Topeka.
When not on the go, Bates spends time at BonBon, which just opened last year, making sure things are moving the way they need to and also dipping his hand in fine dining again by making the specials, like the duck spring roll.
Bates said he usually heads home around 8 p.m., or whenever he feels exhausted, and gets to spend quality time with Codi, or as Bates likes to call her, "the real boss."
"We have a lot of boundaries, a lot of rules that help us through our marriage. We don't talk a whole lot of work talk at home. This is one of those jobs that you don't ever turn off. It's like 24/7, so it's hard for us to be able to focus on our marriage sometimes and treat each other like a couple rather than business partners," he said. "We actually opened Burger Stand a couple months before we got married, so we've been through a lot."
— Edited by Frank Weirich